Filevine releases its 2023 Customer Benchmark Report for legal firms
Filevine's first ever Customer Benchmark Report highlights the massive shift in how legal experts perform their daily operations.
2023 Customer Benchmark Report
Filevine Usage Data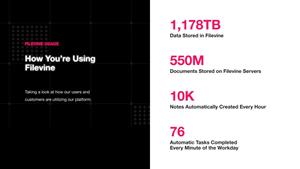 Salt Lake City, UT, March 21, 2023 (GLOBE NEWSWIRE) — Filevine has released its 2023 Customer Benchmark report providing insights on how legal experts perform their work and leverage technology to solve their daily operating needs. The report was introduced last month at Filevine's annual user conference, LEX Summit, and attendees were given early access to the report. 
Over 50,000 legal professionals from 3,000 law firms were invited to share how they are running their firms in 2023. Responses were then compared to over 400 Million minutes of Filevine usage data and aggregated by practice area, geographic region and firm size. This is the first Customer Benchmark Report published by Filevine.
"We are constantly being asked about what we're seeing and learning in the legal space," said Filevine's Research and Development Chief of Staff, Mary Lyon. "We're thrilled to be able to tap into our extensive customer base and usage data to provide our clients with our latest insights and industry trends."
Front and center in this year's report was the rise of remote work. As legal work becomes increasingly cloud-based and remote-first, we see a heightened need for a connecting and automation tool like Filevine to streamline processes and make managing tasks more efficient and productive. The increased reliance on technology is further demonstrated in Filevine's usage stats. Filevine's online document editors have saved legal workers approximately 100-years of time downloading, editing, saving, and re-uploading documents, and more than 1000 TB of legal data is stored in Filevine, including 550 Million documents, files, contracts, videos, messages and more.
Additional findings from the report include: 
Cloud-driven remote work is here to stay.
Firms are increasingly reliant on software tools for internal firm communication.
With automation, lawyers are becoming more efficient and productive than ever before.
"Our client feedback validates that we are completing our product mission at Filevine. We're successfully empowering professionals to manage their teams and their clients smoothly and efficiently," said Neil Essig, Senior Director of Development at Filevine. "We hope that the insights outlined in the report can further help our customers support their clients and amplify their business success."
Whether it's helping firms adapt to higher caseloads per attorney, more legislation and legal issues, or a shift in remote work, Filevine is adapting and evolving to meet the needs of your legal firm.
For a closer look into our extensive user data, download the full free report here. 
_____ 
About Filevine
Filevine is changing the way legal work gets done for law practitioners and their clients. As the leading legal work platform, Filevine is dedicated to empowering organizations with tools to simplify and elevate complex, high-stakes legal work. Powering everything from document management and client communication to contract lifecycle management and business analytics, over 25,000 legal professionals use Filevine daily to deliver excellence in every contract, deadline, and result. Filevine is recognized on the 2022 Deloitte Technology Fast 500 and Utah Business Fast 50, is a 2022 Top Workplace USA winner, and is among the fastest-growing companies on the Inc. 5000 list. 
Visit our website to request a demo. 
Attachments
2023 Customer Benchmark Report
Filevine Usage Data
CONTACT: Erin Ash Filevine (801) 657-5228 [email protected] 

Disclaimer: The above press release comes to you under an arrangement with GlobeNewswire. AfternoonHeadlines.com takes no editorial responsibility for the same.