Fight Colorectal Cancer and MiraLAX® Partner to Provide Bathroom on the National Mall for Colorectal Cancer Awareness
Throne Toilet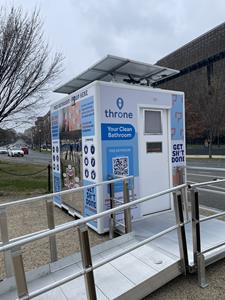 Throne Toilet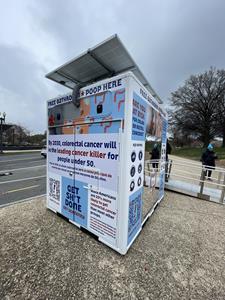 Springfield, Mo., March 15, 2023 (GLOBE NEWSWIRE) — National nonprofit Fight Colorectal Cancer (Fight CRC) and over-the-counter laxative, MiraLAX® are partnering this March, Colorectal Cancer Awareness Month, to provide Throne, a bathroom on the National Mall. Now through March 23, 2023, Throne, a smart, self-monitoring, semi-permanent bathroom will be conveniently located near Fight CRC's United in Blue flag installation on the National Mall. The installation spotlights that by 2030 colorectal cancer is projected to be the leading cause of cancer deaths for those under 50. The Throne is wrapped to showcase a colorectal cancer screening quiz, and bathroom users can scan a QR code to find more information on screening options and request resources.
"We are excited about this partnership, and we are proud to offer access to clean bathrooms with Throne. Being able to provide a bathroom for colorectal cancer survivors and advocates on-site for the United in Blue installation and rally was a great way to enhance quality of life issues for colorectal cancer survivors. Throne bathrooms provide a clean, touch-free, comfortable, and private experience," said Anjee Davis, MPPA, Fight CRC President. "Wrapped all the way around, the Throne will remind anyone walking by they need to be screened for colorectal cancer or learn about signs and symptoms."
"We commend and fully support the fantastic work Fight CRC is doing to educate about colorectal cancer. MiraLAX® is proud to partner with Fight CRC to help spotlight that by 2030 colorectal cancer is projected to be the leading cause of cancer deaths for those under 50 and to provide accessibility to a clean and comfortable bathroom to both colorectal cancer survivors and the general public on the Mall in support of Colorectal Cancer awareness month," David Ball, Vice President Digestive Health, Bayer Consumer Health. 
Throne is a modern, clean solution to public restrooms. Users are encouraged to learn more about colorectal cancer screening through an interactive screening quiz highlighted as a QR code on the interior and exterior of the Throne. Bathroom goers are also prompted to share photos on social media with the Throne with the hashtags #StrongArmSelfie, Fight CRC's way of showing support for the cause and #ThroneSelfie.
"Medical conditions such as colorectal cancer can increase the stress of finding a clean bathroom when out and about," said Throne co-founder and CEO, Fletcher Wilson. "Throne is thrilled to be a functional advocacy tool for National Mall visitors while also working towards our mission of expanding access to bathrooms in public spaces." 
The United in Blue installation and rally cast a national spotlight on colorectal cancer and the urgent need to make colorectal cancer a national priority and push Congress to fight for more. United in Blue is not just an impactful installation and rally: United in Blue is a call to action. The colorectal community is united and working together to make impactful policy change. No one person or organization can win this fight alone. The teamwork of this partnership and Throne placement creates an additional layer of colorectal cancer awareness in March.
Screening for average-risk adults begins at 45, to learn more about your risk for colorectal cancer, talk to your doctor and visit FightCRC.org/screening.
Attachments
Throne Toilet
Throne Toilet
CONTACT: Elizabeth Jordan Fight Colorectal Cancer 636.544.7113 [email protected] 

Disclaimer: The above press release comes to you under an arrangement with GlobeNewswire. AfternoonHeadlines.com takes no editorial responsibility for the same.