Fifteen Years of Hard Work Recognized with Exceptional Meritorious Service Award and Standing Ovation at the NDSC Annual Convention in Orlando Florida
Global Down Syndrome Foundation President & CEO Michelle Sie Whitten Brings Large Team on Stage, Describes Their Work as a 'Team Sport'
GLOBAL President & CEO Michelle Sie Whitten Accepts the Exceptional Meritorious Service Award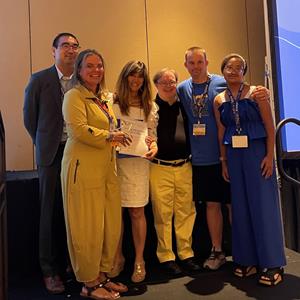 Denver, July 25, 2023 (GLOBE NEWSWIRE) — Global Down Syndrome Foundation (GLOBAL) co-founder, president & CEO, Michelle Sie Whitten, received the Exceptional Meritorious Service Award from the National Down Syndrome Congress (NDSC) at their annual convention in Orlando, Florida this past weekend.  Michelle received the award, the highest NDSC honor, for establishing the first Down syndrome research and medical care institute in the U.S. fifteen years ago and for the transformative results her organization has created for children and adults with Down syndrome.
GLOBAL is the leading government advocacy organization for research and medical care specifically for children and adults with Down syndrome. Their work with the Congress, the National Institutes of Health (NIH), scientists and medical professionals and the Down syndrome community has led to the creation of a trans-NIH Down syndrome funding program (INCLUDE) that has provided over $250 million in Down syndrome research funding from 17 different institutes over the last five years alone. Most importantly, the funding has led to game-changing discovery including four NIH-funded clinical trials (two in Alzheimer's, one in autoimmune disorders and one in regression) at GLOBAL's Crnic Institute for Down Syndrome.
NDSC executive director, Jordan Kough, and NDSC chair of the board, Kate Dougherty presented the award to Michelle who received a standing ovation. Michelle brought her team at the convention up on stage and explained that their work is a 'team sport.' She thanked the advocates that came before them, the amazing people with Down syndrome GLOBAL serves, Congressional and NIH champions, GLOBAL members and supporters, and the incredible staff at GLOBAL and GLOBAL's affiliates – Dr. Joaquín Espinosa and the Crnic Institute, the Sie Center for Down Syndrome at Children's Hospital Colorado, the Adult Medical Center at Denver Health, and the Alzheimer's and Cognition Center all on the Anschutz Medical Campus.
"We are so thrilled to honor Michelle Sie Whitten as our 2023 Exceptional Meritorious Service Award recipient. We are fortunate that her daughter, Sophia, inspired Michelle to create GLOBAL and to dedicate her life to elongating lifespan and improving health outcomes for children and adults with Down syndrome," said Jordan Kough. "Michelle and GLOBAL fill a much-needed void in medical research and care. We have supported her tireless fight in Washington DC to increase the NIH Down syndrome annual research funding from $16 million in 2004 to $130 million in 2023. The results of that advocacy can be positively felt in our medical community throughout the U.S. and even across the world."
Each year since 1977, NDSC has presented this award at their annual convention to community leaders who significantly improve the lives of people with Down syndrome and their families. Their convention, the largest Down syndrome conference in the world, attracts well over 3,000 registrants and is in a different city each year. Past Exceptional Meritorious Service Award recipients include Siegfried Pueschel, Jerome LeJeune, Emily Perl Kingsley, Eunice Scriver, Allen Crocker, Sally R. Shott, Anna & John J. Sie, Joan Guthrie Medlen, Maria Dellapina, Dr. Jesus Florez, Dr. Libby Kumin, Dr. Dennis McGuire, Terri Couwenhoven, and Nancy Gianni. 
At the award ceremony, with GLOBAL executives and representatives Frank Stephens, Bryn Gelaro, Dr. Espinosa, David Tolleson, Brad Hennefer, Taylor Murphy and others by her side, Michelle thanked the NDSC, "NDSC welcomed me and my new ideas from the very beginning and through this powerful magnet of a convention they allowed GLOBAL, and so many other Down syndrome organizations, to connect, learn and grow with our community. They see us, value us, and know that we are future collaborators, not competitors and that openness and leadership truly allow 1,000 flowers to bloom."
Every year GLOBAL hosts the GLOBAL Research & Medical Care Roundtable at the NDSC Annual Convention as a free benefit to convention attendees. This year over 400 people attended to learn about the latest developments and treatments associated with eye and vision care, feeding and swallowing issues, adult care, important research at the NIH and Crnic Institutes and more. In addition to the roundtable, GLOBAL and NDSC publish a free prenatal and newborn pamphlet that has recently been joined by NDSS as a supporter. GLOBAL and NDSC also support each other's key initiatives such as the GLOBAL Adult Medical Guideline and the NDSC Sibling and Educational toolkits and conferences.
###
About Global Down Syndrome Foundation
The Global Down Syndrome Foundation (GLOBAL) is the largest non-profit in the U.S. working to save lives and dramatically improve health outcomes for people with Down syndrome. GLOBAL has donated more than $32 million to establish the first Down syndrome research institute supporting over 400 scientists and over 2,200 patients with Down syndrome from 33 states and 10 countries. Working closely with Congress and the National Institutes of Health, GLOBAL is the lead advocacy organization in the U.S. for Down syndrome research and care. GLOBAL has a membership of over 100 Down syndrome organizations worldwide, and is part of a network of Affiliates – the Crnic Institute for Down Syndrome, the Sie Center for Down Syndrome, and the University of Colorado Alzheimer's and Cognition Center – all on the Anschutz Medical Campus. 
GLOBAL's widely circulated medical publications include Global Medical Care Guidelines for Adults with Down Syndrome, Prenatal & Newborn Down Syndrome Information and the award-winning magazine Down Syndrome WorldTM . GLOBAL also organizes the Be Beautiful Be Yourself Fashion Show, the largest Down syndrome fundraiser in the world. Visit globaldownsyndrome.org and follow us on social media (Facebook & Twitter: @GDSFoundation, Instagram: @globaldownsyndrome). 
Attachment
GLOBAL President & CEO Michelle Sie Whitten Accepts the Exceptional Meritorious Service Award
CONTACT: Anca Elena Call Global Down Syndrome Foundation 720-320-3832 [email protected] 

Disclaimer: The above press release comes to you under an arrangement with GlobeNewswire. AfternoonHeadlines.com takes no editorial responsibility for the same.