Fairwinds Technologies Partners with Domo Tactical Communications (DTC)
DTC SuperNode Prototype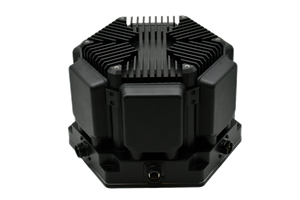 Ashburn, Va, Oct. 03, 2023 (GLOBE NEWSWIRE) — Domo Tactical Communications (DTC) is pleased to announce that we have formed an exciting partnership with Fairwinds Technologies. Fairwinds Technologies and Domo Tactical Communications (DTC) have entered into a joint development agreement to take the DTC SuperNode Prototype and develop it into a full commercially available product that will address the Directional Networking Mobile Ad hoc Networking Radio Market (DN-MANET). 
DTC MANET Mesh technology employs the latest generation of MeshUltra™ self-forming, self-healing waveforms that have been proven highly effective in contested RF environments. When this technology is implemented in a network configuration using directional RF transmissions, it can achieve Lower Probability of Detection (LPD), Lower Probability of Intercept (LPI) and greater jamming resistance with greater LOS and NLOS range than a more conventional omnidirectional MANET Mesh.
The SuperNode innovation is comprised of six radios which are combined by DTC's Interlink that allows Mesh networks to be connected via a wired Ethernet link. Antenna directionality transmits only in the direction required and at lower RF power levels. SuperNode is fully suitable for both On-the-Move and At-the-Halt tactical networking applications and for both vehicle and fixed mounting and has the potential to support data rates of 87Mbps or more depending on channel bandwidth chosen. DTC's MANET MeshUltra™ technology can deliver huge benefits to the warfighter as it can be deployed at pace without the need for fixed infrastructure or manual configuration and are extremely resilient against attack.
About Fairwinds Technologies
Fairwinds Technologies was founded with the goal of bringing the latest in commercial technologies to the military. Fairwinds Technologies designs and integrates communications, networking and information technology solutions to serve defense and civilian agencies around the world. Moving beyond the traditional integrator role, Fairwinds also develops cutting edge products to deliver the latest in commercial technologies to government entities.   
About Domo Tactical Communications
DTC is the leading MIMO MESH provider in the world. DTC radio solutions provide short range high bandwidth communications suitable for the wireless transmission of video and other data applications. DTC is an established provider to customers including Military and Special Forces, Intelligence Agencies, Border Control and First Responders. DTC is headquartered in the US with locations in the UK and Denmark, with over 160 employees.
About CODAN Communications 
CODAN Communications is a global technology company that develops robust technology solutions to solve customers' communications, safety, security and productivity problems in some of the harshest environments around the world. 
We provide tactical communications solutions that enable our customers to be connected, ultimately to support critical missions worldwide. With almost 60 years in the business, we have garnered a reputation for quality, reliability and customer satisfaction, producing innovative and industry-leading technology solutions.
CODAN Communications is a member of the Codan group of companies.
Attachment
CONTACT: Chris Keyser Domo Tactical Communications (DTC) +1 703 859 6475 [email protected] 

Disclaimer: The above press release comes to you under an arrangement with GlobeNewswire. AfternoonHeadlines.com takes no editorial responsibility for the same.