Expanding Primary Care Access: Schulich Family Medicine Teaching Unit Opens at Humber River Health
Grand Opening of the Schulich Family Medicine Teaching Unit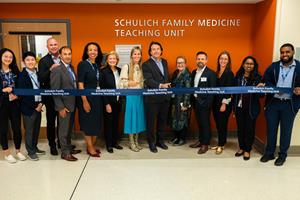 Grand Opening of the Schulich Family Medicine Teaching Unit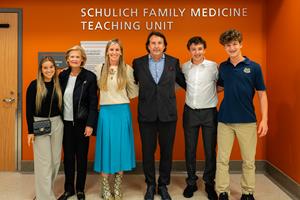 Toronto, Sept. 21, 2023 (GLOBE NEWSWIRE) — Humber River Health is thrilled to announce the official opening of the Schulich Family Medicine Teaching Unit (Schulich FMTU), a pivotal step towards addressing the healthcare access challenges faced by our Northwest Toronto community. With a catchment of 850,000, the need for accessible primary care has never been more critical.
This momentous achievement has been made possible through the exceptional generosity of The Schulich Foundation, whose steadfast commitment to philanthropy has paved the way for us to revolutionize healthcare services at Humber River Health. We extend our heartfelt gratitude as well to The Slaight Family Foundation for their invaluable initial financial support. The official ribbon-cutting ceremony took place yesterday evening, September 20th and was attended by esteemed guests who voiced their unwavering support.
The Schulich Family Medicine Teaching Unit is designed to address the critical shortage of primary care providers in Northwest Toronto by providing immediate healthcare access to our community, all while nurturing the next generation of family medicine professionals. As an official teaching site of the University of Toronto's Family Medicine Residency Program, the Schulich FMTU will provide specialized training for first and second-year medical residents pursuing careers as Family Physicians.
This endeavour not only promotes academic excellence but also empowers residents to establish their own family practices within our community, ensuring more families have ongoing access to high-quality care.
Barb Collins, President and CEO at Humber River Health, expressed her enthusiasm, stating, "The Schulich Family Medicine Teaching Unit is a significant milestone in our ongoing commitment to developing the future of primary care in our community and provides care closer to home. Our partnership with The Schulich Foundation and the University of Toronto empowers us to shape the next generation of primary care providers who will provide care in our community."
Sandra Sualim, President and CEO of Humber River Health Foundation states, "We are profoundly grateful for The Schulich Foundation's extraordinary generosity. Their commitment to philanthropy and their unwavering support have been instrumental in making the Schulich Family Medicine Teaching Unit a reality. Without their gift, this transformative healthcare initiative would not have been possible. We thank them for their visionary leadership and dedication to our community's well-being."
Judy Schulich, Director of The Schulich Foundation states, "It is our privilege to support Humber and help increase access to family doctors in the community, as well as train future medical professionals so desperately needed today."
"We are starting small, but I'm confident my group of residents will leave a lasting impact on the growth of this program for the years to come, "Dr. Bilal Negash, Lead Resident, Postgraduate Y1.
The Schulich Family Medicine Teaching Unit at Humber River Health is poised to make a lasting impact on the healthcare landscape of Northwest Toronto. This marks the beginning of a journey toward improved healthcare, brighter futures, and a healthier, happier community.
Quick Facts
The Schulich Family Medicine Teaching Unit is an official teaching site of the University of Toronto's program for Family Medicine residents where first and second year medical residents will receive their specialty training as a Family Physician.
Northwest Toronto has been described as a primary care desert, having a low number of primary care physicians surrounded by high primary care need. When Ontario researchers examined primary care gaps in the province, they found that areas of the province with the highest needs were getting the lowest levels of care. In Toronto, those areas are clustered in the city's Northwest corner and in South Scarborough.
There is currently a lack of access to comprehensive interdisciplinary primary care in our community, with only 12.2% of the local population enrolled to a Family Health Team compared to the provincial average of 23.3%.
The Schulich FMTU increases access to comprehensive primary care by offering a variety of interdisciplinary services through the Humber River Family Health Team.
About Humber River Health
Humber River Health is North America's first digital hospital and home to over 4,000 employees, 700 physicians and 500 volunteers. They serve the equity owed residents of Northwest Toronto across three sites and have built a reputation as a trusted and innovative health services provider. Their focus on patient-and family-centred care sets them apart, demonstrated by their achievement as the first Canadian hospital with a digital Command Centre that monitors and manages patient flow. Humber River Health uses a custom combination of technology and clinical expertise to rebuild elements of care, making technology work for staff and physicians, giving them more time to spend with patients.
                                                -30-
Attachments
CONTACT: Michelle Tafler Humber River Health Foundation [email protected] 

Disclaimer: The above press release comes to you under an arrangement with GlobeNewswire. AfternoonHeadlines.com takes no editorial responsibility for the same.