Executive Director and COO of Texas Farm Bureau Interviewed by Growing Our Future Host Aaron Alejandro
Former FFA member Creates Opportunities for the Agriculture Community With Service Mindset Using His Time, Talents, Treasure and Testimony at the Texas Farm Bureau – Mission Matters Podcast Agency
Si Cook and Aaron Alejandro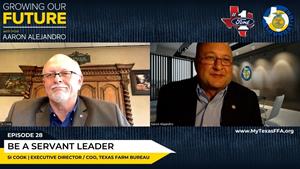 Waco, TX , July 27, 2023 (GLOBE NEWSWIRE) — Mission Matters Podcast Agency distributes the Growing Our Future Podcast
Waco, Texas – Si Cook is the Executive Director and COO of the Texas Farm Bureau. He was raised in south Texas where his family was involved in agriculture and ranching. Cook became involved in FFA in high school. "I learned a lot of lessons in FFA," he said. He has a degree in agriculture education and after graduation became a rancher. After pursuing this opportunity, another one was making an appearance on his journey. A friend of his suggested that volunteer at the Farm Bureau in his hometown. "I needed to give back. I need to give back to the community that I am moving back to. No matter what age you are, you need to think about how you can give back. So many young people think 'I will do that later on in life.' When you start giving back immediately you get a lot in return for it. I gave a little back to the agricultural community. I volunteered at the Farm Bureau. I became a board member and a County Farm Bureau President," recalled Cook. Not long after that, he worked for the state office in the field where he was able to serve about 25 counties for about seven years.
Next, the state office approached him to move to Waco. After many family discussions, he took a leap of faith, moving away from his family. "We took a chance…we took an opportunity. To all of the young people, take that chance. You miss 100% of the shots that you never take," he recalled with this familiar saying. In 2016, he took another chance at the Texas Farm Bureau. "The board of directors took a chance on me and made me the Executive Director. I am grateful for the opportunity to try and improve the industry. I have a job that I love! I appreciate the opportunity to contribute every day…the chance to make a difference every day," said Cook.
Through his experience of learning from agriculture producers and continuing his ranching operation on his personal farm contributes to his success at the Farm Bureau. "Our volunteer leaders need to know that you understand what they do for a living and challenges. I think it was critically important to understand the challenges that they face. I look at my position as something I don't own. I rent this job. I have to prove my worth every day. This is the way that I approach my job, even at this point in my career," Cook explained about his journey.
Cook's journey would not have presented itself if it wasn't for his love of agriculture and his personal FFA experiences and values. From the FFA motto to the classic FFA jacket there is so much tradition to honor. Not only does the organization carry symbolism through those organizational artifacts, but there are also leadership qualities that emanate from those who wear the blue and gold. Cook explains how deep the symbolism of these FFA values nurtures and develops the FFA member. "It's when you take that jacket off is when it really comes into play. They [jacket wearers] have a demeanor about them, especially those who have taken leadership seriously. That Ag jacket is a symbol…people expect certain things from you. There are things that FFA teaches at a young age that are invaluable," said Cook. He gives us other questions that the younger generations should ask themselves as they decide their futures. "How do you make yourself exceptional? Make yourself recognizable because you are exceptional. Use manners and develop a work ethic that sets you above others. Separate yourself from the herd. It doesn't mean you are better than anyone else, It just means that you are trying harder. FFA teaches you to be exceptional instead of mediocre," recalled Cook.
When looking at the future of farming, profitability is key according to Cook. "The farm population is getting older. Farming is a risky business. Young people really have to have a passion to get into this business. Fortunately, we have a lot of young people who want to do this. The challenges are more than they used to be. What goes on outside of the farm gate has as much to do within the farm gate as far as profitability…If you are not good at the things that happen outside of the farm gate, you still may not be profitable. Meaning, regulatory issues, politics, finance and the aspects of business are important. Those folks that become proficient at those things have a better chance at success. Those are the things that you learn in FFA," Cook said passionately.
Listen to the full podcast interview by Aaron Alejandro with Si Cook on your favorite podcast channel.
· iTunes
· Spotify
· Audible
· YouTube
· Mission Matters
In this podcast, the host covers:
Si, what are you grateful for today?
Can you take us along your FFA journey and how you landed your career at the Texas Farm Bureau?
Can you tell us about you asking everyone to bring their Ag jacket at the Texas Farm Bureau Convention?
What are the opportunities for students or teachers who want to be a part of agriculture and the Texas Farm Bureau?
What are some challenges with Texas agriculture?
Si, what are three leadership skills that you would tell a young FFA member needs to work on today?
What is the best concert that you have been to?
About the Podcast Host and Guest
The Texas FFA Foundation's purpose is to strengthen agricultural education and the Texas FFA program, so each student can develop their potential for personal growth, career success and
leadership in a global marketplace.
Learn more about the Texas FFA Foundation at mytexasffa.org
Learn more about Si Cook and the Texas Farmers Bureau at https://texasfarmbureau.org/
Media Communications
Mission Matters Podcast Agency distributes the Growing Our Future Podcast
Inquiries: [email protected]
Media contact and published by KISS PR [email protected]
Attachment
Si Cook and Aaron Alejandro

Disclaimer: The above press release comes to you under an arrangement with GlobeNewswire. AfternoonHeadlines.com takes no editorial responsibility for the same.