Evergreen Conference 2023: Hundreds Gather to Make the Case for Place in Canada
Evergreen's annual national conference brought industries, cultures, and regions together to examine the potential of public space to address social, ecological, and economic challenges.
Zita Cobb Speaks at Evergreen Conference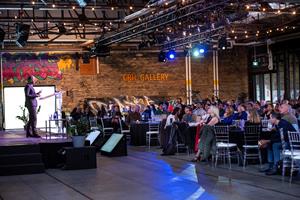 TORONTO, ONTARIO, Oct. 18, 2023 (GLOBE NEWSWIRE) — This past Monday at Evergreen Brick Works, over three hundred people came together at the Evergreen Conference to answer one central question: how can public places contribute to sustainable and inclusive communities across Canada  
"Public places make our cities," said Evergreen CEO Jen Angel. "Amid growing social isolation, disparity, and climate change, public places are an essential service. At their best, they are magnetic, green and inclusive spaces and neighborhood hubs that connect people to nature and each other, creating a sense of belonging and a reprieve from the hustle and bustle of city life. We need to nurture these spaces and steward new ones that work hard for communities." 
Zita Cobb, the founder and CEO of Shorefast, shared an inspiring keynote speech, in which she challenged the audience to "unleash the power of place."  
Speakers and participants, including Indigenous leaders, educators, researchers, elected officials, business executives, and community advocates shared how they are making this vision a reality. Redeveloped school grounds are engaging children and mitigating the impacts of climate change in Milton, Ontario. Affordable housing projects are contributing to a sense of belonging and wellbeing in Montreal, Quebec. Smart tools and technologies are supporting social infrastructure and climate resilience in public places across the country. The possibilities are endless, and there is much work to be done.   
"Communities hold our assets. When properly activated, communities have the potential to contribute to national economic momentum," said Cobb. 
The conference also marked the beginning of something new for Evergreen. Since 1991, the national not-for-profit has been facilitating change in communities through connection, innovation and sustainable actions. Staying true to its roots, Evergreen is moving forward with renewed focus on transforming public spaces for the health of people and the planet.   
Between sessions, participants were able to experience the beauty of Evergreen Brick Works through self-guided audio tours, a hay bale maze, public art on display, and a mini market.  
"Evergreen Brick Works is our living laboratory where we can demonstrate what's possible for public places in our cities.  What was once a dilapidated brick factory is now a public space bursting with life," said Lois Lindsay, Chief Program Officer at Evergreen. "Kids play in the Children's Garden; hundreds of community members come to our Saturday Farmers Market every week; artists are displaying their work in and around the site; and turtles, birds, and beavers call this place home."  
The Evergreen Conference is made possible by lead funder Infrastructure Canada, lead sponsors TD Bank Group and Suncor Energy Foundation, and supporting sponsor Beanfield.  
Public places can be powerful levers for change. Evergreen is committed to working with partners to solve some of the most pressing issues of our time—one park, school ground, trail, and community centre at a time.   
Attachment
CONTACT: Toby Davine Evergreen 289-904-2636 [email protected] 

Disclaimer: The above press release comes to you under an arrangement with GlobeNewswire. AfternoonHeadlines.com takes no editorial responsibility for the same.