Evergent and Irdeto Announce Partnership to Unite Industry-Leading OTT Streaming and Customer Experience Solutions
New Collaboration Product Suite to Deliver Highly Configurable Tools for End Users; Enable Faster Time to Market for Service Providers with Subscription-based Billing models.
Evergent and Irdeto signing ceremony at IBC 2023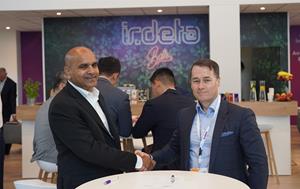 Amsterdam, Sept. 16, 2023 (GLOBE NEWSWIRE) — Evergent, the customer management and monetization leader for streaming and digital subscription businesses, and Irdeto, the world leader in digital platform cybersecurity, today announced a new partnership to combine Evergent's flexible subscription and customer management solutions with Irdeto's video streaming security and management tools. The new partnership will enable OTT streaming providers to quickly bring innovative, custom use cases to market, taking advantage of the rapidly growing market for subscription-based services.
According to research from Statista, the global market for OTT video is expected to grow over the next five years at a CAGR of 10%. OTT streaming video providers must compete for their position in this growing market by offering unique, customer-friendly packages and experiences. The new partnership between Evergent and Irdeto will provide these companies with solutions for tailored customer offerings, allowing streaming providers to quickly bundle different offers and services and bring them to market.
"Speed and flexibility are key to surviving and thriving in our current economic climate," said Vijay Sajja, founder and CEO of Evergent. "With our partnership with Irdeto, we've found a company with common goals and values. The combination of our unique product offerings will make it possible for our OTT customers to design the services and bundles that will help them to acquire and maintain loyal subscribers. The subscription services market can count on Evergent and Irdeto for speed, flexibility and reliability."
The new partnership will bring together the most configurable and easy-to-deploy solutions for subscription service providers from Evergent and Irdeto. Evergent's suite of flexible monetization and customer experience solutions make it possible for OTT streaming video and other service providers to quickly plan, evaluate and implement new business strategies.
In the era of video streaming, Irdeto is taking a leading role as the trusted partner to customers by offering an enriched suite of end-to-end OTT solutions that help maximize the value of their platform and their content rights. Pay-TV operators embarking on a super-aggregation strategy (broadcast combined with OTT) can leverage Irdeto's cybersecurity solutions to offer the fastest and most flexible and secure way to deploy a hybrid (or pure OTT) service on an Android TV or RDK set-top box.
"The synergy between Irdeto's secure video streaming solutions and Evergent's customer management tools will make a substantial difference for streaming video providers and other subscription-based videos," said Doug Lowther, CEO at Irdeto. "No other solution offers the same breadth of functionality and ease of use. We look forward to developing this partnership and providing additional value to our customers in the months to come."
                                                                        ###
ABOUT IRDETO
Irdeto is the world leader in digital platform security, offering solutions and services that enable customers to protect their revenue, create new offerings and fight cybercrime effectively. With more than 50 years of experience, Irdeto is the leading solutions and services provider for content, video broadcast and streaming services, partnering with movie studios, sports rights holders, and OTT and broadcast operators across the content value chain. With a unique pay-TV operator heritage, Irdeto is the preferred partner to empower a secure world where people can connect with confidence.
For more information, please visit www.irdeto.com.
ABOUT EVERGENT
Based in Sunnyvale, CA, Evergent delivers customer relationship management tools for global digital media, entertainment and telecommunications providers. With customers in 175 countries ranging from small businesses to Fortune 500 companies, Evergent creates flexible, user-friendly solutions that enable each customer to streamline their CRM processes and maximize monetization efforts. For more information, visit www.evergent.com.
Attachment
Evergent and Irdeto signing ceremony at IBC 2023
CONTACT: Daniel Butschek Irdeto [email protected] 

Disclaimer: The above press release comes to you under an arrangement with GlobeNewswire. AfternoonHeadlines.com takes no editorial responsibility for the same.