ESFI Releases Building Owner Electric Vehicle Survey Results
The goal of the survey was to identify safety gaps related to emerging technology.
Electric Vehicle Supply Equipment Survey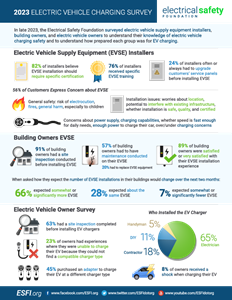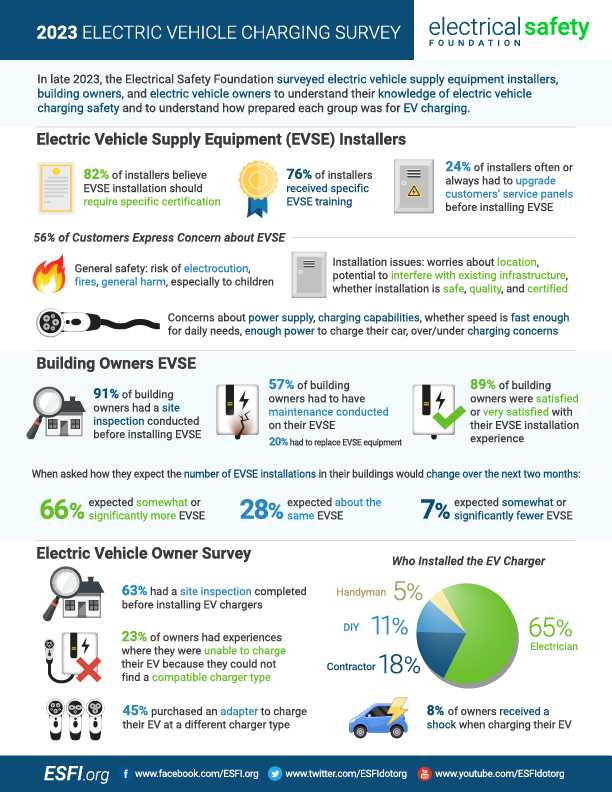 ARLINGTON, Va., Nov. 09, 2023 (GLOBE NEWSWIRE) — The Electrical Safety Foundation (ESFI) recently surveyed building owners and managers to gauge their understanding of electric vehicles (EV) and the safe installation of electric vehicle supply equipment (EVSE), or EV charging stations and chargers. The goal of the survey was to identify safety gaps related to emerging technology to keep consumers, installers, and businesses safe. The survey results showed that over 91% of building owners had a site inspection conducted before installing EVSE.
Survey respondents stressed the importance of having the equipment installed professionally, with high-quality equipment, to ensure all measures meet standards for safety and code compliance. "To prepare your building for EV charging, it's imperative to have a qualified electrician complete an electrical system inspection to ensure your business has the right electrical capacity for EV charging," said ESFI President Brett Brenner. "All EV charger installations and site inspections should only be completed by qualified electricians who have been trained and are insured and bonded to complete electrical work."
Many respondents advised thoroughly researching and planning before installing EVSE. Several respondents recommended taking the time to install EVSE properly, as the process can take longer due to permitting or the availability of parts. Of the building owners who were surveyed, 46.5% had to have maintenance conducted on their EVSE, while 19.8% had to replace EVSE equipment. Of those that had to replace equipment, 23.5% replaced cables, 19.6% replaced plugs or connectors, 17.6% replaced electronic components or control units, 15.7% replaced housing or enclosures, and 11.8% replaced ground fault circuit interrupters.
Overall, 89% of survey respondents were satisfied or very satisfied with their EVSE installation experience. Survey respondents agreed – 66.35% – that the number of EVSE installations in their buildings would change somewhat or significantly more over the next two months, 26.7% said installations would be about the same, and 6.9% believe it will be somewhat or significantly lower. Some respondents suggested engaging with building tenants during the installation process to manage expectations and minimize inconvenience. A few respondents suggested considering costs, gathering multiple estimates, comparing prices, and considering charging fees to balance installation and maintenance costs.
Adding EVSE to your building can attract new business and provide an incentive to employees while showing your corporate social responsibility and improving your environmental, social, and governance initiatives. ESFI urges building owners and managers to ensure all EVSE is installed by a qualified electrician and also to conduct a site assessment before installation to ensure that their electrical system can handle the electrical demands of EV charging throughout their building. For free EV safety resources that you can share throughout your community, visit esfi.org.
ABOUT ESFI
The Electrical Safety Foundation is a 501(c)(3) non-profit organization dedicated to promoting electrical safety at home and the workplace. For more information, visit esfi.org.
Contact:
Brianne Deerwester
Electrical Safety Foundation
703.841.3295
[email protected]
A photo accompanying this announcement is available at https://www.globenewswire.com/NewsRoom/AttachmentNg/e636e962-5c41-48c2-afbd-e62a9e9cc5f8

Disclaimer: The above press release comes to you under an arrangement with GlobeNewswire. AfternoonHeadlines.com takes no editorial responsibility for the same.