Epazz Holdings' ZenaDrone 1000 Displayed at the 2023 AERO in Germany Leads to Multiple Demonstrations With NATO Partner Countries Defense and German Law Enforcement and Rail Line
Epazz, Inc.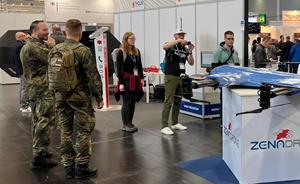 CHICAGO, IL, April 26, 2023 (GLOBE NEWSWIRE) — via NewMediaWire – Epazz Inc. (OTC Pink: EPAZ), a mission-critical provider of drone technology, blockchain mobile apps and cloud-based business software solutions, has announced today that the ZenaDrone 1000 was showcased at the AERO General Aviation Convention in Friedrichshafen, Germany, on April 19-22nd. This showcase has led to multiple demonstrations scheduled with NATO partner countries, multiple law enforcement departments, and a large rail line in Germany.
The team at ZenaDrone Germany had a successful debut at Aero, meeting with top organizations to discuss how ZenaDrone 1000 technology can solve their problems with inspections of railways, reducing the use of helicopters and providing critical support to NATO troops. ZenaDrone met with German UAV regulators about setting up beyond-visual-line-of-sight operations in Germany. ZenaDrone is already ahead of the game by applying beyond-visual-line-of-sight operations in Ireland, which uses the standards of the European Union via the European Union Aviation Safety Agency. Once ZenaDrone receives final approval for beyond-visual-line-of-sight operations in Ireland, ZenaDrone will receive approval in Germany within 10 business days. In the meantime, flight demonstrations will be held in Northern Germany to allow personnel to fly the drone themselves and understand how it fits within their operations.
"The ZenaDrone 1000 is a real game-changer in unmanned aerial vehicles. It attracted a sizable crowd during the AERO Convention. We are optimistic for an expanded reach in the EU region," said Shaun Passley, Ph.D., CEO and director of Epazz Inc. and ZenaDrone Inc.
AERO was met with much fanfare because high-performance drones are now a reality. The Epazz ZenaDrone 1000 is a pioneer in the drone utility category with its multi-spectral sensors, AI integration, autonomous system and high-definition full-frame camera drone. The ZenaDrone 1000 endeavors to revolutionize how businesses and industries harness the power of a sustainable unmanned aerial vehicle to measure land, locate objects and capture video and photos for professional and recreational use.
The ZenaDrone 1000 has a high-quality camera, allowing users to take stunning aerial photographs and videos that capture the world's beauty from new heights. It also has autonomous flight capabilities, preventing it from crashing even in challenging weather conditions or sudden obstacles. The drone's multiple-sensor system can measure height, depth and vegetation and establish GPS location to track people, objects and animals in the frame of its camera for unprecedented accuracy and control.
About ZenaDrone Inc. (https://www.ZenaDrone.com/)
ZenaDrone Inc. is dedicated to improving intelligent unmanned aerial vehicle technology, incorporating machine learning software and AI. It was created to revolutionize the hemp farming sector and later evolved into a smart multifunctional industrial surveillance, inspection and monitoring solution.
About Epazz Inc.
Epazz Inc. is a mission-critical provider of metaverse solutions, blockchain cryptocurrency mobile apps and cloud-based software. It specializes in providing customized cloud applications to corporate firms, higher-education institutions and the public sector. Epazz is developing metaverse business solutions that enable people to collaborate in real time through VR. Epazz is upgrading its business solutions to be fully integrated into the metaverse. Epazz will be manufacturing low-cost smart glasses for the metaverse.
Safe Harbor
Certain statements contained in this press release are "forward-looking statements," as defined by the "Safe Harbor" statement in the Private Securities Litigation Reform Act of 1995. Forward-looking statements generally can be identified by their use of forward-looking terms such as "may," "expect," "intend," "estimate," "anticipate," "believe" and "continue" (or the negative variations thereof). Such forward-looking statements are subject to risk, uncertainties and other factors that could cause actual results to differ materially from those the statements imply. Investors are cautioned that any forward-looking statements are not guarantees of future performance and that actual results may differ materially from those such forward-looking statements contemplate. Epazz assumes no obligation, does not intend to update these forward-looking statements and has no duty to update or correct information that third parties not paid for by Epazz prepare.
Investors are encouraged to review Epazz's public filings on SEC.gov, including its unaudited and audited financial statements, its registration statement, Form 10-Ks and Form 10-Qs, which contain general business information about the company's operations, operations results and the risks associated with the company and its operations. Penny stock picks need to be researched. Please do your homework, and review all our filings.
For more information, please contact the following:
Epazz Inc.
Investor Relations
[email protected]
312-955-8161
www.epazz.com/investors.aspx
Attachment

Disclaimer: The above press release comes to you under an arrangement with GlobeNewswire. AfternoonHeadlines.com takes no editorial responsibility for the same.