Ensure Your Worksite is Winter-Ready Now, Urges Occupational Safety Leader Ergodyne
"Winter is not a season– it's an occupation" – Sinclair Lewis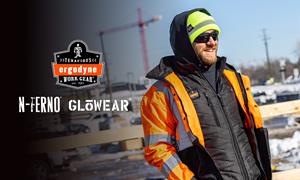 St. Paul, MN, Sept. 28, 2023 (GLOBE NEWSWIRE) — Occupational safety leader Ergodyne is emphasizing the importance of preparing worksites for the increasingly unpredictable winter months that lie ahead.
"The shift in seasons demands a plan," said Tom Votel, President/CEO, Ergodyne. "And while winter looks different from region to region, erratic weather patterns are a common thread. Last winter is a prime example."
The winter of 2022-23 brought wildly unpredictable and extreme weather to every corner of the contiguous United States, from tornados and ice storms in Texas, to record rain and snow fall from California to New Hampshire.
Building a more resilient worksite
"Winter safety goes beyond just gearing up for freezing temperatures," said Claudia Weber, Product Manager, Ergodyne. Weber is charged with leading up Ergodyne's winter safety efforts, including PPE development and risk awareness education. "A comprehensive strategy includes preparing the worksite and educating the workforce on the potential hazards and necessary preventative measures, particularly in the face of extreme weather that tends to escalate these hazards."
According to the Bureau of Labor Statistics (BLS), injuries due to cold stress number in the hundreds every year. Countless more injuries listed under other categories may actually be caused by cold conditions which can affect physical function and even impair cognitive ability.
"Our initiative aims to create a well-informed workforce that can recognize signs of cold stress," said Weber. "Equipped with knowledge and the right protective gear, they can fend off potential dangers more effectively, especially in an era where weather patterns can change rapidly and without warning."
Central to this approach is smart scheduling—shorter shifts mean safer, more productive crews according to Weber—and adopting a layering system that adapts to the variable conditions of winter, ensuring warmth and protection against sudden cold snaps and precipitation.
"Contrary to what you might expect, overheating is a big issue for workers in the winter months," said Weber. "When you're hot, you sweat. And wet clothes make it all but impossible to stay warm. Being able to peel off or add a layer to adapt to workloads and regulate body temps is absolutely critical."
Additional winter work safety considerations recommended by Ergodyne include:
Traction: Wearing additional winter traction and ensuring footpaths and roadways around the worksite are salted to prevent slips and falls.
Hydration: Encouraging regular fluid intake to prevent dehydration, a common but often overlooked risk in cold environments.
Skin Protection: Offering solutions for safe and effective protection against sunburn, even in winter, a season where the sun's effects can often be underestimated.
Dwindling Daylight
With winter approaching, many workers—especially those in construction, transportation and utilities—face increased risk brought on by shorter days.
From proper hi-vis to headlamps and beacon lights, "Darker mornings and earlier sunsets put a greater emphasis on the need for enhancing worker visibility," said Tim Gallant, Product Director, Ergodyne.
Learn more about winter work safety and low visibility hazards through the following links:
Cold Stress Awareness
https://www.ergodyne.com/cold-stress
Low Visibility and Struck-By Hazards
https://www.ergodyne.com/low-visibility-and-struck-by-hazards
Learn more about Ergodyne's new winter PPE through the following link:
New Winter Gear
https://www.ergodyne.com/lp/2023-new-warming-gear-launch
To learn more, email [email protected] or call 800-225-8238 // (651) 642-9889.
ABOUT ERGODYNE
Since 1983, Tenacious Holdings, Inc. (dba Ergodyne, a Klein Tools Company) has pioneered the development of products that Make The Workplace A Betterplace™. What started with just one product has grown into a line of top flight, battle-tested, Tenacious Work Gear®; all precision crafted to provide protection, promote prevention and manage the elements for workers on jobsites the world over. The current lineup is extensive and constantly growing: ProFlex® Hand Protection, ProFlex® Knee Pads, ProFlex® Supports, Skullerz® Head & Face Protection, Skullerz® Eye Protection, Trex® Traction, KREW'D® Skin Protection, Chill-Its® Cooling Products, N-Ferno® Warming Products, GloWear® Hi-Vis Apparel, Squids® Lanyards, Arsenal® Gear and Tool Storage, and SHAX® Portable Work Shelters.
Originally posted on: www.ergodyne.com
Attachment
CONTACT: Ergodyne 8002258238 [email protected] 

Disclaimer: The above press release comes to you under an arrangement with GlobeNewswire. AfternoonHeadlines.com takes no editorial responsibility for the same.