Energy Capital Vietnam Signs Three Memoranda of Understanding During the United Nations General Assembly
The MOUs focus on port and green development in Hai Phong City and partnership opportunities related to the Mui Ke Ga power project
Energy Capital Vietnam Signs Three Memoranda of Understanding During the United Nations General Assembly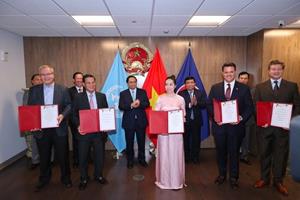 NEW YORK, Sept. 28, 2023 (GLOBE NEWSWIRE) — Energy Capital Vietnam (ECV), a project development and holding company established as a platform for direct investment into energy and infrastructure within Vietnam, signed three memoranda of understanding (MOU) in New York City during the United Nations General Assembly. The three agreements propel ECV's growth trajectory in Vietnam by expanding ECV's target geography to include Northern Vietnam.
The Prime Minister of the Government of the Socialist Republic of Vietnam, The Honorable Phạm Minh Chính, personally witnessed the signing of the MOU with the Port of Los Angeles (POLA) and Hai Phong City People's Committee related to development opportunities for the Nam Do Son General Port Project in Hai Phong City. Together with Kinh Bac City Development Holding Corporation and Saigontel, ECV and POLA will study the commercial potential, environmental conditions, and investment environment to propose the development of the 5,000 ha, $5 billion Nam Do Don Port Project.
The Prime Minister also witnessed the signing of the MOU between the Hai Phong City People's Committee (HPC), ECV, Saigontel, Allotrope Partners, and Maius regarding green growth at the Permanent Mission to the Socialist Republic of Vietnam to the United Nations. This document memorializes HPC's desire to achieve green growth goals in Hai Phong City in line with Vietnam's declared net zero carbon 2050 goals.
Working together, the consortium will – amongst other activities – conduct research and analysis on emissions reduction opportunities, technology, and roadmaps for developing zero-emission renewable energy sources, storage technology, and carbon capture technology. The consortium will also promote emissions reductions in transportation and mitigate greenhouse gas emissions in the field of construction materials production. The group will also develop policies and implement plans to reduce emissions and improve competitiveness in attracting green finance from investors and multinational corporations.
ECV signed a third MOU directly with Saigontel regarding a potential partnership in the Mui Ke Ga (MKG) integrated LNG to-power project in Binh Thuan Province. Following the Vietnamese government's execution of the Power Development Plan VIII, MKG has entered the official pipeline to receive a license and begin construction.
David Lewis, Chairman and CEO of Energy Capital Vietnam, celebrated the signing of the memorandums of understanding, stating: "Today's significant milestone with Prime Minister Chinh reflects the trust we've established across the Vietnamese government, which is borne from our uncompromising commitment to our values and quality in everything we do. ECV is relentlessly focused on creating value for all stakeholders – the government of Vietnam, the people of Vietnam, and investment communities outside of Vietnam – by leveraging our deep understanding of Vietnamese policy and legal procedures, as well as the global energy landscape, to reduce risk and align interests to unlock greater commodity and capital flows into Vietnam. We are grateful for the opportunity to work in partnership with SaigonTel to help improve Vietnam's energy security while enhancing bilateral trade with the US."
About ECV:
Energy Capital Vietnam (ECV) is a Houston, Texas-based project development and holding company established as a platform for direct investment into Vietnam's energy and infrastructure sectors. Learn more at: www.ecvholdings.com
Contact:
Frank De Maria
[email protected]
+1 347 647 0284
Elie Jacobs
[email protected]
+1 646 330 2585
A photo accompanying this announcement is available at https://www.globenewswire.com/NewsRoom/AttachmentNg/71c3a0c9-c286-488e-8864-cc75cd45f03d

Disclaimer: The above press release comes to you under an arrangement with GlobeNewswire. AfternoonHeadlines.com takes no editorial responsibility for the same.