Embedded Analytics Market Size Predictions suggest a rise of 12.7% CAGR, to reach value of USD 180.5 Billion by 2032
Acumen Research and Consulting recently published report titled "Embedded Analytics Market Forecast, 2023 – 2032"
TOKYO, July 05, 2023 (GLOBE NEWSWIRE) — The Global Embedded Analytics Market Size accounted for USD 55.3 Billion in 2022 and is projected to achieve a market size of USD 180.5 Billion by 2032 growing at a CAGR of 12.7% from 2023 to 2032.
Embedded Analytics Market Highlights and Statistics:
The Global Embedded Analytics Market was valued at USD 55.3 billion in 2022 and is projected to reach USD 180.5 billion by 2032, growing at a CAGR of 12.7% from 2022 to 2032.
The market is driven by the increasing demand for real-time insights, the need for data-driven decision-making, and the growing adoption of embedded analytics in various industries.
North America holds the largest market share, followed by Europe and Asia Pacific.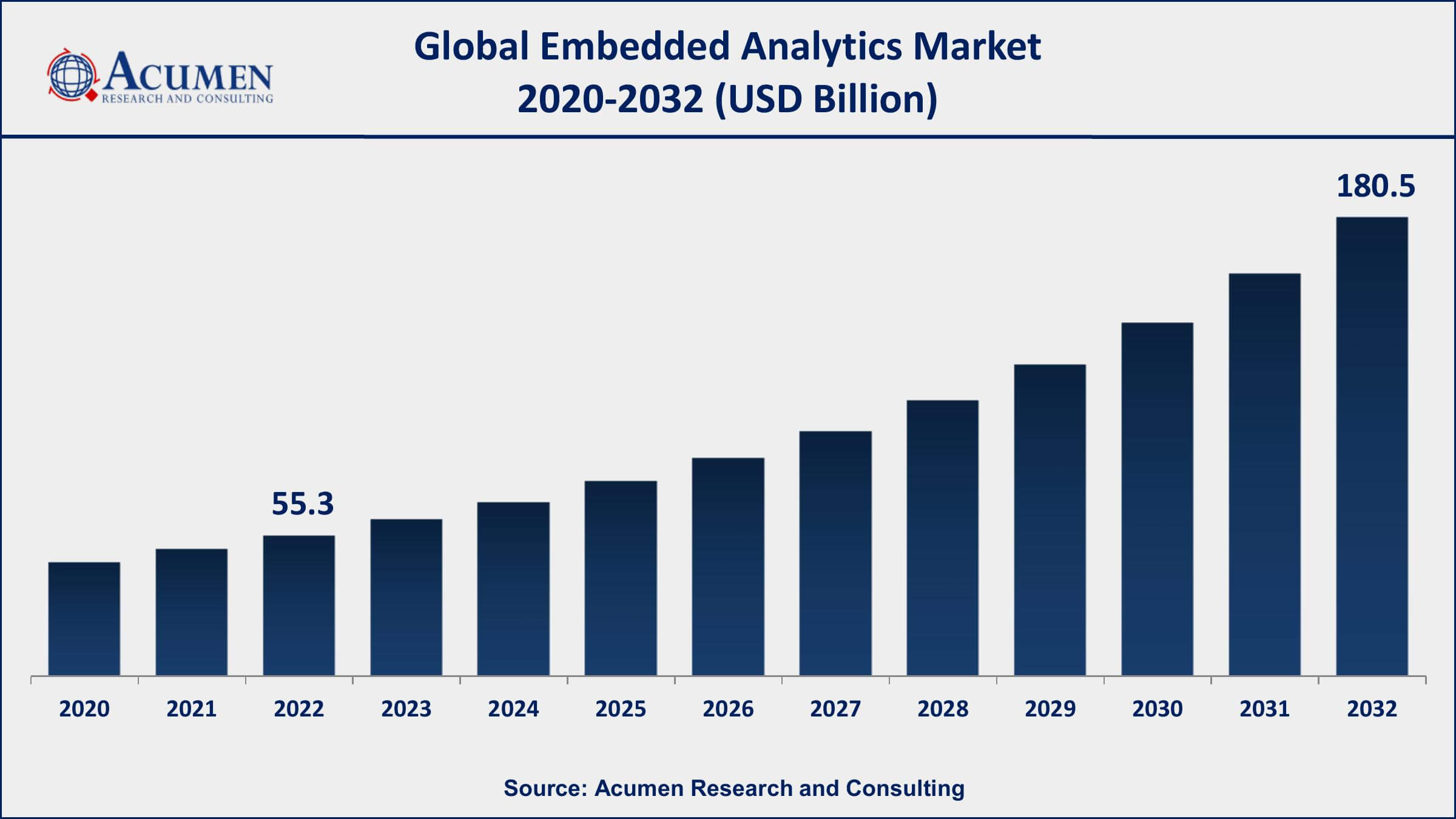 Request For Free Sample Report @ https://www.acumenresearchandconsulting.com/request-sample/3241
Embedded Analytics Market Report Coverage:
Market
Embedded Analytics Market
Embedded Analytics Market Size 2022
USD 55.3 Billion
Embedded Analytics Market Forecast 2032
USD 180.5 Billion
Embedded Analytics Market CAGR During 2023 – 2032
12.7%
 
Embedded Analytics Market Analysis Period
2020 – 2032
Embedded Analytics Market Base Year
2022
 
Embedded Analytics Market Forecast Data
2023 – 2032
Segments Covered
By Analytics Tool, By Deployment Mode, By Organization Size, By Business Function, By Industry Vertical, And By Geography
Embedded Analytics Market Regional Scope
North America, Europe, Asia Pacific, Latin America, and Middle East & Africa
Key Companies Profiled
Microsoft Corporation, SAP SE, IBM Corporation, MicroStrategy Incorporated, Tableau Software (now part of Salesforce), TIBCO Software Inc., QlikTech International AB, SAS Institute Inc., Sisense Inc., Logi Analytics Inc., Looker Data Sciences Inc. (now part of Google Cloud), and Yellowfin BI.
Report Coverage
Market Trends, Drivers, Restraints, Competitive Analysis, Player Profiling, Regulation Analysis
Embedded Analytics Market Analysis:
The Embedded Analytics Market encompasses a range of tools, technologies, and services that enable the integration of analytics capabilities directly into existing software applications, dashboards, and workflows. These embedded analytics solutions empower users to access and analyze data within the context of their daily operations, eliminating the need for separate analytics tools or platforms. Industries such as finance, healthcare, retail, manufacturing, and telecommunications are adopting embedded analytics to enhance decision-making and gain a competitive edge.
Embedded Analytics Market Trends:
Self-Service Analytics: The market is witnessing a shift towards self-service analytics, allowing end-users to explore and analyze data independently without relying on IT or data teams. Self-service analytics empowers users with greater autonomy, agility, and flexibility in accessing insights and making data-driven decisions.
Mobile Embedded Analytics: With the increasing use of mobile devices, embedded analytics solutions are being developed to deliver analytics capabilities directly to mobile applications. Mobile embedded analytics enables users to access real-time insights on the go, enhancing productivity and decision-making flexibility.
Natural Language Processing (NLP): NLP is gaining prominence in embedded analytics solutions, enabling users to interact with data and generate insights through voice commands or text-based queries. NLP capabilities enhance the accessibility and usability of embedded analytics for a wider range of users.
Advanced Data Visualization: Embedded analytics solutions are incorporating advanced data visualization techniques, such as interactive dashboards, charts, and graphs, to present data in a visually compelling and easily understandable format. Advanced data visualization enhances data exploration, analysis, and communication.
Embedded Analytics Market Growth Drivers:
Demand for Real-Time Insights: Organizations are increasingly recognizing the value of real-time insights for effective decision-making. Embedded analytics solutions provide immediate access to data-driven insights within the context of business applications, enabling timely and informed decision-making.
Data-Driven Decision-Making: The shift towards data-driven decision-making is driving the adoption of embedded analytics. By integrating analytics capabilities directly into applications, organizations can empower users at all levels to make informed decisions based on data-driven insights, leading to improved operational efficiency and better outcomes.
Enhanced User Experience: Embedded analytics solutions offer a seamless user experience by eliminating the need to switch between different applications or tools for data analysis. Users can access insights within their familiar application interfaces, improving productivity, and reducing the learning curve associated with separate analytics platforms.
Competitive Advantage: Embedded analytics provides organizations with a competitive advantage by enabling them to leverage their data assets more effectively. By embedding analytics capabilities into their products or services, organizations can differentiate themselves in the market, deliver value-added features, and address customer needs more comprehensively.
Embedded Analytics Market Challenges:
Data Security and Privacy: Integrating analytics capabilities within applications requires careful consideration of data security and privacy concerns. Ensuring the protection of sensitive data and compliance with data protection regulations pose challenges for embedded analytics solution providers.
Integration Complexity: Embedding analytics within existing applications can be complex, especially in legacy systems or environments with diverse data sources. Addressing integration challenges and ensuring seamless interoperability with different applications and data repositories require expertise and careful planning.
Data Quality and Governance: Embedded analytics heavily relies on the quality and integrity of data. Organizations need to establish robust data governance practices, including data cleansing, data validation, and data lineage, to ensure the accuracy and reliability of insights generated by embedded analytics solutions.
Check the detailed table of contents of the report @
https://www.acumenresearchandconsulting.com/table-of-content/embedded-analytics-market
Embedded Analytics Market Segmentation:
Based on Analytics Tool
Benchmarking
Dashboard and Data Visualization
Reporting
Self-service Tools
Based on Deployment Modes
Based on Size of Organization
Based on Business Functions
Production
Finance
Human Resources (HR)
Marketing and Sales
Other
Based on Industry Verticals
IT and Telecommunication
Retail and Consumer Goods
Healthcare and Life Sciences
Government
Manufacturing
Energy and Utilities
BFSI
Other
Embedded Analytics Market Regional Analysis:
North America dominates the Embedded Analytics Market due to the presence of leading technology vendors, early adoption of embedded analytics, and the availability of skilled professionals. Europe holds a significant market share, driven by the demand for data-driven decision-making and regulatory compliance. Asia Pacific is expected to experience substantial growth, fueled by digital transformation initiatives, increasing awareness of analytics benefits, and the adoption of advanced technologies in emerging economies.
Buy this premium research report –
https://www.acumenresearchandconsulting.com/buy-now/0/3241
List of Key Players Embedded Analytics Market:
Microsoft Corporation, SAP SE, IBM Corporation, Oracle Corporation, Salesforce.com, Inc., Tableau Software, Inc., MicroStrategy Incorporated, TIBCO Software Inc., QlikTech International AB, SAS Institute Inc., Sisense Inc., Logi Analytics, Inc., Yellowfin BI Pty Ltd., GoodData Corporation and Looker Data Sciences, Inc.
Browse More Research Topic on ICT Industries Related Reports:
The Self-Service Technology Market is expected to grow at a CAGR of around 15.7% from 2020 to 2027 and expected to reach the market value of around USD 77.7 Billion by 2027.
The E-Learning Market is expected to grow at a CAGR of around 15.9% from 2020 to 2027 and expected to reach the market value of around USD 660.8 Billion by 2027.
The Global Virtual Reality Headset Market is anticipated to grow at a CAGR of around 28.1% during the forecast period 2020 to 2027 and to reach around USD 44.2 Billion by 2027.
About Acumen Research and Consulting:
Acumen Research and Consulting is a global provider of market intelligence and consulting services to information technology, investment, telecommunication, manufacturing, and consumer technology markets. ARC helps investment communities, IT professionals, and business executives to make fact-based decisions on technology purchases and develop firm growth strategies to sustain market competition. With the team size of 100+ Analysts and collective industry experience of more than 200 years, Acumen Research and Consulting assures to deliver a combination of industry knowledge along with global and country level expertise.
For Latest Update Follow Us on Twitter , Instagram and LinkedIn
Contact Us:
Mr. Richard Johnson
Acumen Research and Consulting
USA: +13474743864
India: +918983225533
E-mail: [email protected]

Disclaimer: The above press release comes to you under an arrangement with GlobeNewswire. AfternoonHeadlines.com takes no editorial responsibility for the same.