Elcora Achieves 8.9% Vanadium: Begins shipping bulk samples for trial tests in smelters
Figure 1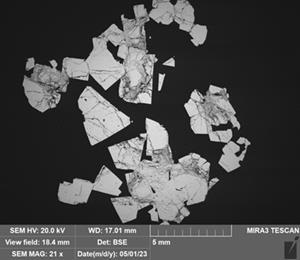 Figure 2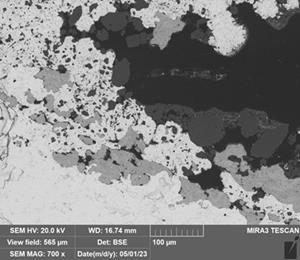 HALIFAX, Nova Scotia, June 14, 2023 (GLOBE NEWSWIRE) — ELCORA ADVANCED MATERIALS CORP. (TSX.V:ERA | Frankfurt:ELM | OTCQB – ECORF), (the "Company" or "Elcora"), is pleased to announce completion of the first phase of vanadinite comminution testing.
The purpose of these tests was to characterize the mineral suite found within the deposit economic rocks and determine the liberation sizes to direct later comminution studies. Two samples were tested. Both were composed of porous rocks and loose material. Three investigative tools were undertaken to determine these values: optical and electron microscopy and whole rock assay using ICP. The loose materials, composing approximately 12.5% of the sample.
The economic mineral contained within the sample are the vanadium/lead/chloride vanadinite. Primary gangue minerals are silica, and calcite/dolomite. The ICP information indicates a vanadinite content of 66% of the entire sample whereas the microscopy indicates 62.9% (including the loose materials). ICP indicates minimal volumes of other minerals, other than silica or silicates, with some mica, that occur in cemented zones between the vanadinite crystals. Inclusions within the vanadinite were identified as silica.
Four levels of liberation occur in these minerals, as shown in Table 1.
Table 1: Order of magnitude liberation sizes
| | | |
| --- | --- | --- |
|   | Description | Size |
| 1 | Liberation to exposure for hydrometallurgy | 1000 – 2000 um |
| 2 | Bulk of vanadinite | 500 um |
| 3 | Cemented zone particles, liberation of calcite | 20 um |
| 4 | Liberation of inclusions from vanadinite | 10 um |
Approximately 85% of the vanadinite crystals (Figure 1) are free of impurities and fractures easily. Most of the contamination occurs within zones cemented with silica and calcite (Figure 2). There are, also, areas of silica inclusions into the vanadinite.
| | |
| --- | --- |
| | |
| Figure 1: Vanadinite Crystals | Figure 2: Cementation Zone: white is vanadinite, dark grey is silica, light grey is calcite |
|   |   |
The CIP whole rock analysis of the samples tested, shown in Table 2, indicates an 8.9% vanadium grade within the vanadinite and associated cementation zones.
Table 2: ICP whole rock analysis. Vanadium at 89069 mg/kg is equivalent to 8.9% vanadium in the sample (divide by 10,000).
| | | | | | |
| --- | --- | --- | --- | --- | --- |
| Element | mg/kg | Element | mg/kg | Element | mg/kg |
| Ag | 0.3 | Fe | 1194 | P | 4108 |
| Al | 5294 | Ga | 270 | Pb | 464724 |
| As | 1591 | K | 1114 | S | 412 |
| Ba | 1006 | Li | 5 | Sb | 553 |
| Ca | 1773 | Mg | 927 | Sr | 36 |
| Co | 3 | Mn | 9 | Ti | 351 |
| Cr | 214 | Na | 212 | V | 89069 |
| Cu | 3 | Ni | 8 | Zn | 22 |
|   |   |   |   | Zr | 7 |
"We have worked hard to establish ourselves as a reliable supplier of high-quality vanadium," said Grant. "This order is a testament to the dedication and expertise of our team and our commitment to providing our customers with the best possible products and services."
Elcora Advanced Materials Corp is committed to providing sustainable solutions for the materials industry. The company's vertically integrated approach ensures that it has full control over the entire supply chain, from mining to processing, to the delivery of its products. The demand for vanadium is on the rise as it is an essential component in advanced steel applications and energy storage. According to a report by Market Research Future, the global vanadium market, in 2022, was valued at USD 2.9 Billion and is anticipated to grow at a (CAGR) rate of 5% to 4.5 billion by 2032 driven by the demands of the steel and automobile industries. Elcora Advanced Materials Corp is well-positioned to benefit from this growing demand.
About Elcora Advanced Materials Corp.
Elcora was founded in 2011 and has been structured to become a vertically integrated battery material company. Elcora can process, refine, and produce battery related minerals and metals. As part of the vertical integration strategy Elcora has developed a cost-effective process to purify high-quality battery metals and minerals that are commercially scalable. This combination means that Elcora has the tools and resources for vertical integration of the battery minerals and metals industry.
For further information please visit the company's website at: http://www.elcoracorp.com.
For further information please contact: Troy Grant, Director, President & CEO, Elcora Advanced Materials Corp., T: +1 902 802-8847
CAUTIONARY STATEMENT:
The TSX Venture Exchange does not accept responsibility for the adequacy or accuracy of this release. Neither TSX Venture Exchange nor its Regulation Services Provider (as that term is defined in policies of the TSX Venture Exchange) accepts responsibility for the adequacy or accuracy of this release. No stock Exchange, securities commission or other regulatory authority has approved or disapproved the information contained herein.
This News Release includes certain "forward-looking statements". All statements other than statements of historical fact, included in this release, including, without limitation, statements regarding potential mineralization and reserves, exploration results, and future plans and objectives of Elcora, are forward-looking statements that involve various risks and uncertainties. There can be no assurance that such statements will prove to be accurate and actual results and future events could differ materially from those anticipated in such statements. Important factors that could cause actual results to differ materially from Elcora's expectations are exploration risks detailed herein and from time to time in the filings made by Elcora with securities regulators.
Investors are cautioned that, except as disclosed in the filing statement prepared in connection with the transaction, any information released or received with respect to the transaction may not be accurate or complete and should not be relied upon.
Photos accompanying this announcement are available at
https://www.globenewswire.com/NewsRoom/AttachmentNg/9c3c458c-06d6-4cde-8a49-82beb839fc8e
https://www.globenewswire.com/NewsRoom/AttachmentNg/803c0304-add7-40be-af39-f18442adab0f 

Disclaimer: The above press release comes to you under an arrangement with GlobeNewswire. AfternoonHeadlines.com takes no editorial responsibility for the same.