El Septimo to Introduce "Chose-Your-Color" Packaging for its Cigars Boxes
El Septimo Will Package the Same Cigar in 3 Different Color Options and Customer Can Select Which Color They Like
El Septimo to Introduce "Chose-Your-Color" Packaging for its Cigars Boxes

El Septimo Will Package the Same Cigar in 3 Different Color Options and Customer Can Select Which Color They Like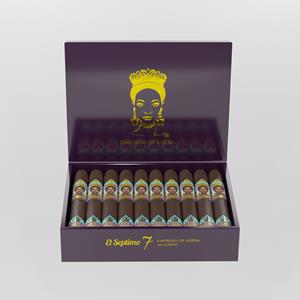 Los Angeles, CA, July 20, 2023 (GLOBE NEWSWIRE) — El Septimo will introduce the industry's first Multiple Cigar Box Color options for its customers.  This is an industry-first, and will provide another option for customers to select their own preferences in color.   El Septimo's best-selling and award-wining  boxes have become a big collectable item across the world, so this will provide more options for its customers to have more fun choosing their boxes and enjoying the world's best cigars.  The company will kick this off by introducing its newest launch part of the Emperor Collection, the Empress of Sheba Maduro Gordo, in White, Purple, and Green Boxes.
"We want to make purchasing cigar boxes more fun.  Of course, we first-and-always start by providing the best cigars in the world, and then by giving the customers an option that they've never had before. We produce some of the world's most beautiful boxes, and we have noticed that they have become a collectable item, so let's give the customers more options to choose from, and include them in the designing process," says Zaya Younan, CEO of El Septimo.
"We always look for ways to improve our cigars and improve the retailing experience.  We started by producing the best cigars, and now we want to elevate the purchasing experience and make the process more fun.  During this year we will be announcing other great changes in this industry that will only benefit the end-consumers. Following the Statues Quo does not excite us, but re-inventing the entire smoking experience is what energizes us to be who we are," finishes Younan.
About Younan Company
Younan Company is a global private equity firm that specializes in acquisitions and management of various assets and companies in the luxury consumer space. The company's strategy is to build a portfolio of luxury products and properties, and lifestyle companies and services. Today, Younan Company is recognized as a global luxury brand with more than $5.8 billion in assets under management through its subsidiaries La Maison Younan and Younan Properties.
La Maison Younan owns and manages various companies including El Septimo Premium Cigars headquartered in Geneva, Switzerland, 7 Global Distribution Tobacco Wholesale, and MPA Studio de Création headquartered in Paris, France. Most recently the company entered the Wine & Spirits sector, with two Saint-Emilion Grand Cru Vineyards, Chateau la Croix Younan and Chateau Zaya, as well as El Septimo Cognac. The company also owns luxury hotels and resorts in France and Portugal, including Château de Beauvois, Hôtel Saint-Martin, Château Le Prieuré, Alexandra Palace, Domaine de Vaugouard, and Château de la Perrière, as well as Malibu Foz Hotel and Beach Resort located in Figueira da Foz, Portugal, and four French golf courses including Golf des Forges, Golf du Petit Chêne,  Golf d'Avrillé, and Golf de Vaugouard.
Attachments
El Septimo to Introduce "Chose-Your-Color" Packaging for its Cigars Boxes
El Septimo Will Package the Same Cigar in 3 Different Color Options and Customer Can Select Which Color They Like
CONTACT: Alexandra Younan El Septimo Geneva 8187039600 [email protected] 

Disclaimer: The above press release comes to you under an arrangement with GlobeNewswire. AfternoonHeadlines.com takes no editorial responsibility for the same.