El Septimo Just Unveiled the World's Most Luxurious Ashtrays
El Septimo Showcases its Creativity by Introducing a Masterpiece that the World Has Never Seen
El Septimo Just Unveiled the World's Most Luxurious Ashtrays
Top View of $10 Million Ashtrays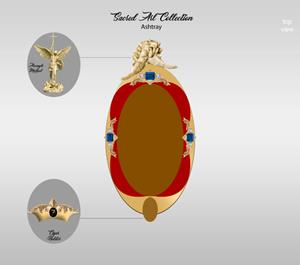 Los Angeles, CA, June 30, 2023 (GLOBE NEWSWIRE) — At last year's PCA Convention & Trade Show, El Septimo brought a trio of lighters the company valued at $5.5 million each. At this year's trade show, the company is bringing a trio of ashtrays, each priced at $10 million.
No, that is not a typo.
Each of the El Septimo Masterpiece Ashtrays is based on one of the collections within the El Septimo cigar portfolio: Emperor Collection, Sacred Art Collection and Zaya Collection. According to Zaya Younan, El Septimo's CEO, each ashtray weighs around 8kg (17.64 lbs.) and contains 400-500 carats of precious stones. While the ashtrays weigh 8kg in total, Younan says that each one contains 2kg (4.41 lbs.) of gold.
The Emperor Collection pays tributes to Napoleon, with the French leader affixed to a horse. It is cast of 18k gold and contains a total of 440 carats of stones, a mixture of VS diamonds, rubies, and sapphires.
The Sacred Art Collection ashtray depicts Saint Michael, the archangel, battling the devil. The ashtray is made of 18k solid gold and has 425 total carats of diamonds, rubies, and sapphires.
The largest ashtray is the Zaya Collection, which features two lions on each side. Not only is it the largest ashtray, but it also has the largest amount by weight of precious stones; 486 carats of VS diamonds, rubies and sapphires are used to decorate the ashtray, which is made of solid 18k gold.
"We wanted to stretch our imagination and creativity by designing a product that the world had never seen, and a product that will always be remembered as the Best-of-the-Best. The industry needs a collection of luxury products that work well and excite consumers," says CEO Zaya Younan. "We saw the need for this and over the last few years, our design team in Paris has been working around the clock to create these beautiful products. We wanted to show the industry what a bright mind can do and create an excitement that forces this 200-year-old industry to respond and elevate itself. No more boring products or cigars that taste alike."
One of Younan's other companies, MPA Studio de Création—a design studio based in Paris—designed the ashtrays, which were then produced in Italy.
Aside from these $10 million masterpieces, the company has recently added 30 ultra-luxe new cigar accessories to its catalog, including seven torch lighters, seven cutters and seven ashtrays branded after its Emperor and Sacred Arts Collections. Each triple flame lighter has an MSRP of $250, the matching cutter will retail for $200, and a matching ashtray will retail for $450. All items are limited to 500 units. In the brief time the brand has been in the U.S. market, partnering with brands like ST Dupont to release beautiful products and being recognized by renowned publications like Robb Report's Best-of-the-Best Cigar 2023 are just a few of its many accomplishments.
The 2023 PCA Convention & Trade Show takes place July 8-11 in Las Vegas. These three ashtrays and 30 new accessories will be debuted by El Septimo at the trade show.
About Younan Company
Younan Company is a global private equity firm that specializes in acquisitions and management of various assets and companies in the luxury consumer space. The company's strategy is to build a portfolio of luxury products and properties, and lifestyle companies and services. Today, Younan Company is recognized as a global luxury brand with more than $5.8 billion in assets under management through its subsidiaries La Maison Younan and Younan Properties.
La Maison Younan owns and manages various companies including El Septimo Premium Cigars headquartered in Geneva, Switzerland, 7 Global Distribution Tobacco Wholesale, and MPA Studio de Création headquartered in Paris, France. Most recently the company entered the Wine & Spirits sector, with two Saint-Emilion Grand Cru Vineyards, Chateau la Croix Younan and Chateau Zaya, as well as El Septimo Cognac. The company also owns luxury hotels and resorts in France and Portugal, including Château de Beauvois, Hôtel Saint-Martin, Château Le Prieuré, Alexandra Palace, Domaine de Vaugouard, and Château de la Perrière, as well as Malibu Foz Hotel and Beach Resort located in Figueira da Foz, Portugal, and four French golf courses including Golf des Forges, Golf du Petit Chêne,  Golf d'Avrillé, and Golf de Vaugouard.
Attachments
El Septimo Just Unveiled the World's Most Luxurious Ashtrays
Top View of $10 Million Ashtrays
CONTACT: Alexandra Younan El Septimo Geneva 8187039600 [email protected] 
Disclaimer: The above press release comes to you under an arrangement with GlobeNewswire. AfternoonHeadlines.com takes no editorial responsibility for the same.