EDP Renewables Honors Indiana Leaders and Community Partners, Donates $100K at Global Wind Day Event
EDP Renewables hosted an event to commemorate Indiana's renewable energy success and recognize its statewide partnerships with its critical stakeholders.
EDP Renewables Logo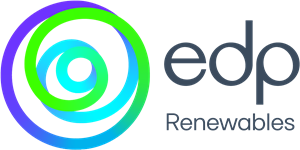 Indianapolis, Indiana, June 16, 2023 (GLOBE NEWSWIRE) — EDP Renewables North America (EDPR NA), the leading renewable energy developer and operator in Indiana and a top five renewable energy operator in North America, honored the local Randolph County, Indiana, community and its partners at a special Global Wind Day event on June 15. Global Wind Day is an annual international celebration of wind energy's role in the world economy. Held at the Randolph County Fairgrounds, EDPR NA's event celebrated local community stakeholders and welcomed landowners, elected officials, community groups, and offtakers for the company's Randolph County renewable energy projects, including Walmart, Indiana Michigan Power (I&M), and industry groups, like the Indiana Chamber of Commerce, Indiana Manufacturers Association, and Hoosiers for Renewables.
Over the course of the event, EDPR NA recognized local Indiana leaders and partners who have helped to secure a cleaner future for Hoosiers through wind and solar energy partnerships and also honored the community partnerships that brought the two-phase Headwaters Wind Farm and Riverstart Solar Park in Randolph County, Indiana, to fruition. These projects operate on land owned by more than 120 Indiana landowners and their families, all of whom were invited to the celebration. EDP Renewables takes pride in being a good neighbor and building strong relationships with the local communities and is proud to continue to work with the Indiana communities that make its clean energy projects possible.  
"EDP Renewables has been a great community partner for over a decade," said David Lenkensdofer, Randolph County Councilor and former County Commissioner. "The projects they have built in Randolph County have brought significant new resources to our residents and have helped position our community for a bright future." 
EDP Renewables also presented the $100,000 donation to the Randolph County 4-H Fairgrounds for their capital campaign to upgrade the dining room and kitchen. The Fairgrounds serve as the heart of the community and are used for youth livestock programs, among many other community activities. 
"Our community neighbors in Indiana are indispensable to us," said Julia McPherson, Community Relations Manager at EDP Renewables North America. "On Global Wind Day, we honor their impact in creating a more sustainable, climate-positive economy for their communities and the world. This international holiday was the perfect time to show appreciation for these local changemakers."  
Walmart, as one of the offtakers who purchases energy from EDPR NA's 200-megawatt (MW) Headwaters II Wind Farm, was pleased to attend the event and support renewable projects in Indiana.
"Walmart is proud to support the Randolph County community and partners like EDP Renewables North America," said Vishal Kapadia, SVP for Energy Transformation at Walmart. "The community rallied together to make these clean energy projects a reality because they see the positive impacts of renewable energy on their hometowns."
Indiana Michigan Power, an operating company of AEP, purchases energy from EDPR NA's 200-MW Headwaters I Wind Farm.  
"Indiana Michigan Power is pleased to strongly support renewable energy," said Rob Keisling, External Affairs Manager at I&M. "The Headwaters wind farm is an important component of I&M's energy mix, providing enough power to serve up to 50,000 typical homes. I&M is proud to be Winchester's energy provider, and we appreciate Headwaters' role in generating renewable energy."
EDP Renewables is Indiana's top renewable energy developer and operator, with 1,400 MW of installed capacity across the state that generates electricity equivalent to the consumption of more than 372,000 average Indiana homes. The company's operating renewable energy portfolio comprises six phases of the Meadow Lake Wind Farm (White and Benton Counties), two phases of the Headwaters Wind Farm (Randolph County), and the Riverstart Solar Park (Randolph County). EDPR NA is currently constructing the Riverstart III Solar Park, the Indiana Crossroads II Wind Farm and the Indiana Crossroads Solar Park and developed and constructed the Rosewater Wind Farm and the Indiana Crossroads I Wind Farm. The company has also announced the 200-MW Headwaters III Wind Farm (Randolph County), which is anticipated to begin commercial operations in 2025. Indiana is a vital market in EDPR NA's portfolio, and the company has additional projects in late-stage development as well as more prospects in its robust development portfolio to grow its presence further and continue to bring economic benefits to Indiana communities.  
Multimedia Assets 
Global Wind Day Event: Photos 
EDPR NA: Fact Sheet and Video B-Roll  
EDPR NA Headwaters Wind Farm: Webpage and Fact Sheet  
EDPR NA Riverstart Solar Park: Webpage and Fact Sheet 
EDPR NA Indiana: Fact Sheet and Video B-Roll
About EDP Renewables North America   
EDP Renewables North America LLC (EDPR NA), its affiliates, and its subsidiaries develop, construct, own, and operate wind farms, solar parks, and energy storage systems throughout North America. Headquartered in Houston, Texas, with 58 wind farms, ten solar parks, and eight regional offices across North America, EDPR NA has developed more than 9,400 megawatts (MW) and operates more than 8,400 MW of onshore utility-scale renewable energy projects. With more than 1,000 employees, EDPR NA's highly qualified team has a proven capacity to execute projects across the continent.  For more information, visit https://www.edpr.com/north-america/.
About EDP Renewables   
EDP Renewables (Euronext: EDPR) is the world's fourth-largest producer of wind and solar energy and is present in 28 markets in Europe, North America, South America, and Asia-Pacific. With headquarters in Madrid and leading regional offices in Houston, São Paulo, and Singapore, EDPR has a sound development portfolio of top-level assets and market-leading operating capacity in renewable energies. Particularly worthy of note are onshore wind, distributed and utility-scale solar, offshore wind (OW – through a 50/50 joint venture), and technologies to complement renewables such as storage and green hydrogen. EDPR's employee-centered policies have received recognition such as Top Workplace 2023 in the USA, Top Employer 2023 in Europe (Spain, Italy, France, Romania, Greece, Portugal, and Poland), Colombia, and Brazil, and are also included in the Bloomberg Gender-Equality Index. EDPR is a division of EDP (Euronext: EDP), a leader in the energy transition with a focus on decarbonization. Besides its strong presence in renewables (with EDPR and hydro operations), EDP has an integrated utility presence in Portugal, Spain, and Brazil, including electricity networks, client solutions, and energy management. EDP – EDPR's main shareholder – has been listed on the Dow Jones Sustainability Index for 14 consecutive years, recently being named the most sustainable electricity company on the Index.  
About Indiana Michigan Power  
Indiana Michigan Power (I&M) is headquartered in Fort Wayne, and its approximately 2,000 employees serve more than 600,000 customers. More than 80% of its energy delivered in 2022 was emission-free.  I&M has at its availability various sources of generation, including 2,278 MW of nuclear generation in Michigan, 450 MW of purchased wind generation from Indiana, more than 22 MW of hydro generation in both states and approximately 35 MW of large-scale solar generation in both states. The company's generation portfolio also includes 1,497 MW of coal-fueled generation. 
About American Electric Power 
American Electric Power, based in Columbus, Ohio, is powering a cleaner, brighter energy future for its customers and communities. AEP's approximately 17,000 employees operate and maintain the nation's largest electricity transmission system and more than 225,000 miles of distribution lines to safely deliver reliable and affordable power to 5.6 million regulated customers in 11 states. AEP also is one of the nation's largest electricity producers with approximately 30,000 megawatts of diverse generating capacity, including more than 7,000 megawatts of renewable energy. The company's plans include growing its renewable generation portfolio to approximately 50% of total capacity by 2032. AEP is on track to reach an 80% reduction in carbon dioxide emissions from 2005 levels by 2030 and has committed to achieving net zero by 2045. AEP is recognized consistently for its focus on sustainability, community engagement, and diversity, equity and inclusion. AEP's family of companies includes utilities AEP Ohio, AEP Texas, Appalachian Power (in Virginia and West Virginia), AEP Appalachian Power (in Tennessee), Indiana Michigan Power, Kentucky Power, Public Service Company of Oklahoma, and Southwestern Electric Power Company (in Arkansas, Louisiana, east Texas and the Texas Panhandle). AEP also owns AEP Energy, which provides innovative competitive energy solutions nationwide. For more information, visit aep.com. 
Attachment
CONTACT: Blair Matocha EDP Renewables (281) 414-7589 [email protected] Tracy Warner Indiana Michigan Power Communications Manager (260) 408-34230 [email protected] 

Disclaimer: The above press release comes to you under an arrangement with GlobeNewswire. AfternoonHeadlines.com takes no editorial responsibility for the same.