Edge of AI and MOCEAN Co-host Forum with Adobe and USC on Technology's Implications for Creativity
Edge of AI podcast will do a live show with an all-star gathering of entertainment and media leaders on November 14th
LOS ANGELES, CALIFORNIA, Nov. 09, 2023 (GLOBE NEWSWIRE) — The Edge Of Company, the company dedicated to empowering the pioneers of Web3, technology, and culture, through immersive events and media will moderate an intimate discussion with media and entertainment industry leaders on AI's implications for creativity on November 14th. 
The forum will host several industry leaders including Tomasz Opasinki, Creative Technologist AI/ML of Adobe, Greg Harrison, Chief Creative Officer of MOCEAN, and Melady Lab, Professor of Computer Science and Director of the Machine Learning Center at USC. 
Joshua Kriger, Co-founder of Edge of Company and Co–Host of Edge of AI, says, "We're thrilled to partner with MOCEAN to showcase leading AI pioneers in the Los Angeles area that are progressing the future of creativity while also catalyzing on-the-ground collaboration and producing edutaining content for our global audience of listeners."
Greg Harrison, Chief Creative Officer of MOCEAN, says, "While AI stands to transform many of the tools and financial models in Hollywood and advertising, there's a danger in creative and business leaders getting seduced by the promise that AI can lessen or remove the risk essential to great creative work. It's important to have in-depth conversations about the human role in AI-assisted creativity, to inform and empower the maker community to be part of shaping this new chapter in our industry."
Held at MOCEAN's Los Angeles headquarters, the gathering will host 100 of the West Coast's leading minds and executives on media, entertainment, and technology for an evening of robust discussion and intimate networking. The live event will be recorded for a corresponding podcast distributed by Edge of AI and lead off a series of forums around technologies' impacts on the entertainment, media, and creative industries. 
Event details: https://lu.ma/EdgeAI02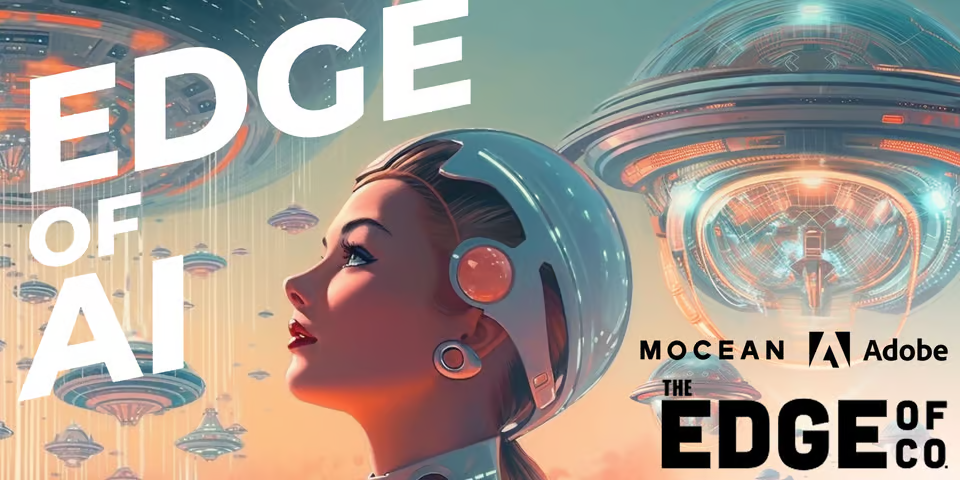 About the Edge Of Company: The Edge Of Company, co-founded by Jeff Kelley, Josh Kriger, and Eathan Janney, is a pioneering emerging technology media, event, and advisory venture dedicated to pushing technological boundaries and redefining human potential. With a focus on web3, technology, and culture, the Edge Of Company aims to bridge the gap between these domains, fostering innovation, collaboration, and exploration. Visit www.edgeof.xyz to learn more.
About the Edge Of AI Podcast: The Edge Of AI Podcast is a captivating journey into the rapidly evolving world of artificial intelligence. Hosted by a lineup of all-star hosts, including Ron Levy and Joshua Kriger, the podcast features engaging discussions with experts and trailblazers in the field, offering invaluable insights into the impact and implications of AI in various industries. By exploring the intersection of technology, enterprise, culture, and AI, the Edge Of AI Podcast unravels the mysteries and advancements in AI, driving conversations that shape the future of our world. Visit www.edgeofai.xyz to learn more and subscribe.
About MOCEAN: Named one of the Best Places to Work for Innovators in 2023 by Fast Company and three-time Entertainment Agency of the Year, MOCEAN is a unique collaboration of strategy, creative and production experts. As an independent agency and full-service production studio, MOCEAN partners with clients such as Disney, Apple, Chevy, Netflix, The Cheesecake Factory, Amazon, and Warner Bros. Discovery, moving people to action through the power of emotion. They are recognized leaders in creating the kind of strikingly original campaigns that energize audiences and consumers alike. Visit moceanla.com to learn more.
CONTACT: Audrey Pichy Head of Partnerships Edge of Company, Inc contact at edgeof.xyz

Disclaimer: The above press release comes to you under an arrangement with GlobeNewswire. AfternoonHeadlines.com takes no editorial responsibility for the same.