Drag Reducing Agent Market revenue to exceed USD 20 Billion by 2035, says Research Nester
Major drag reducing agent market players include Baker Hughes, Innospec Inc., Lubrizol Corporation, Halliburton, Clariant AG, Schlumberger Limites, The Dow Chemical Company, Flowchem, Croda International Pld, and Nalco Champion (Ecolab Inc.)
New York, Nov. 14, 2023 (GLOBE NEWSWIRE) — The global drag reducing agent market size is expected to expand at ~8% CAGR from 2023 to 2035. The market is anticipated to garner a revenue of USD 20 billion by the end of 2035, up from a revenue of ~USD 10 billion in the year 2022.Growing demand for oil and gas in the world is expected to majorly augment the market growth. Non-OPEC producers are predicted to raise output by 2.1 million barrels per day in 2023 and 1.2 million barrels per day in 2024.
Request Free Sample Copy of this Report @ https://www.researchnester.com/sample-request-5221
This is expected to counterbalance OPEC+ output declines, with the EIA estimating a 1.4 million b/d increase in 2023 and a 1.7 million b/d increase in 2024.  As several nations of the world embark on the journey of industrialization and modernization, demand for fossil fuels such as natural gas and oil will rise. Exploration of previously undiscovered places is being proposed to meet this requirement. Moreover, both the public and private sectors are investing heavily in the exploration of oil and gas has boosted the production from the oil and gas sector.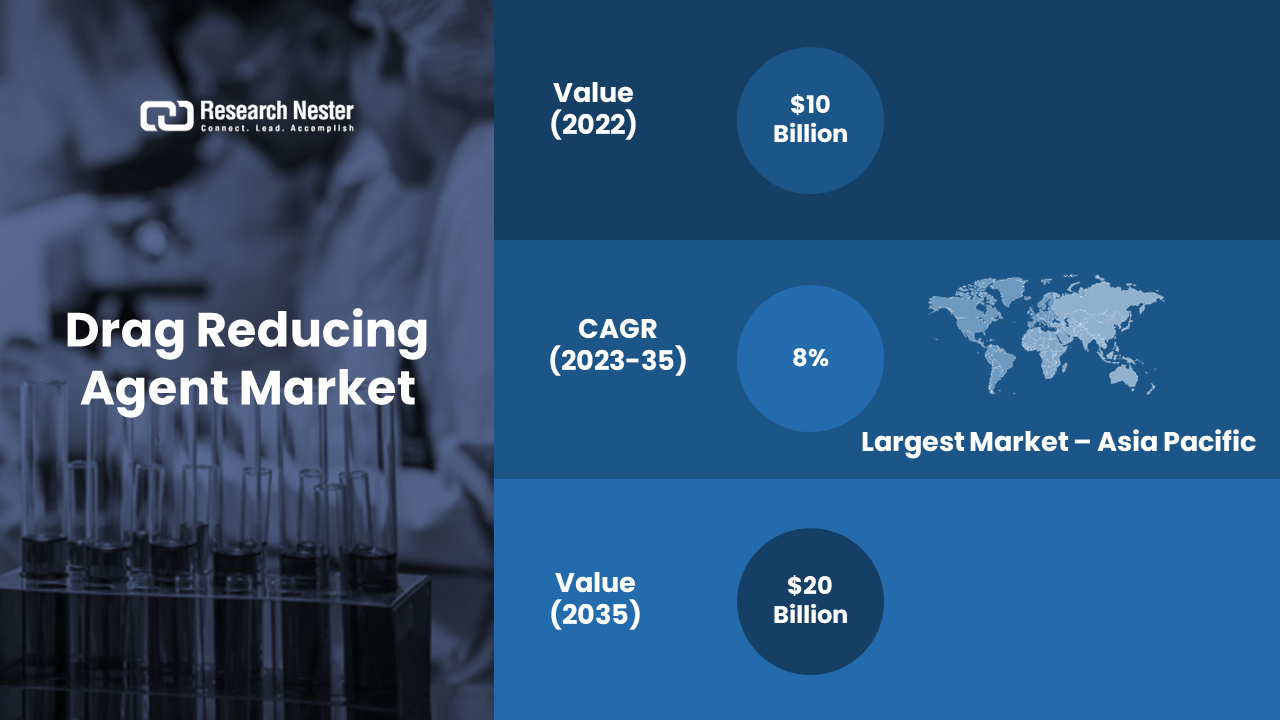 Improved Technology is to Boost the Growth of Drag Reducing Agent Market
In recent years, there were at least 2,381 operating oil and gas pipelines spread throughout 162 countries, according to the latest estimates. By positively modifying the frictional pressure in a pipeline or other conduit, the drag reducing agent addition acts as a Fluidifier additive to the crude oil mass. Drag Reduction Agent additive reduces turbulence-induced drag in the pipeline of the crude oil mass by altering the connections between molecules in the crude oil without changing the crude oil's fundamental qualities. This reduces pipeline pressure, resulting in a greater amount of stream at the same pressure.
Drag Reducing Agent Market: Regional Overview
The market is segmented into five major regions including North America, Europe, Asia Pacific, Latin America, and the Middle East and Africa region.
Growing Development of Manufacturing Facilities of Specialty Chemicals is to Boost the Market Growth in Asia Pacific Region
PETRONAS Chemicals Group Berhad (PCG) has made a huge investment decision (FID) to build the largest advanced chemical recycling plant in Asia, with a capacity of 33 kilo-tonnes per annum (ktpa). The factory, which will be built in Pengerang, Johor, is expected to open in the first half of 2026. The signing of the Technology License Agreement (TLA) between PCG's subsidiary and Plastic Energy Limited (Plastic Energy) and the awarding of the Engineering, Procurement, and Construction (EPC) to Mutiara Etnik Sdn. Bhd. was also part of the FID announcement.
Make an Inquiry Before Buying this Report @ https://www.researchnester.com/inquiries-before-buying-5221
Growing Production of Hydrocarbons is to Elevate Market Growth in North America
According to the Energy Information Administration's monthly report, crude oil production in the United States is predicted to increase by 850,000 barrels per day to 12.76 million bpd in 2023. Moreover, according to this data, crude oil output is predicted to increase by 330,000 barrels per day to 13.09 million bpd in 2024. Moreover, total petroleum consumption in the United States is anticipated to increase by 200,000 bpd to 20.5 million bpd in 2023, and by an additional 100,000 bpd to 20.7 million bpd in 2024, according to the data.
Drag Reducing Agent, Segmentation by Type
On the basis of type, the polymer segment in drag reducing agent market is expected to be responsible for the largest market revenue share over the projected time frame. Polymers are essential for the efficient transfer of natural gas and crude oil. Therefore, the rising investment in oil and gas production is expected to drive the segment's growth. Oil and gas upstream capital expenditures climbed by 39% in 2022 to $499 billion, the greatest amount since 2014 and the highest year-on-year increase recorded. Higher expenses are mostly driving an upsurge in investment, but production has also begun to rebound.
Drag Reducing Agent, Segmentation by End User
Petrochemical
Oil & Gas
Water Treatment
On the basis of end user, the petrochemical segment is expected to gain the highest market revenue over the forecasted period. The growth of the segment is expected to the growing number of vehicles in the world. In 2023, there will be around 1.474 billion vehicles on the planet. Around 19% of such vehicles are registered in the United States. This will increase the demand for petrol and diesel. On the other hand, the water treatment segment is expected to garner significant revenue over the forecast period. The growth of the segment is majorly attributed to the rising demand need for suppling fresh water and the growing need for water treatment. Around 74% of the world's population has a supply of safe drinking water. Despite advancements, there are still around 2 billion people worldwide who are in desperate of clean drinking water services.
Request for Customization of this Report @ https://www.researchnester.com/customized-reports-5221
A few of the well-known industry leaders in drag reducing agent market that are profiled by Research Nester are Baker Hughes, Innospec Inc., Lubrizol Corporation, Halliburton, Clariant AG, Schlumberger Limites, The Dow Chemical Company, Flowchem, Croda International Pld, and Nalco Champion (Ecolab Inc.)
Recent Developments in the Drag Reducing Agent Market
Baker Hughes, an energy solutions business, announced the signing of a memorandum of understanding (MoU) with Avports, an airport management and operations company, to develop, implement, and sustain permanent microgrid services for the airport industry. The agreement addresses decreasing emissions and the worldwide industry's ambition to emphasize zero-emission buildings, longitudinal airport infrastructure, automobiles, and aircraft systems.
Indian Oil Corporation Ltd. (IOCL) confirmed a collaboration with Dorf Ketal Chemicals India Pvt Ltd in which IOCL's Patented Drag Reducing Agents (DRA) technology will be utilized for manufacturing the Drag Reducing Agent at Dorf Ketal's production facility.
About Research Nester
Research Nester is a one-stop service provider with a client base in more than 50 countries, leading in strategic market research and consulting with an unbiased and unparalleled approach towards helping global industrial players, conglomerates and executives for their future investment while avoiding forthcoming uncertainties. With an out-of-the-box mindset to produce statistical and analytical market research reports, we provide strategic consulting so that our clients can make wise business decisions with clarity while strategizing and planning for their forthcoming needs and succeed in achieving their future endeavors. We believe every business can expand to its new horizon, provided a right guidance at a right time is available through strategic minds.
CONTACT: AJ Daniel Corporate Sales, USA Research Nester Email: [email protected] USA Phone: +1 646 586 9123 Europe Phone: +44 203 608 5919

Disclaimer: The above press release comes to you under an arrangement with GlobeNewswire. AfternoonHeadlines.com takes no editorial responsibility for the same.