DongCheng's 2-in-1 Cordless Grinder – Driver Tool Wins 2023 French Design Gold Award
DongCheng-FDA-GOLD2023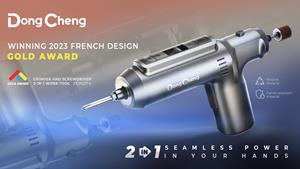 DongCheng-FDA-GOLD2023L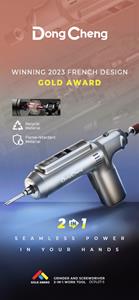 Shanghai, Sept. 15, 2023 (GLOBE NEWSWIRE) — DongCheng, a leading manufacturer of power tools and accessories, is thrilled to announce that its Cordless Grinder – Driver Tool has been awarded the 2023 French Design Gold Award. The innovative Grinder and Screwdriver 2-in-1 work tool has set a new standard in convenience and versatility, while also meeting the highest standards of aesthetics, innovation, ergonomics, and design impact.
"We are absolutely delighted to receive this prestigious award and to be recognized for our commitment to innovation and design," said the product's designer. "This rotary tool is a game-changer for the industry and we are proud to offer a product that not only improves safety and usability, but also contributes to a more sustainable future."
The patented internal structural layout of one motor and two output components at opposite ends to ensure non-interference during operation and the clever placement of the anti-disoperation switch lock make the tool easier to operate, enhancing its safety and usability. Additionally, the tool is made from recycled flame-retardant materials, ensuring it remains useful even after its useful life is over.
DongCheng 2-in-1 Cordless Grinder – Driver Tool (Rotary Tool) can now proudly wear the French Design Gold Award logo for life, proving its excellence in design and impact on society. DongCheng is always committed to providing customers with innovative and sustainable solutions, and looks forward to continuing to push the boundaries of design and functionality in the industry.
"We dedicate this achievement to all our colleagues involved in the creative design and realization of this product, who made all our innovation efforts worthwhile," said the designer. "We will continue to innovate and apply it to more new products, while adhering to the concepts of safety, reliability and environmental protection to give back all users' trust in DongCheng products."
About DongCheng
DongCheng is a leading manufacturer of professional power tools, equipment and accessories, committed to providing customers with innovative, reliable, safe and sustainable solutions. DongCheng focuses on design, quality and performance, offering a wide range of products to meet the needs of professionals and tool product enthusiasts.
Attachments
DongCheng-FDA-GOLD2023
DongCheng-FDA-GOLD2023L
CONTACT: Stella Su Jiangsu Dongcheng Import and Export Trade Co.,Ltd +8613774471137 [email protected] 

Disclaimer: The above press release comes to you under an arrangement with GlobeNewswire. AfternoonHeadlines.com takes no editorial responsibility for the same.