Discovery Lithium Commences Field Exploration in James Bay Region
Late season 10-day program targets 2024 campaign
Figure 1 – Discovery Lithium Route Du Nord Map
VANCOUVER, British Columbia, Nov. 07, 2023 (GLOBE NEWSWIRE) — Discovery Lithium Inc. (CSE: DCLI) (OTC: DCLIF) (FRA: Q3Q0) (WKN: A3EFKA) (the "Company," or "Discovery Lithium"), a Canadian exploration company focused on advancing domestic energy freedom through regional lithium discovery, is pleased to announce it has commenced a field exploration program at its Route Du Nord project in the prolific lithium district of the James Bay region of Quebec.
The Route Du Nord project appears to be situated within a prospective structural corridor for lithium, which is on trend with the well documented regional discovery known as the Whabouchi Deposit1. The structural corridor contains high levels of lithium in both till and lake sediment samples with respect to the surrounding areas. Elements such as beryllium, cesium, rubidium, and tungsten are also found elevated within the Valiquette Pluton making it a fertile source for the fractionation of LCT pegmatites. The Valiquette Pluton lies within Discovery's James Bay claim area.
"The Whabouchi Deposit1 occurs within a regional thrust fault that extends and terminates in the Valiquette Pluton," notes Dr. Jacob (Jaap) Verbaas P. Geo, and Company director. "The fault potentially acted as a pathway for LCT pegmatite melt at the Whabouchi project and may host other LCT pegmatites along strike. The Route Du Nord project captures the inferred continuation of the thrust fault into the Valiquette Pluton, making it highly prospective for LCT pegmatites."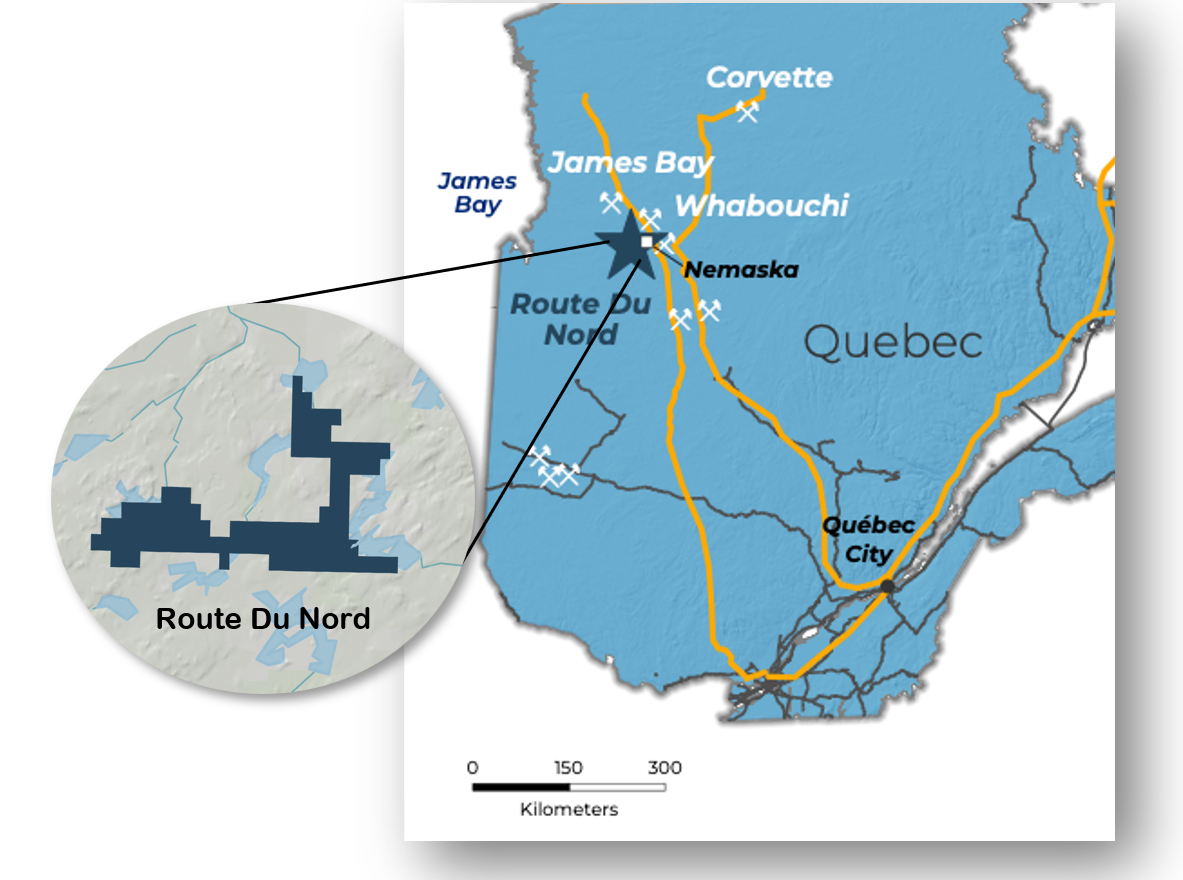 Figure 1 – Discovery Lithium Route Du Nord Property. References to other deposits are for illustrative purposes only.
The Route Du Nord project is an exploration stage project, and a resource or deposit may never be defined.
The Route Du Nord lithium pegmatite project (see Figure 1) encompasses approximately 60 square kilometers (14, 826 acres) stretching 36 km east to west and is parallel to and within 5 km of the 407 km long wilderness road known as the "Route Du Nord." The project has excellent infrastructure access with the Nemiscau hydroelectric installation located 5 km to the south. It offers road access to the nearby village of Nemaska with additional infrastructure support from the city of Val d'Or located 575 km to the south.
"An exploration crew provided by GroundTruth Exploration is currently sampling and prospecting for lithium and will be on-site for approximately ten days," advises Michael Gheyle, President, and CEO of Discovery Lithium. "This comprehensive first pass of exploration on a project never previously explored for lithium will serve to identify prospective areas and targets for potential follow-up exploration. We look forward to furthering our understanding of this exciting project with our goal of undertaking a comprehensive exploration in 2024 aimed at realizing the potential added value to our growing portfolio of Quebec based lithium-focused assets."
On behalf of the Board of Directors,
Michael Gheyle
President & Chief Executive Officer
Qualified Person; Historical Estimates
The technical content of this news release has been reviewed and approved by Mike Kilbourne, P. Geo., (OGQ # 1971) who is an independent Qualified Person (QP) as defined in National Instrument 43-101, Standards of Disclosure for Mineral Projects.
This news release includes market and industry data obtained from publicly available sources and other sources believed by the Company to be true. Although the Company believes it to be reliable, the Company has not independently verified any of the data from third-party sources referred to in this news release or analyzed or verified the underlying reports relied upon or referred to by such sources, or ascertained the underlying assumptions relied upon by such sources. The Company does not make any representation as to the accuracy of such information.
The Company would like to welcome investors to visit our website and join our mailing list at www.discoverylithium.com/news-alerts/. By subscribing you will stay up to date with the latest news releases and advancements within our company.
About Discovery Lithium (CSE: DCLI) (OTC: DCLIF) (FRA: Q3Q0) (WKN: A3EFKA)
Discovery Lithium Inc. is a Canadian exploration company focused on advancing mineral resource projects in North America. The Company holds a 100% interest in 1,675 mineral claims in Serindac Lake and 2,113 mineral claims in Vaubert Lake for a combined total of approximately 164,283 hectares (~405,952 acres) located in the Nunavik region of Northern Quebec, and with a further total of 303 mineral claims comprising approximately 16,392 hectares (~40,505.5 acres) identified as the Route De Nord, Lac Belanger, Lac Ferland and Lac Roberston properties located across the northern and eastern regions of Québec including the prolific lithium district of the James Bay region. Additionally, the Company is actively advancing its ESN Project for gold exploration in Nevada and evaluating the Koster Dam Project in Central British Columbia through a joint venture with Cariboo Rose Resources. Find out more at: www.discoverylithium.com and follow us on X (formerly twitter), Facebook, and LinkedIn.
For further information, please contact:
Discovery Lithium Inc.
1450 – 789 West Pender Street,
Vancouver, BC Canada V6C 1H2
Telephone: +1 (778) 868-2226
Email: [email protected]
Web: www.discoverylithium.com
Caution Regarding Forward-Looking Information
Certain statements contained in this news release may constitute "forward-looking information" within the meaning of Canadian securities legislation. Forward-looking information is often, but not always, identified by the use of words such as "anticipate", "plan", "estimate", "expect", "may", "will", "intend", "should", "potential", "indicative" and similar expressions. Forward-looking information in this news release includes, but is not limited to, statements regarding the Vaubert and Serindac Lake claims and the Route du Nord project (the "Claims"), including the Company's plans and expectations regarding the Claims, the potential presence of LCT pegmatites or spodumene on or around the Claims and other statements regarding the Company's future business plans and objectives. Forward-looking information involves known and unknown risks, uncertainties and other factors that may cause actual results or events to differ materially from those anticipated in such forward-looking information. The Company's actual results could differ materially from those anticipated in this forward-looking information as a result of risks and uncertainties inherent in the exploration and development of mineral properties, fluctuations in commodity prices, counterparty risk, market conditions, regulatory decisions, competitive factors in the industries in which the Company operates, prevailing economic conditions, changes to the Company's strategic growth plans, and other factors, many of which are beyond the control of the Company. The Company believes that the expectations reflected in the forward-looking information are reasonable, but no assurance can be given that these expectations will prove to be correct and such forward-looking information should not be unduly relied upon. Any forward-looking information contained in this news release represents the Company's expectations as of the date hereof and is subject to change after such date. The Company disclaims any intention or obligation to update or revise any forward-looking information whether as a result of new information, future events or otherwise, except as required by applicable securities legislation.
Neither the Canadian Securities Exchange nor its Regulation Service Provider accepts responsibility for the adequacy or accuracy of this news release.
---
1 The Route Du Nord project is an exploration stage project and mineralization outside of the Route Du Nord project does not guarantee mineralization is present within the project.
A photo accompanying this announcement is available at https://www.globenewswire.com/NewsRoom/AttachmentNg/45e530a0-d0a6-4cc5-9bc5-57265724056a

Disclaimer: The above press release comes to you under an arrangement with GlobeNewswire. AfternoonHeadlines.com takes no editorial responsibility for the same.