Discover the Upcoming Everdome (DOME) Listing on XT.COM
XT.COM lists Everdome (DOME)
Singapore, Singapore, Nov. 03, 2023 (GLOBE NEWSWIRE) — XT.COM, the world's first socially infused trading platform, is thrilled to announce the listing of DOME on its platform in the main zone (metaverse) and the DOME/USDT trading pair will be open for trading from 2023-10-30 8:00 (UTC).
Users can deposit DOME for trading at 2023-10-29 8:00(UTC)
Withdrawals for DOME will open at 2023-10-31 8:00 (UTC)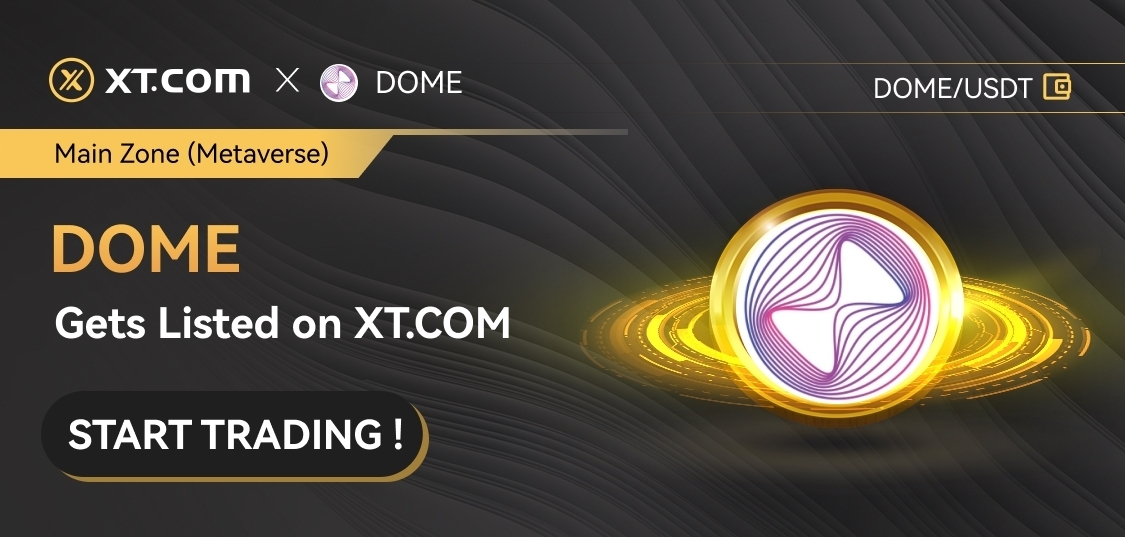 About DOME
DOME is an BEP-20 token deployed on the BNB blockchain with a max supply of 100 billion tokens. its native utility token of Everdome, the revolutionary project shaping the future of human interaction within the metaverse. DOME takes center stage as the primary transactional currency. It facilitates all in-world exchanges, whether for purchasing digital land, acquiring user-generated assets from the in-world marketplace, or securing event tickets within Everdome City.
The DOME token, Everdome's official currency within Everdome City,, has a significant portion allocated to exchange listings and liquidity, in alignment with Everdome's mission to foster liquidity across exchanges and enable community participation.
Albin Warin, CEO of XT.COM, expressed his enthusiasm for the listing of the DOME token on the exchange, stating, "We are delighted to welcome DOME to the XT.com platform. The Everdome project has consistently demonstrated innovation and a forward-thinking approach in the metaverse space. With DOME's listing, we are offering our users access to a dynamic and promising cryptocurrency that plays a pivotal role in Everdome's hyper-realistic metaverse ecosystem."
About Everdome
As Everdome embarks on its journey to redefine the metaverse, it invites digital pioneers, brands, businesses, individual users, and investors to partake in shaping this extraordinary vision. Everdome isn't merely a metaverse; it's a visionary concept poised to bridge the physical and digital realms within a hyper-realistic, immersive environment. As Everdome finds its place on XT.com, we are delighted to unveil the project's ambitious objectives and the transformative potential it embodies.
At the forefront of a paradigm shift in human interaction, Everdome is pioneering the creation of a hyper-realistic metaverse. Its mission is to counter the rapid centralization of Web2 and offer a more personalized and profound alternative. Enabled by the synergy of blockchain technology, hardware advancements, software innovations, and game technology, Everdome aspires to deliver experiences of unprecedented scale and quality.
Everdome City, the Mars based community inside the metaverse, opens doors for individuals, businesses, and brands to claim their digital real estate. This provides a unique platform for profound audience engagement, premium brand growth, in-world transactions, and the creation of virtual experiences.
The Everdome ecosystem forms the lifeblood of this visionary endeavor. It comprises digital real estate ownership, themed partner development, an upcoming product and service marketplace, product placement and advertising, as well as event creation and management with simple Metaverse-as-a-Service tooling to speed adoption. Together, these elements create a self-sustaining environment within Everdome.
Website: https://everdome.io
Youtube: https://www.youtube.com/c/EverdomeYT
Twitter: https://twitter.com/Everdome_io
Instagram: https://www.instagram.com/everdome.ig
Linkedin: https://www.linkedin.com/company/everdome-io
Tiktok: https://www.tiktok.com/@everdome_io
Telegram: https://t.me/everdome
Discord: https://discord.com/invite/everdome
About XT.COM
Founded in 2018, XT.COM serves more than 6 million registered users, over 500,000+ monthly active users, 40+ million users in the ecosystem, and more than 800 tokens with 1000+ trading pairs. Since then, XT.COM crypto exchange has expanded its offerings by covering a rich variety of trading categories to provide a secure, trusted, and intuitive trading experience for its large user base. One such addition is crypto futures trading which includes USDT-M Futures and coin-M futures perpetual contracts, as well as copy trading that allows users to replicate top traders in real time with just one click. Additionally, the Futures Grid allows users to automate the buying and selling of futures contracts to make profits.
Website: www.xt.com
Twitter: twitter.com/XTexchange
Telegram: t.me/XTsupport_EN
Disclaimer : There is no offer to sell, no solicitation of an offer to buy, and no recommendation of any security or any other product or service in this article. This is not investment advice. Please do your own research.
Contact: Bella | Email: [email protected]

Disclaimer: The above press release comes to you under an arrangement with GlobeNewswire. AfternoonHeadlines.com takes no editorial responsibility for the same.