Discover the Quorium (QGOLD) Listing on XT.COM
XT.COM lists Quorium (QGOLD)
Singapore, Singapore , Nov. 02, 2023 (GLOBE NEWSWIRE) — XT.COM, the world's first socially infused trading platform, is thrilled to announce the listing of Quorium on its platform in the Innovation zone (Layer 2) and both the QGOLD/USDT and QGOLD/BTC trading pairs have been open for trading from 2023-10-26 08:00 (UTC).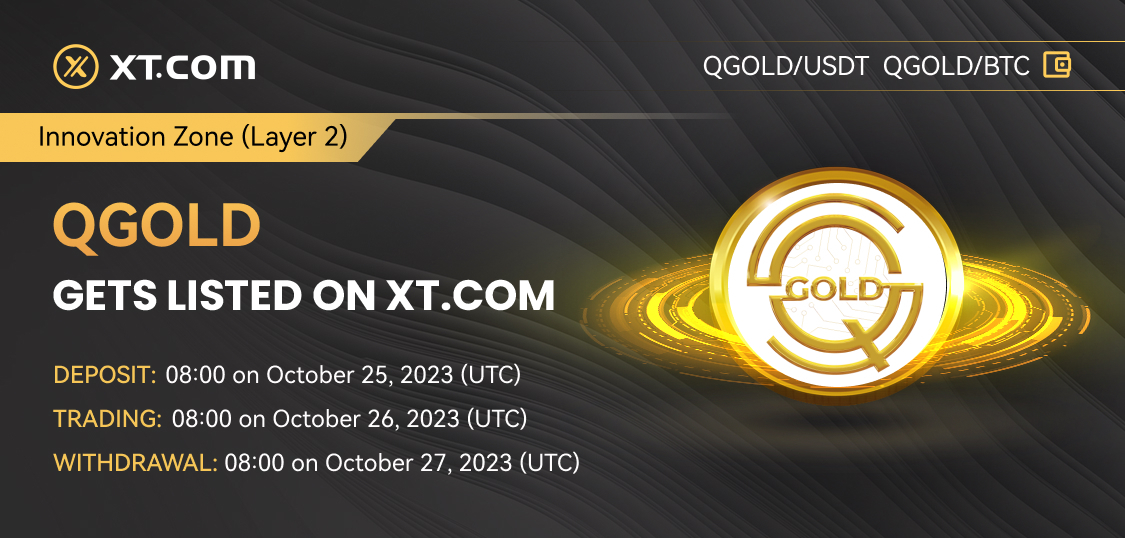 About QGOLD
QGOLD is a BEP-20 token deployed on the BNB chain with a starting supply of 84 thousand QGOLD tokens. This token is transforming the digital currency landscape with its ground-breaking stablecoin that is backed by the physical gold asset obtained by exclusive secured mining rights. The QGOLD token is supported by both the inherent value of pre-existing bullion Gold, an asset-class based on the value of untapped physical Gold reserves. Unlike physical gold that is limited to physical storage and specific trading hours due to the gold market's availability, QGOLD can be traded without temporal limitations, 24 hours a day, 7 days a week from anywhere in the world via cryptocurrency exchanges.
QGOLD's use cases are beyond just being a medium of exchange. As a gold-pegged stablecoin, it offers even greater transactional utility by providing a highly mobile and liquid representation of physical gold. QGOLD also removes barriers-to-entry by allowing seamless ownership and value transfer of economic qualities associated with physical gold without borders. QGOLD also democratizes access to physical gold as an asset class, providing smaller denominations at wholesale prices for a wider range of investors. It is important to note that QGOLD has the potential to become the first widely-traded sovereign-neutral monetary unit for the reasons aforementioned above.
Albin Warin, CEO of XT.COM, expressed his enthusiasm to have QGOLD listed on xt.com. He Stated, "I believe our users would soon have more options in diversifying their portfolios by including digital gold from a verifiable source. Providing more options for users to hedge against inflation while ensuring they are able to have access to a solid asset which can act as a store of value is one of the reasons what makes this listing so important ".
About the Quorium Project
Quorium recognizes that mining gold solely for bullion creation and safekeeping is no longer justifiable as gold mining has become a significant ecological and social issue in the modern times. Thus, they aim to give back to the local areas where they operate by supporting local businesses and providing job opportunities for the people in the area. Working with local suppliers and hiring locally allows them to create economic benefits for the community while boosting the local economy. Additionally, they are committed to supporting social and environmental initiatives in the area. They also support social programs that promote education, healthcare, and other important causes. ​ At Quorium, they are always looking for ways to make a positive impact and give back to the communities that have supported us. They believe that by working together,they can create a brighter future for everyone involved. If you have any ideas or suggestions for how we can support your community, please don't hesitate to reach out to us. The purpose behind Quorium's mission sets the right course for our project. Their intention is not solely to turn a profit, although we are an investment proposition. They aim to demonstrate to people that they can achieve financial security and a comfortable lifestyle while preserving the environment and our well-being.
Quorum's headquarters is based in Willemstad, Curaçao, a constituent country of the Kingdom of the Netherlands.
Website: https://www.quorium.io
Linkedin: https://linkedin.com/company/quorium
Telegram: https://www.t.me/quorium
Contact: [email protected]
About XT.COM
Founded in 2018, XT.COM serves more than 6 million registered users, over 500,000+ monthly active users, 40+ million users in the ecosystem, and more than 800 tokens with 1000+ trading pairs. Since then, XT.COM crypto exchange has expanded its offerings by covering a rich variety of trading categories to provide a secure, trusted, and intuitive trading experience for its large user base. One such addition is crypto futures trading which includes USDT-M Futures and coin-M futures perpetual contracts, as well as copy trading that allows users to replicate top traders in real time with just one click. Additionally, the Futures Grid allows users to automate the buying and selling of futures contracts to make profits.
Website: www.xt.com
Twitter: twitter.com/XTexchange
Telegram: t.me/XTsupport_EN
Disclaimer : There is no offer to sell, no solicitation of an offer to buy, and no recommendation of any security or any other product or service in this article. This is not investment advice. Please do your own research.
Contact: Bella | Email : [email protected]

Disclaimer: The above press release comes to you under an arrangement with GlobeNewswire. AfternoonHeadlines.com takes no editorial responsibility for the same.