Discover the Floxypay (FXY) Listing on XT.COM
XT.COM lists $FXY
Singapore, Singapore, Nov. 03, 2023 (GLOBE NEWSWIRE) — XT.COM, the world's first socially infused trading platform, is thrilled to announce the listing of Floxypay on its platform in the main zone and the FXY/USDT trading pair has been open for trading from 2023-10-28 08:00 (UTC).
Users can deposit FXY for trading from 2023-10-28 07:00(UTC)
Withdrawals for FXY has been open at 2023-10-29 08:00 (UTC)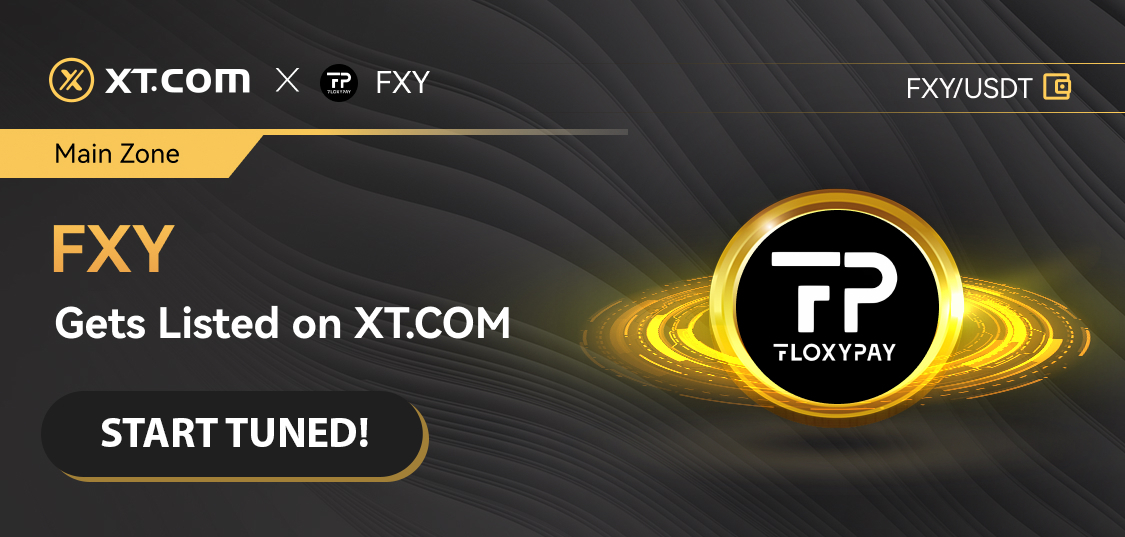 About FXY
FXY is an ERC-20 token deployed on the Polygon blockchain with a total max supply of 100 billion tokens. The FXY token is a native digital asset that seamlessly powers its diverse ecosystem. The FXY token brings a myriad of benefits to users, making it a versatile tool for trading, paying for goods and services, booking travel, and handling everyday transactions.
One of the key strengths of the FXY token is its integration into the Floxypay Crypto Payment Gateway. This integration enables businesses to accept cryptocurrencies as a form of payment with ease. Using the FXY token, paying for goods and services worldwide becomes hassle-free, eliminating the need for currency conversion or burdensome fees. This convenience is a game-changer for both consumers and businesses.
Additionally, the FXY token extends its utility to the Floxypay Travel and Hospitality platform, allowing users to book hotels and plan trips using the token. This streamlined process spares travelers the complexities of dealing with exchange rates or currency conversion, enhancing the overall travel experience. The FXY token is also compatible with the Floxypay Utility Payments platform, making it simple to pay for everyday expenses like airtime, data top-ups, electricity bills, and gift cards. These practical applications make FXY a versatile tool for managing daily transactions.
By using the FXY token, you become a part of the Floxypay community, joining a collective vision for a brighter future in the crypto industry. As a member, you can access the FXY Wallet app, which ensures secure storage and management of your digital assets. You can even purchase cryptocurrencies directly from your local bank, UPI, Gpay, and more, enhancing accessibility and convenience. In a world where cryptocurrencies are becoming increasingly prominent, FXY token and Floxypay are paving the way for a seamless, user-friendly experience that simplifies crypto adoption.
Albin Warin, CEO of XT.COM, has expressed his positive views on the listing of the FXY token on their platform. In an official statement, he enthusiastically remarked, "The inclusion of FXY token on XT.COM is a significant step towards expanding our offerings and providing our users with more diversified options in the ever-evolving cryptocurrency market." Mr. Warin's support for the FXY token listing on XT.COM underscores the exchange's dedication to staying at the forefront of the cryptocurrency industry and catering to the diverse needs of their growing user base.
About the Floxypay Project
Floxypay isn't just a platform; it's a dynamic community committed to transforming the crypto landscape. As the ultimate solution for all your cryptocurrency needs, Floxypay offers a wide range of services designed to enhance your crypto journey. Floxypay offers a secure wallet, a customizable checkout page, and real-time exchange rate information. What sets Floxypay apart from other processors is its commitment to lower fees, global reach, and strong privacy protection. This innovative approach ensures that users can transact in the cryptocurrency of their choice with ease, confidence, and privacy.
For businesses, Floxypay provides a reliable gateway for accepting cryptocurrency payments, supporting multiple fiat currencies like USD, INR, and NGN. This flexibility enables companies to expand their horizons and thrive in the digital economy, boosting sales and customer satisfaction in a rapidly evolving landscape.
Floxypay also offers a crypto exchange that caters to both beginners and experienced traders. With a wide selection of cryptocurrencies and a convenient fiat on-ramp, Floxypay makes crypto trading accessible to a broad audience. The decentralized platform ensures maximum security, convenience, and trust for customers, reflecting a commitment to user experience and satisfaction. The FloxyPay wallet is another standout feature, streamlining buying, sending, and receiving transactions. It offers impressive features such as faster transaction processing, bulletproof security protocols, and the unique advantage of gasless transactions, eliminating gas fees. Floxypay's wallet introduces Web3 authentication, enhancing user onboarding and security, allowing for non-custodial login capabilities.
Lastly, Floxypay Travel disrupts the world of travel by enabling users to book hotels and flights using popular cryptocurrencies like Ethereum, Bitcoin, and the native FXY token. This feature offers transparent pricing, flexible payment options, and a loyalty program that rewards users for their crypto-based bookings. Using Floxypay Travel, planning and booking trips is more accessible and convenient than ever before.
Floxypay is your all-in-one solution for all things crypto. It simplifies access, interaction, and transactions in the world of digital currencies, providing not only swift transactions but also robust safety measures.
Website: floxypay.io
Twitter/X.com: twitter.com/floxy_pay
Telegram: t.me/floxypayexchange
Discord: discord.com/invite/ycvpnCy3p7
Facebook: www.facebook.com/Floxypay
Instagram: www.instagram.com/floxypayofficial
About XT.COM
Founded in 2018, XT.COM serves more than 6 million registered users, over 500,000+ monthly active users, 40+ million users in the ecosystem, and more than 800 tokens with 1000+ trading pairs. Since then, XT.COM crypto exchange has expanded its offerings by covering a rich variety of trading categories to provide a secure, trusted, and intuitive trading experience for its large user base. One such addition is crypto futures trading which includes USDT-M Futures and coin-M futures perpetual contracts, as well as copy trading that allows users to replicate top traders in real time with just one click. Additionally, the Futures Grid allows users to automate the buying and selling of futures contracts to make profits.
Website: www.xt.com
Twitter: twitter.com/XTexchange
Telegram: t.me/XTsupport_EN
Disclaimer : There is no offer to sell, no solicitation of an offer to buy, and no recommendation of any security or any other product or service in this article. This is not investment advice. Please do your own research.
Contact: Bella | Email: [email protected]

Disclaimer: The above press release comes to you under an arrangement with GlobeNewswire. AfternoonHeadlines.com takes no editorial responsibility for the same.