DICKEY-john Launches GAC™ 2700-LF Moisture Tester: A Revolution for the Nut Industry
New GAC 2700-LF Moisture Tester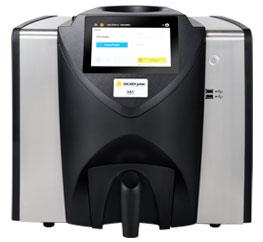 Auburn, IL, Aug. 08, 2023 (GLOBE NEWSWIRE) — DICKEY-john®, a Division of TSI Incorporated, is pleased to announce the new GAC™ 2700-LF moisture tester, a cutting-edge solution specifically designed to meet the unique needs of the nut industry. This state-of-the-art device is set to revolutionize moisture testing and quality assurance processes, enabling nut producers and processors to enhance productivity and deliver top-quality products to their customers.
"We are excited to offer a next-generation moisture testing solution designed to meet the needs of the nut industry," said Ketan Mehta, Vice President for Product Management & Marketing at TSI Incorporated. "The importance of knowing your moisture content to the quality of nuts is vital to managing a profitable and efficient business. Our new GAC® 2700-LF tester not only simplifies the actual process of measuring moisture, but also provides several beneficial features, making it an indispensable quality assurance tool for nut processors and growers alike."
Key highlights of the GAC™ 2700-LF include:
Precision Moisture Testing: The GAC 2700-LF utilizes 149 MHz technology, developed by the USDA, for highly accurate moisture measurements for a wide range of nut varieties.
Rapid Testing: The unit reduces testing time, boosting overall operational efficiency. Nut processors can now test faster, allowing for quicker decision-making and improved throughput.
User-Friendly Interface: The GAC 2700-LF features an intuitive and user-friendly interface, ensuring ease of use for operators at all levels of expertise.
Integrated Features for Data Management: The unit offers connectivity options and bar code scanner capabilities, enabling users to easily transfer moisture data as well as maintain records for regulatory compliance and quality assurance purposes.
As a trusted leader in moisture testing solutions, we are committed to delivering innovative products that empower businesses and drive industry advancements. The GAC 2700-LF represents our unwavering dedication to providing cutting-edge technology tailored to the specific requirements of the nut industry.
For more information about the GAC 2700-LF and how it can benefit your nut processing operations, please visit DICKEY-john.com/GAC2700LF.
About DICKEY-john®
DICKEY-john is a privately-held division of TSI Incorporated. As a pioneering provider of advanced moisture testing solutions for various industries, DICKEY-john strives to develop state-of-the-art products that optimize productivity, ensure quality, and drive operational efficiency. Our commitment to excellence has established us as a trusted partner for businesses worldwide.
Attachment
New GAC 2700-LF Moisture Tester
CONTACT: Abby Smith DICKEY-john, A Division of TSI Incorporated 651-490-2843 [email protected] 

Disclaimer: The above press release comes to you under an arrangement with GlobeNewswire. AfternoonHeadlines.com takes no editorial responsibility for the same.