Designing a sustainable future: WORTH Partnership Project unveils winning projects at Milan Design Week 2023
Worth Exhibition Milan 2023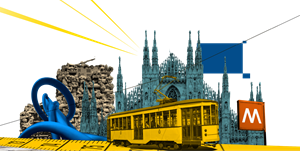 65 winning projects involving 149 partners from 34 European countries: these are the numbers of the first call of the WORTH Partnership Project, Europe's largest creative incubator funded by the European Union's COSME programme, dedicated to the promotion of transnational collaborations between designers, creatives, manufacturing companies (SMEs), crafters and technology companies. The aim of the project is to develop innovative, design-oriented products that contribute to global challenges, accelerating green and digital transitions and related transformations of the European economy, industry and society.
After a 10-month incubation process, the 65 projects will be presented from 18 to 23 April at Via Sirtori, 32, during the Worth Exhibition, an event organised as part of Milan Design Week 2023, the world's largest annual design fair.
The works presented, which will be displayed in an area of public interest, range from prototypes, minimum viable products and market-ready products, which have managed to reach more advanced levels of preparation thanks to the tools and knowledge acquired through the other features of the incubation programme, including personalised coaching, access to networking, professional links and finance.
As part of the creative process behind the development of the projects, partnerships have involved the broadest possible audience, including not only the primary target group of potential users and customers but also stakeholders, functions and the communities (particularly vulnerable, directly-affected and those that are uncommonly reached). This approach has led to inclusive and participatory ways of co-design, co-creation and co-development of solutions that tackle the challenges of the European society at a global and local level. The results showcased led to more sustainable, beautiful and inclusive living environments.
The winning projects encompass a variety of sectors, including textile and clothing, footwear, leather and fur, furniture/home decoration/interior design/architecture, jewellery, and accessories. Among them there are a fashion line that showcases the potential of AI-led design combined with human craftsmanship, eco-friendly and ethical baby furniture made of wood, a biodegradable wall light, textiles and yarn made from human hair waste, and an immersive textile experience that transforms online libraries into real-life research and experimental labs.
"We are thrilled to present the winning projects from the latest call of the WORTH Partnership Project at the Worth Exhibition," said Korinna Molla, WORTH Project coordinator "These projects showcase the incredible creativity, innovation, and dedication of designers from across Europe, and we are proud to support their work and help bring their ideas to life."
"WORTH Partnership Project – commented Anna Athanasopoulou, European Commission Head of Unit for Tourism, Emerging and Creative Industries, DG for Internal Market, Industry, Entrepreneurship and SMEs – has confirmed itself as the ideal incubator for exploring creativity and innovation and encouraging sharing of knowledge and skills between designers, traditional and digital craftsmanship and the manufacturing industry. With the aim of helping small businesses integrate creativity and innovation in the way they produce goods or provide services, so that they grow and remain competitive on the market. " 
What is WORTH Partnership Project
WORTH is all about creating connections and developing a relevant European community of creatives and innovators active in lifestyle industries. WORTH is committed to the development of a smarter, more sustainable and inclusive growth through design solutions by supporting 200 partnerships throughout the 4 years of its intervention until 2025. 
The WORTH Partnership project is an EU-funded initiative that aims to support collaboration between designers, SME manufacturers, crafters, technology companies and other players in the creative industries. The project seeks to promote innovation and sustainability in the sector by facilitating cross-border and cross-discipline partnerships and providing financial, business and technical support to selected projects, with a focus on design concepts that are sustainable, socially responsible, linked to territories and technologically advanced. The initiative aims to promote creativity and entrepreneurship in the European Union and to foster international cooperation and exchange in the creative industries.
The WORTH partnership project organises regular calls for proposals, inviting designers, SME manufacturers, crafters and technology providers to apply for funding and support for collaborative projects. Selected projects receive incubation support including funding, tailored mentoring, networking, the opportunity to exhibit in relevant design events and access to a network of experts and stakeholders operating in the creative industries.
Attachment
Worth Exhibition Milan 2023

Disclaimer: The above press release comes to you under an arrangement with GlobeNewswire. AfternoonHeadlines.com takes no editorial responsibility for the same.