Deschutes Brewery Unveils 36th Annual Release of Jubelale: A Holiday Tradition Since 1988
The Limited-Edition Beer features a Festive Paper Collage Scene to Celebrate the Season by Oregon Artist Ben Woodcock
Six Pack of Jubelale
Calling All Artists!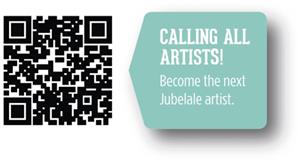 Bend, Oregon, Sept. 13, 2023 (GLOBE NEWSWIRE) — Family and employee-owned Deschutes Brewery is proud to announce the highly-anticipated 36th release of Jubelale, a beloved winter beer that has been a cornerstone beer since the inception of Deschutes Brewery & Public House in 1988. This beer was the first beer ever packaged by Deschutes, originally put into wine bottles straight from the taps at the pub. 
Jubelale is a festive winter ale known for its rich spice notes, robust malt character with hints of toffee and dusted cocoa, and a warming ABV of 6.7%. Its enduring popularity is a testament to the craftsmanship and dedication of Deschutes Brewery.
Since the early 1990s, Jubelale has featured original artwork by various artists, a unique holiday tradition inspired by the creativity of Deschutes' employee owners. The 2023 release showcases a design by former Deschutes Brewery employee, Ben Woodcock. Ben worked at the Deschutes Brewery Portland Public House for nearly a decade where he served up tasty food and beverages as he made his way through graphic design school at Portland State University. During his time with Deschutes, he also created elaborate one-of-kind chalk art that frequently graced the walls of the restaurant. Today, Ben is a multidisciplinary artist, designer and educator in Portland, Oregon who still creates unique chalk art for Deschutes at the Portland Public House. Ben's work can be found at www.benjaminwoodcock.com
In the jovial paper collage scene, he created for Jubelale, Ben's celebratory depiction of winter was inspired by the little moments that the season and beauty around us provide. 
"Tall pines adorned with snow, a river reflective and renewed, the warmth of a campfire spontaneously crackling, the celebration of a new year with new possibilities, that gentle clinking of glass. Within these moments lives the opportunity to instate memories, life's most precious currency."
Jubelale will be released later this month across the United States in 12oz 6-pack bottles, 12oz 12 pack cans, and on draft. 
Inspired by each artist's unique contribution to the brand, Deschutes has opened the call for artists to design labels for the 2024 release of Jubelale.
Details for the artist submission qualifications:
Must be age 21 or older and legally live within the United States to apply.
Professional artists only, meaning a person who is critically recognized as an artist, who possesses skills, training, and/or experience in an artistic discipline, and who is active in and committed to their art practice.
All applicants must submit an art portfolio as part of the application.
Artist must be able to commit to finalizing and submitting an original piece of art for the next Jubelale packaging by March 15, 2024. 
Preference will be given to artists who live or have roots in Oregon or the Pacific Northwest. 
All mediums and formats of art are acceptable. 
The deadline to apply is November 24, 2023. Finalists will be contacted by December 31, 2023. Only finalists will be contacted by Deschutes Brewery
Find Julbelale near you by visiting the Deschutes Brewery Beer Finder at DeschutesBrewery.com. Stay up to date on Deschutes Brewery news and beers by following @deschutesbrewery on social media.
# # #
About Ben Woodcock
Ben Woodcock is a multidisciplinary artist, designer and educator from Portland, Oregon. He is a staff artist at New Seasons Market, freelance designer/illustrator, and former adjunct instructor of Graphic Design at Portland State University.  When he's not hammering away in the studio, Ben can be found enjoying time with his friends and family, rooting on the Trail Blazers or "improving" the house. He's a fan of baseball, hoops, lawn games, sneakers, sports cards, burritos, and The Office. benjaminwoodcock.com
About Deschutes Brewery    
Deschutes Brewery is a family and employee-owned craft brewery based in Bend, Oregon. Utilizing the glacier fed waters of the Deschutes River and local hop farmers around Washington and Oregon, Deschutes has been a pioneer in creating award-winning, Damn Tasty Beer since 1988. As a leader with key brands such as Fresh Squeezed IPA, the award-winning and top-selling Black Butte Porter, and Boneyard Brewery, Deschutes holds a high standard of craftsmanship and quality while continuing to push the envelope with innovative barrel-aged beers and creative small batch brews. Committed to community and sustainability, Deschutes beer can be found at their local Bend and Portland taprooms as well as through a selection of local retailers and bottle shops across the US. Learn more at www.deschutesbrewery.com
Attachments
Six Pack of Jubelale
Calling All Artists!
CONTACT: Brian Rosman Deschutes Brewery 323.443.7780 [email protected] 

Disclaimer: The above press release comes to you under an arrangement with GlobeNewswire. AfternoonHeadlines.com takes no editorial responsibility for the same.