David Thompson Launches Thought-Provoking Book on Christian Family Values and Community Church
David Thompson advocates gentle parenting and disciplining for building a stronger bond with children through his latest book
Springfield, Massachusetts, June 08, 2023 (GLOBE NEWSWIRE) — Author David Thompson has successfully launched his book The Support of Christian Values and How to Understand Your Community Church. The insightful guide is an focuses on many aspects of life, including parenting.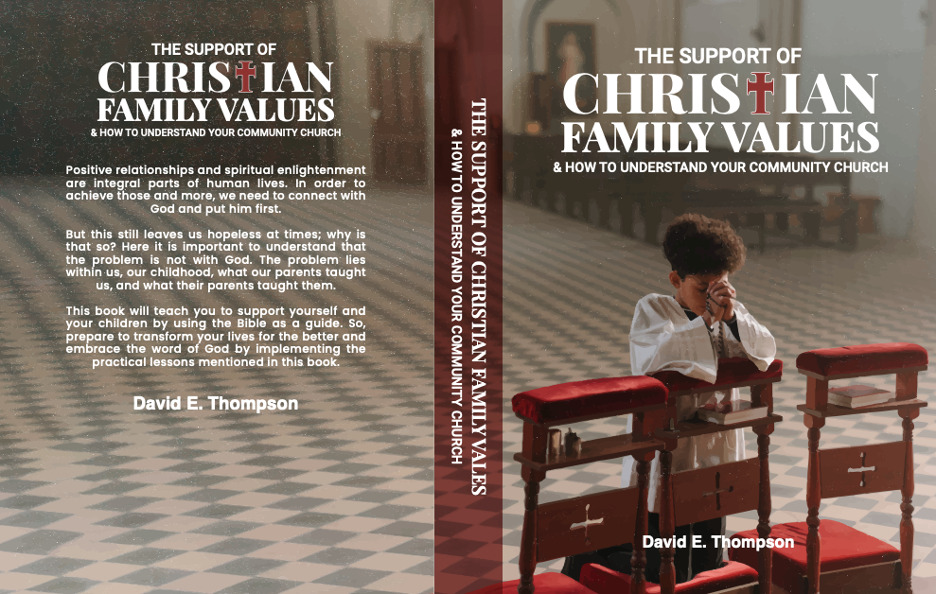 It is a practical handbook that skillfully explains the root cause of problems and the solutions that can be applied to everyday life. The author reinforces the significance of strong dialogue and building healthy relationships with children. Although the book preserves Christian values, it isn't only targeted at Christians alone. People of all religions can benefit from this valuable and insightful guide.
More specifically, the section on gentle parenting and disciplining children without punishment is something all parents can learn from.
The author has wonderfully explained the common reasons why children misbehave. No matter how good a child may be, there comes a phase when they become rebellious. David Thompson goes into the details of why this happens and how parents can discipline their children without involving punishment.
For starters, not having a parenting plan can be the reason for misbehavior. Taking care of a child is a huge responsibility, and you need to plan it carefully. Furthermore, a broken promise that the parent may have forgotten can become the cause.
The author goes on to explain many other reasons. But more importantly, he also goes into practical examples of how to discipline children with kindness, empathy, and compassion. He also gives useful tips and tricks for parents to cope during the child's rebellious phase rather than reacting harshly. At the end of the section, readers can also find useful exercises that make all the information all the more practical.
The Support of Christian Values and How to Understand Your Community Church is up and available on Amazon in all digital and physical formats. Grab a copy now!
For any queries regarding the book, you can contact David Thompson by dropping an email at Thompsond1[email protected] or visiting http://www.christianfamilyvalue.com/
About the Author
Author David E. Thompson is a father of six children. He is a Christian and strongly advocates education. Over the years, David has maintained two jobs and holds a bachelor's degree in Criminal Justice and an associate's degree in Sports Administration. For almost 30 years, David has worked as a Track and Field Coach. Currently, he has written two books and aims to spread the message of God, family values, and healthy relationships through his work.
Name: David Thompson
Address: 95 Loretta Street, Springfield, Massachusetts, 01118
Phone: 413-275-8170
Email: [email protected]
Website: http://www.christianfamilyvalue.com/

Disclaimer: The above press release comes to you under an arrangement with GlobeNewswire. AfternoonHeadlines.com takes no editorial responsibility for the same.