David Jones Digitizes Its Buying Process Utilizing NuORDER by Lightspeed
NuORDER Assortments will streamline buying plans across brands, departments and teams
David Jones Digitizes Its Buying Process Utilizing NuORDER by Lightspeed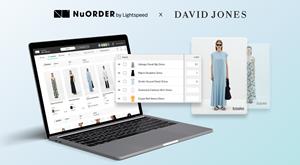 MONTREAL, Nov. 14, 2023 (GLOBE NEWSWIRE) — Lightspeed Commerce Inc. (NYSE | TSX: LSPD) has been selected by David Jones, Australia's leading premium department store curating the most exclusive global and local brands, as part of its Vision 2025+ strategy to digitize its merchandising and buying process. Launching in January with the women's international and designer ready-to-wear categories, David Jones will utilize NuORDER Assortments to digitally preview collections, curate assortments and complete orders in collaboration with their brands.
This partnership will accelerate David Jones' digital transformation efforts and replace manual, time consuming processes like data collection, sizing and order writing. Buyers will have more time to focus on creating a premium world-class shopping experience. David Jones will no longer need to rely on manual spreadsheets, instead the buying team will be able to utilize pre-populated data, automated roll-ups, and real-time collaboration tools to deliver a more sophisticated omnichannel assortment.
NuORDER by Lightspeed's innovative technology will give David Jones the ability to easily view and analyze their assortments across brands, categories, and attributes. Buyers will now be able to take a more customer-centric approach to the range planning process to ensure they are delivering a premium product offering both online and in-store.
Using the platform's robust tagging and rollup capabilities, David Jones buyers will be able to collaborate with leadership and teams across the organization to review investments in key initiatives, such as exclusives, enhancing their ability to create distinct assortments for their customers. 
"David Jones is committed to delivering an unparalleled omnichannel shopping experience for
customers," said Bridget Veals, General Manager Womenswear, Footwear and Accessories for
David Jones. "Adopting the NuORDER Assortments technology as our new digital buying
process will ensure that our teams provide customers with access to a well-planned premium
shopping experience online and in stores while also enhancing our collaboration with brands."
"We are thrilled to partner with David Jones, a leading Australian retailer known for their premium customer experience, to digitally transform their merchandising process," said Danielle Fairfield, Head of Retail for NuORDER by Lightspeed. "NuORDER will provide David Jones with the tools they need to advance their Vision 2025 strategy with a digital-first approach."
NuORDER by Lightspeed powers the world's best brands and retailers, including: Saks, Macy's, Nordstrom, Brunello Cucinelli, Rag & Bone, Kendra Scott, Barbour, Tecnica, Arc'teryx and Shiseido.
About NuORDER by Lightspeed
NuORDER by Lightspeed is a leading B2B platform powering commerce and discovery for the world's best brands and retailers. The platform includes virtual showroom technology, visual assortment and merchandising tools, and integrated payments solutions. Today, more than 3,000 brands and more than 100,000 retailers use NuORDER by Lightspeed to streamline the wholesale buying and selling process. Lightspeed acquired NuORDER in 2021.
For more information, see www.nuorder.com.
About Lightspeed
Powering the businesses that are the backbone of the global economy, Lightspeed's one-stop commerce platform helps merchants innovate to simplify, scale and provide exceptional customer experiences. Our cloud commerce solution transforms and unifies online and physical operations, multichannel sales, expansion to new locations, global payments, financial solutions and connection to supplier networks.\
Founded in Montréal, Canada in 2005, Lightspeed is dual-listed on the New York Stock Exchange (NYSE: LSPD) and Toronto Stock Exchange (TSX: LSPD). With teams across North America, Europe and Asia Pacific, the company serves retail, hospitality and golf businesses in over 100 countries.
For more information, see www.lightspeedhq.com.
Follow us on social media: LinkedIn, Facebook, Instagram, YouTube, and Twitter.
Forward-Looking Statements
This news release may include forward-looking information and forward-looking statements within the meaning of applicable securities laws ("forward-looking statements"). Forward-looking statements are statements that are predictive in nature, depend upon or refer to future events or conditions and are identified by words such as "will", "expects", "anticipates", "intends", "plans", "believes", "estimates" or similar expressions concerning matters that are not historical facts. Such statements are based on current expectations of Lightspeed's management and inherently involve numerous risks and uncertainties, known and unknown, including economic factors. A number of risks, uncertainties and other factors may cause actual results to differ materially from the forward-looking statements contained in this news release, including, among other factors, those risk factors identified in our most recent Management's Discussion and Analysis of Financial Condition and Results of Operations, under "Risk Factors" in our most recent Annual Information Form, and in our other filings with the Canadian securities regulatory authorities and the U.S. Securities and Exchange Commission, all of which are available under our profiles on SEDAR at www.sedarplus.ca and on EDGAR at www.sec.gov. Readers are cautioned to consider these and other factors carefully when making decisions with respect to Lightspeed's subordinate voting shares and not to place undue reliance on forward-looking statements. Forward-looking statements contained in this news release are not guarantees of future performance and, while forward-looking statements are based on certain assumptions that Lightspeed considers reasonable, actual events and results could differ materially from those expressed or implied by forward-looking statements made by Lightspeed. Except as may be expressly required by applicable law, Lightspeed does not undertake any obligation to update publicly or revise any such forward-looking statements, whether as a result of new information, future events or otherwise.
For further information: Media Contacts: Canada: Victoria Baker, NKPR – [email protected]; USA: Jennifer Fugel, Newsmaker Group- [email protected]; Lightspeed Media Relations – [email protected]; Investor Relations: Gus Papageorgiou, Lightspeed Investor Relations – [email protected]
Attachment
CONTACT: Sara Basdeo Lightspeed Commerce Inc. 6475376271 [email protected] 

Disclaimer: The above press release comes to you under an arrangement with GlobeNewswire. AfternoonHeadlines.com takes no editorial responsibility for the same.