Dapple Baby Brings Safe, Child Friendly Cleaning Solutions to Canada
Formulated with plant-based ingredients, the full line of products is made without parabens, sulfates, phthalates, or synthetic dyes & fragrance
Dapple Baby Bottle & Dish Soap
Dapple Baby Product Lineup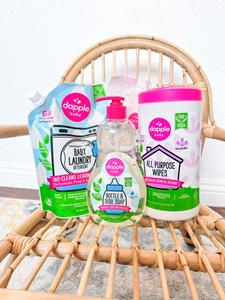 TORONTO, June 19, 2023 (GLOBE NEWSWIRE) — Parents face a lot of challenges – from sleep training to potty messes, to the never-ending kitchen clean ups. With the expansion of Dapple Baby in Canada, these woes are now more manageable. The plant-based products provide safe and effective cleaning solutions, alleviating everyday stress and worry from parents' shoulders.
Dapple Baby is a trusted brand that specializes in creating plant-based cleaning solutions to meet the unique cleaning challenges parents face. At a time when more than two-thirds of Canadians are likely to switch to environmentally friendly products1, parents can now rely on Dapple Baby knowing they are better for both their babies and the environment.
"Our plant-based formulas effectively clean even the toughest baby messes," said Richard Palmer, CEO of Eleeo Brands. "When we create our products, we aim to reduce parental worries by providing a safer, more natural way to clean their baby's items, without the fear of harmful chemicals or residues. Our transparent ingredients list adds an extra layer of peace of mind for parents, and to top it off, our products are cruelty-free."
Working closely with toxicologists, pediatricians and dermatologists, Dapple Baby has meticulously crafted cleaning solutions parents can trust on baby bottles, toys, breast pump parts and more. The brand's innovative cleaning solutions are designed to tackle stubborn baby messes while being gentle on both babies and the environment.
Dapple Baby Bottle & Dish Soap: Effectively cleans bottles, sippy cups, pacifiers, and breast pump components with an award-winning green technology that targets milk residue and uses baking soda to combat odor. This product's superior cleaning power is proven to remove up to 50 per cent more milk film and odour than other brands, helping parents save time and effort.
Dapple Breast Pump Wipes: Highly effective plant-based wipes for cleaning breast pump parts and accessories, breast shields, nursing apparel, and more, with an award-winning green technology that targets breast milk residue with no rinsing required.
Dapple Laundry Detergent: Cloth diaper compatible, hypoallergenic, and fragrance-free formula that's made without harmful chemicals like SLS, SLES, artificial fragrances, dyes, parabens, phthalates, 1,4 dioxane, chlorine, formaldehyde, optical brighteners and alcohol.
The brand's effective formulas have also been awarded for the highest quality ingredients and have gained the trust of moms for over a decade.
Dapple Baby products are now available in stores nationwide and on Amazon.ca. To celebrate the Canadian expansion, Dapple Baby is offering a limited-time discount coupon for the Baby Bottle & Dish Soap. Claim your discount now at https://bit.ly/dapplecoupon!
To learn more about Dapple Baby, visit dapplebaby.com.
About Dapple
Co-founded by two moms, Dapple offers baby-safe, green household cleaning products, specially formulated to tackle the unique cleaning challenges parents face. Their products use nature's ingredients to combat tough "baby dirt" – from milk residue on baby bottles, to spit-up stains on onesies, to sticky fingerprints on toys. In partnership with toxicologists, pediatricians, and green chemists, all Dapple products are made with plant-based ingredients, free of synthetic dyes or fragrances, SLES, parabens, and phthalates, and are never tested on animals.
Find Dapple at retailers across the country, including Toys "R" Us, Walmart or Amazon.ca.
You can follow @DappleBaby on Facebook and Instagram, as well as @dapplebrand on TikTok for fun cleaning tips and tricks!
Contact
Sarah El-Bakri
[email protected]
289.892.7054
Photos accompanying this announcement are available at:
https://www.globenewswire.com/NewsRoom/AttachmentNg/2e3f4c4f-c6fe-428e-ba31-e9caf35e4aea
https://www.globenewswire.com/NewsRoom/AttachmentNg/e40cfead-c880-4a64-9a3e-ef87e9cf0b03
___________________
1 https://www.businesswire.com/news/home/20221116005955/en/Canadians-Clean-with-the-Environment-in-Mind-This-Holiday-Season-More-Than-2-in-3-Canadians-Likely-to-Switch-to-Environmentally-Friendly-Products

Disclaimer: The above press release comes to you under an arrangement with GlobeNewswire. AfternoonHeadlines.com takes no editorial responsibility for the same.