Dairy Council of California Attends International Dairy Federation's World Dairy Summit
Dairy Council of CA Attends World Dairy Summit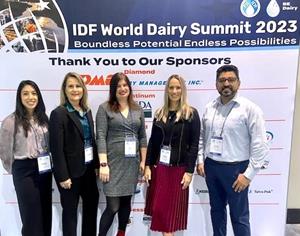 SACRAMENTO, Calif., Nov. 01, 2023 (GLOBE NEWSWIRE) — Dairy Council of California is proud to announce its participation in the International Dairy Federation's World Dairy Summit recently held in Chicago. As a leading advocate for dairy education and nutrition, Dairy Council of California joined the global dairy community in promoting the many benefits of dairy products while sharing insights on innovation for nutrition security.
The World Dairy Summit leadership welcomed attendees from over 50 countries from around the world to showcase dairy's boundless potential and endless possibilities to nourish the world. Dairy leaders worked collaboratively and shared innovative sustainable agriculture practices and the positive economic impact dairy has across the world.
"The World Dairy Summit offered opportunities to meet global dairy leaders and educators and to share best practices and innovations. Dairy has so much potential to support progress toward the UN Sustainable Development Goals to reduce hunger, support good health and well-being, and build towards gender equality through both nutrition and economic opportunities. I am inspired and energized to continue to advance milk and dairy's role in sustainable nutrition," says Dairy Council of California CEO Amy DeLisio.
Researchers presented the unmatched nutrition dairy provides, especially during key life stages, which has the opportunity to help populations around the world reach their full potential. During the poster session, Dairy Council of California shared its own case study: Advancing Milk and Dairy's Important Role in Improving Nutrition Security During Pregnancy and Early Childhood.
Dairy Council of California Nutrition and Industry Affairs Officer Ashley Rosales explains further how California is leading the way on the global dairy stage: "It was valuable to come together with partners and highlight the California dairy sector innovations. California's farmers and processors have made considerable investments in the development of research, strategies, technologies and programs to further advance planet-smart practices and enhance dairy's valuable role in healthy and equitable food systems."
About Dairy Council of California
Dairy Council of California is a nutrition organization working together with champions to elevate the health of children and communities through lifelong healthy eating patterns. Focusing on education, advocacy, dairy agriculture literacy and collaboration, Dairy Council of California advances the health benefits of milk and dairy foods as part of the solution to achieving nutrition security and sustainable food systems. Learn more at HealthyEating.org.
Contact:
Meggan Rush
Communications Manager
Dairy Council of California
916.633.3644
[email protected]
A photo accompanying this announcement is available at https://www.globenewswire.com/NewsRoom/AttachmentNg/79fca694-1d02-4917-8d29-cf0f2a90986e

Disclaimer: The above press release comes to you under an arrangement with GlobeNewswire. AfternoonHeadlines.com takes no editorial responsibility for the same.