Corporate Wings Pilot Justin Shive Selected for NBAA's 2023 40 Under 40
•NBAA'S Business Aviation Top 40 Under 40 recognizes rising leaders driving innovation within the industry •Shive, who flies privately owned and managed Challenger 300s, represents Corporate Wings' rapid employee growth of 80 percent, since 2019
NBAA 40 Under 40 Includes Corporate Wings Pilot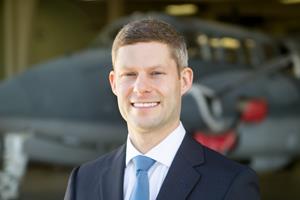 Cleveland, Oct. 13, 2023 (GLOBE NEWSWIRE) — Corporate Wings, one of the nation's most experienced boutique aircraft management organizations, announced today that pilot Justin Shive is among the National Business Aviation Association's Top 40 Under 40. Justin, who flies privately owned and managed Challenger 300 aircraft, started his career as a test pilot. In addition to his valuable professional contributions to business aviation at Corporate Wings, he actively utilizes his mechanic and flight instructor certifications to nurture the interest of aspiring talent within General Aviation.
"We are thrilled that the NBAA recognized Justin for this honor and that Corporate Wings has been able to contribute to his success," said Corporate Wings CEO Elizabeth Ricci. "Justin is a great example of the kind of young aviation professional we are looking to attract to our team. His forward-thinking attitude and leadership not only bring advantages to our organization, but also make a positive impact on the wider business aviation community."
This is the 6th year NBAA has celebrated young aviation professionals with this award. The Top 40 Under 40 list is selected from industry nominations by NBAA's Young Professionals (YoPro) Council, a group of business aviation professionals and NBAA staff liaisons working to build relationships between the industry's emerging leaders. NBAA President and CEO Ed Bolen will present the awards at NBAA-BACE in Las Vegas, NV Oct. 17-19, 2023.
Shive's career has taken him all over the world and today he is an NBAA Certified Aviation Manager (CAM) and he focuses on maintaining high standards for himself and for Corporate Wings.
"I've always just done what I thought I could or should do. I never set out to win awards. I just wanted to make aviation better," said Shive who was a Dash 8 test pilot and wrote the flight operational manual and flight test program for that aircraft and others.
Corporate Wings' latest phase of growth was driven by the increased demand for light jet aircraft management resulting from the surge in private aviation services coming out of the pandemic. Ricci developed a new department that required the addition of 32 new employees. In addition to their existing boutique business of managing super-midsize and large cabin aircraft, Corporate Wings now also has a charter partner team to support the light jets they manage. Because the company remains committed to maintaining its high standard of service to their large cabin division, the number of whole aircraft owner clients will remain stable and hand-selected, Ricci said.
"We're a company with a long history, but our leadership team is quite young, so it is fitting to make the list this year," said Ricci. "Overall, we put in a lot of hard work and a thoughtful strategy in place to build a culture that has and will continue to inspire young aviators."
Added National Business Aviation Association (NBAA) President and CEO Ed Bolen, "We are pleased to announce the newest class of Top 40 Under 40 business aviation professionals. This class represents a wide range of expertise in business aviation. It truly demonstrates that the next generation of leaders is here and the industry is in good hands for a successful future."
About Corporate Wings
Corporate Wings is a boutique-style aircraft management company that provides a turn-key solution to over 20 clients based in the U.S. and Canada. They offer a full portfolio of services ranging from 24/7-365 flight coordination, flight standards management, administrative services, maintenance, and discounted training, fuel, and insurance. It is the world's first managed aircraft company that was founded with a focus on serving super-mid and large airframes. Launched as an aircraft management company more than 40 years ago it was the foundation for the Directional Aviation portfolio of business aviation companies. For more information, please visit http://www.corporatewings.com/.
Attachment
CONTACT: Susan Patton Corporate Wings 216-333-9526 [email protected] 

Disclaimer: The above press release comes to you under an arrangement with GlobeNewswire. AfternoonHeadlines.com takes no editorial responsibility for the same.