Copacabana makes it to top 10 most Visited Beaches as per travel app, Visited
Find out which beaches made the Top 10 Most Visited Travel List. Users can also see what percentage of all the most famous beaches they have been to with the travel app, Visited
Most Visited Beaches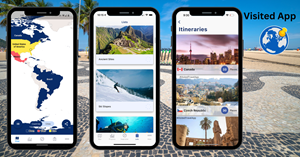 TORONTO, Oct. 03, 2023 (GLOBE NEWSWIRE) — Copacabana makes it to the top 10 most popular beaches in the world, published by Arriving In High Heels. The popular beaches travel list is based on 1.9 million users, who travel to find the perfect place to soak the sun and splash in blue waters.
"While Copacabana makes it to the top 10, Ipanema also found in Rio is close by in 12th spot for most popular beaches. Other beaches that made it to the top 50 list include: Florianopolis, Buzios and Ilha Grande. Brazil itself is ranked in 50th spot as the most visited country in the world. Making its beaches one of the top attractions for visitors," said Anna Kayfitz, Founder of Arriving In High Heels.
With this travel app, users can create travel bucket lists, map their past and future travels, plan their future travels with travel itinerary, get inspired with new destinations, as well as get personalized travel stats.
Most popular beach destinations include: 
1. Cancun, Mexico.
2. South Beach Miami, United States
3. Majorca Island, Spain
4. Cannes, France.
5. Tenerife, Spain.
6. Amalfi Coast, Italy
7. Bondi Beach, Australia.
8. Gran Canaria Island, Spain.
9. Punta Cana, Dominican Republic.
10. Copacabana, Rio De Janeiro, Brazil.
For a full list of beaches and mark destinations from other popular travel lists, download Visited on iOS or Android. 
About Visited App:
Visited is a popular travel app, whose mission is to make travel easy to plan and remember past destinations. Mapping past and future travels by country, region or cities allows for a quick visualization of person's travel journey. The travel app, also has over 150 travel lists categorized by interests where users can check off destinations they have been to or wish to go in the future. The travel itinerary feature allows users to see their bucket-list selections ranked by country. Other app features include personalized travel stats, inspiration photos to discover new destinations with and ability to order your very own travel poster.
To learn more about the Visited app and its latest feature update, please visit https://visitedapp.com/. 
About Arriving In High Heels Corporation
Arriving In High Heels Corporation is a mobile app company; Visited is their most popular app. Other apps include Pay Off Debt and X-Walk.
Contact Information
Anna Kayfitz
[email protected]
A photo accompanying this announcement is available at https://www.globenewswire.com/NewsRoom/AttachmentNg/c56b5d50-bd2e-4a63-b54f-e85d97d6fbeb

Disclaimer: The above press release comes to you under an arrangement with GlobeNewswire. AfternoonHeadlines.com takes no editorial responsibility for the same.