Continental and HERE partner with IVECO to increase safety and fuel-saving functions in commercial vehicles
Continental_HERE_Picture1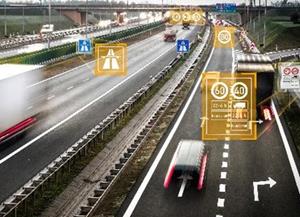 Continental_HERE_Picture 2
New IVECO commercial vehicles will use Continental's eHorizon platform and HERE data to support compliance with the EU's Intelligent Speed Assistance requirement and to enable Advanced Driver Assistance Systems functions
Continental provides vehicle positioning, data aggregation and scalable 4G/5G telematics control unit
HERE delivers validated speed limit information for any road within the EU and additional geospatial content for advanced driver assistance feature sets
Villingen-Schwenningen, Germany, Amsterdam, the Netherlands – Technology company Continental and HERE Technologies, the leading location data and technology platform, will power all of IVECO's commercial vehicles across the EU with Intelligent Speed Assistance (ISA) and fuel-saving functions. These will be delivered through Continental's eHorizon platform, aggregating and delivering HERE map content, with data exchange enabled by Continental's scalable 4G/5G telematics control unit.
All new IVECO heavy-duty, medium duty, buses and light duty vehicles produced for the EU market from 2023 onwards will utilize HERE maps designed for Advanced Driver Assistance Systems (ADAS). 
The HERE ADAS Map delivers high-quality speed limit information for all EU roads. It is constantly matched with the GPS signal provided by Continental's eHorizon, which aggregates the data and delivers it to the relevant electronic control units. The solution supports IVECO's compliance with the recent EU ISA regulation, which requires commercial and passenger vehicles to indicate the current legal speed limit to drivers in direct line of sight. The map can be securely updated via the cloud of the car manufacturer yearly or every 6 months as an option. Alternatively, it is also possible to update it in workshops via USB.
In addition to the fresh and accurate speed limit data, the HERE ADAS Map also contains detailed road attributes, including topology, elevation, curvature, slope and more. Accordingly, HERE and Continental enable IVECO commercial vehicles to indicate deceleration to an appropriate speed when nearing a roundabout and to then indicate acceleration to the legal speed once they have left the roundabout.
On top of providing ISA functionalities, HERE and Continental collaborate to provide the eHorizon fuel-saving function which has been installed in IVECO vehicles supplied for the EU since 2016. Based on HERE and Continental data, which is aggregated by the eHorizon, IVECO's Cruise Control software adapts the vehicle's driving style to the road, helping to reduce fuel consumption by between three and five percent. Introduced in 2012, Continental's eHorizon technology has helped customers to save more than six billion liters of fuel, equaling more than 17 million tons of CO2 saved.
"Continental has been working with IVECO for many years and feels honored to have been awarded a large project like this," says Florin Jianu, Program Director for eHorizon, Telematic and General Safety Regulation (GSR) for Commercial Vehicles at Continental. "We have more than 25 years of experience with car connectivity, having connected more than 40 million vehicles, and this know-how went into this project. With the help of HERE data, we were able to provide our first ever holistic eHorizon solution for commercial vehicles. It is the platform for a future ecosystem that will provide additional plug-in safety or comfort applications. Our partnership for truck applications with HERE was critical for the success. It is built on trust and a common vision to provide best-in-class security features. We highly appreciate the long-term commitment our partner takes to always provide the freshest data. This is one of the many reasons why HERE is our exclusive partner for truck e-horizon." 
"HERE is proud to extend its long-standing partnership with Continental to enhance crucial safety and fuel-saving functions for IVECO's commercial vehicles. With the HERE ADAS Map onboard, IVECO drivers will gain access to the best commercial vehicle attributes, maximizing safety," says Gino Ferru, General Manager EMEAR and Senior Vice President at HERE Technologies.
Media Contacts
Continental
Christopher Schrecke
Head of Media Relations, Business Area Smart Mobility
+49 6196 87 1605
[email protected]
HERE Technologies
Dr. Sebastian Kurme
+49 1753515 3549
[email protected]
About Continental
Continental develops pioneering technologies and services for sustainable and connected mobility of people and their goods. Founded in 1871, the technology company offers safe, efficient, intelligent and affordable solutions for vehicles, machines, traffic and transportation. In 2021, Continental generated sales of €33.8 billion and currently employs more than 190,000 people in 58 countries and markets. On October 8, 2021, the company celebrated its 150th anniversary. For more information, please visit www.continental-corporation.com.
About HERE Technologies
HERE has been a pioneer in mapping and location technology for almost 40 years. Today, HERE's location platform is recognized as the most complete in the industry, powering location-based products, services and custom maps for organizations and enterprises across the globe. From autonomous driving and seamless logistics to new mobility experiences, HERE allows its partners and customers to innovate while retaining control over their data and safeguarding privacy. Find out how HERE is moving the world forward at here.com.
Attachments
Continental_HERE_Picture1
Continental_HERE_Picture 2

Disclaimer: The above press release comes to you under an arrangement with GlobeNewswire. AfternoonHeadlines.com takes no editorial responsibility for the same.