Compression Therapy Market revenue to exceed USD 11 Billion by 2036, says Research Nester
Major compression therapy market players include 3M Company, BSN Medical, Medtronic PLC, Bio Compression Systems, Inc., Sigvaris, Inc., Medi GmbH & Co. KG, Tactile Medical, DJO Global, Inc., Sanyleg S.r.l., and Paul Hartmann AG.
New York, Nov. 01, 2023 (GLOBE NEWSWIRE) — The global compression therapy market size is slated to expand at ~9% CAGR between 2024 and 2036. The market is poised to garner a revenue of USD 11 billion by the end of 2036, up from a revenue of ~USD 4 billion in the year 2023.The rising awareness about the benefits of compression therapy among patients and healthcare professionals is driving the growth of the market. This is due to the increasing number of research studies that have shown the effectiveness of compression therapy in treating various conditions such as venous leg ulcers, deep vein thrombosis, and lymphedema.
Request Free Sample Copy of this Report @ https://www.researchnester.com/sample-request-4858
It was observed that the healing of VLU (venous leg ulcer healing) represents a notoriously slow process, 94% of[R1]  VLUs will heal in 12 months and 8% remain unhealed after 5 years, while the recurrence rate within 3 months of healing is around 71%.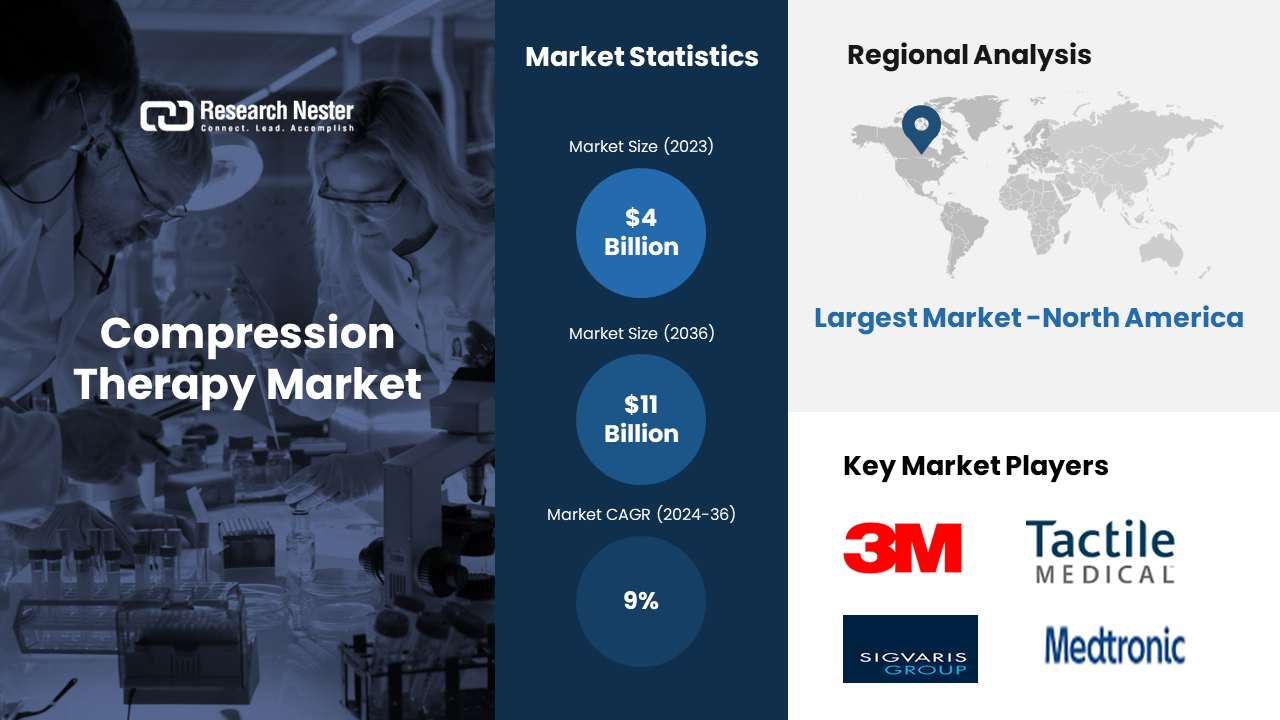 Prevalence of Venous Diseases to Boost Market Growth
Venous diseases such as deep vein thrombosis and varicose veins are more common in older adults. Compression therapy can help prevent and manage these conditions, leading to improved circulation and a reduced risk of complications. Every year, around 150,100 individuals receive a diagnosis of venous insufficiency and the medical costs associated with their care amount to nearly USD 500[R2]  million. If left chronic venous insufficiency typically worsens over time and can result in post phlebitic syndrome and the development of venous ulcers. Compression therapy works by putting pressure on the veins, which helps to prevent them from becoming swollen and compressed. This helps to reduce the pressure in the veins, allowing them to carry blood more efficiently and reducing the chances of developing venous disease.
Compression Therapy Market: Regional Overview
The market is segmented into five major regions including North America, Europe, Asia Pacific, Latin America, and the Middle East and Africa region. 
Increasing Awareness of the Benefits of Compression Therapy to Drive the Growth in the North America Region
The compression therapy market in North America region is estimated to garner the largest revenue by the end of 2035. This is attributed to the presence of a large population, growing prevalence of chronic diseases, and increasing demand for advanced healthcare technologies. For instance, healthcare spending in the United States was expected to grew by over 2% to USD 4 trillion[R3]  by 2021, or over USD 12,910 per person. Additionally, the region also has the highest number of healthcare practitioners, which is likely to further drive the growth of the compression therapy market. 42.4% of adults, in the United States are classified as having obesity, including severe obesity. A smaller proportion, 9.2% are specifically classified as having severe obesity. Compression therapy can help manage these conditions and prevent further complications, such as deep vein thrombosis and pulmonary embolism.
Make an Inquiry Before Buying this Report @ https://www.researchnester.com/inquiries-before-buying-4858
 Increasing Prevalence of Obesity And Sedentary Lifestyles In The Region to Drive the Growth in the Europe Region
The Europe compression therapy market is estimated to garner the largest revenue by the end of 2035. This is primarily attributed to the growing aging population in the region, as these diseases and conditions are more prevalent in the elderly population. Additionally, the increasing prevalence of obesity and sedentary lifestyles in the region are also contributing to the growth of the market. The increasing number of people suffering from chronic diseases such as diabetes, hypertension, and obesity drives the demand for compression therapy in Europe. Approximately 1 out of every 11 adults, which amounts to around 61 million individuals have diabetes. It is concerning that approximately 1 out of every 3 people living with diabetes (36[R4] %) remain undiagnosed. Additionally hyperglycemia during pregnancy affects 1 out of every 7 live births. Notably, the Europe region has the prevalence of children and adolescents with type 1 diabetes with an estimated count of, around 295,000 cases. Moreover, technological advancements in compression therapy, such as the development of smart compression devices, are likewise contributing to the market growth.
Compression Therapy Segmentation by Product
Compression Pumps
Compression Stockings
Ortho Braces
Bandages
Wraps
Tapes
The compression pumps segment in Compression Therapy market is anticipated to hold the largest revenue by the end of 2035. Compression pumps are versatile and can be used to treat a variety of medical conditions, including lymphedema and venous insufficiency. They are also relatively easy to use and require less training than other forms of compression therapy, making them an attractive option for both patients and healthcare providers. Additionally, the development of wireless compression pumps has enabled them to be monitored remotely, which has improved the efficiency and accuracy of treatment. For instance, Koya Medical, a California based medical technology company has created the Dayspring compression system to address lymphedema and venous diseases, in the lower limbs. This innovative solution includes an breathable mesh garment equipped with Koyas unique Flexframe technology, which utilizes spring like segments to provide effective compression.
Compression Therapy Segmentation by Application
Deep Vein Thrombosis DVT
Varicose Vein
Lymphedema Ulcer
The varicose vein treatment segment is anticipated to hold the largest revenue by the end of 2035. It is estimated that 20% of adults are expected to experience varicose veins at some stage in their lives. Compression therapy helps to reduce the symptoms of varicose veins, such as pain and swelling, by improving blood circulation. Compression stockings provide compression around the veins, which helps to increase the blood flow, reduce swelling, and increase elasticity of the veins. Additionally, compression stockings help to reduce varicose vein formation, as they provide pressure to the veins and prevent it from collapsing.
Request for Customization of this Report @ https://www.researchnester.com/customized-reports-4858
A few of the well-known industry leaders in compression therapy market that are profiled by Research Nester are 3M Company, BSN Medical, Medtronic PLC, Bio Compression Systems, Inc., Sigvaris, Inc., Medi GmbH & Co. KG, Tactile Medical, DJO Global, Inc., Sanyleg S.r.l., Paul Hartmann AG, and other key market players.
Recent Development in the Market
Medtronic PLC recently revealed that the FDA has granted clearance for its VenaSeal Closure System, an invasive treatment option for patients suffering from symptomatic venous reflux disease. This innovative system utilizes an adhesive to seal problematic veins providing relief and offering new possibilities to individuals with chronic venous insufficiency.
BSN Medical introduced the JOBST FarrowWrap in the United States. This customizable compression wrap is specifically designed to deliver compression, for patients dealing with lymphedema and other conditions that result in limb swelling. The wrap is crafted from materials that wick away moisture ensuring comfort and effectiveness while accommodating individual patient requirements.
About Research Nester
Research Nester is a one-stop service provider with a client base in more than 50 countries, leading in strategic market research and consulting with an unbiased and unparalleled approach towards helping global industrial players, conglomerates and executives for their future investment while avoiding forthcoming uncertainties. With an out-of-the-box mindset to produce statistical and analytical market research reports, we provide strategic consulting so that our clients can make wise business decisions with clarity while strategizing and planning for their forthcoming needs and succeed in achieving their future endeavors. We believe every business can expand to its new horizon, provided a right guidance at a right time is available through strategic minds.
CONTACT: AJ Daniel Corporate Sales, USA Research Nester Email: [email protected] USA Phone: +1 646 586 9123 Europe Phone: +44 203 608 5919

Disclaimer: The above press release comes to you under an arrangement with GlobeNewswire. AfternoonHeadlines.com takes no editorial responsibility for the same.