CommerceIQ Publishes Full Event Insights from Prime Big Deal Days 2023
Daily Sales Jump 236% Versus Amazon's Last 28 Day Average, and Brands Came Prepared With 80% More Inventory On Hand Versus Prime Early Access Sale 2022
CommerceIQ Publishes Full Event Insights from Prime Big Deal Days 2023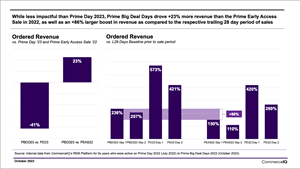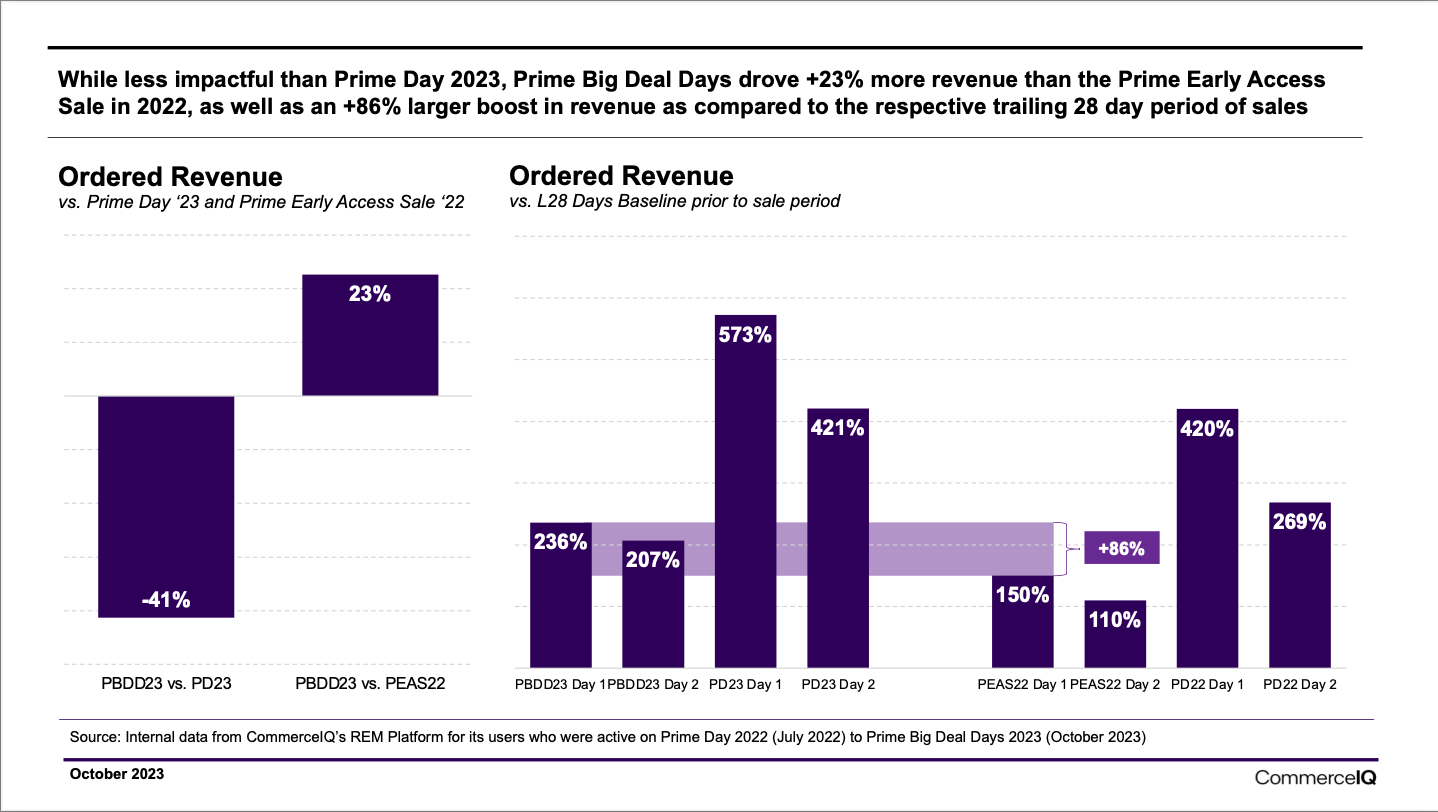 PALO ALTO, Calif., Oct. 18, 2023 (GLOBE NEWSWIRE) — CommerceIQ, the leading retail ecommerce management ("REM") platform, today releases their analysis of the full week following Prime Big Deal Days 2023, which took place October 10-11, 2023.
Amongst the findings:
While smaller than Prime Day 2023, Prime Big Deal Days 2023 cemented itself as an important sales day, with a 236% increase in daily sales versus the baseline average of the previous 28 days of sales leading into October 10, 2023
Brands this year were better prepared on inventory, with 80% more inventory on hand and a 34% reduction in revenue lost due to out-of-stock items versus last year's comparable event, Prime Early Access Sale 2022.
Brands pulled back on ad spending across nearly all categories, with spending down 41% versus Prime Early Access Sale 2022. The market also became more competitive, with return on ad spend (ROAS) declining by $3.38 versus last year's Prime Early Access Sale. The only categories to increase ad spending were Grocery and Toys.
Pet Products was the winning category during Prime Big Deal Days 2023, generating a 67% increase in ordered revenue versus the Prime Early Access Sale 2022.
Prime Big Deal Days 2023 saw an overall decline in average selling price (ASP) compared to Prime Day 2023, slipping 23% with higher ASP categories experiencing even higher declines in ASP.
The data is based on a compilation of anonymized data from the CommerceIQ REM Platform, which handles more than $30 billion of sales from global consumer brands that sell on retail ecommerce channels such as Amazon, Walmart.com and Instacart.
"Shoppers are clearly becoming more aware of Amazon's second-largest event, and brands are following suit by showing up better prepared," said Guru Hariharan, CEO of CommerceIQ. "The fact that on-hand inventory was up 80% versus last year and revenue lost due to out-of-stock inventory dropped by 34% indicates that most brands were ready to meet customer demand."
Overall, Prime Big Deal Days saw more consistent sales throughout the event, while Prime Day 2023 endured larger ebbs and flows throughout the day. The data also indicates that many Amazon shoppers browsed deals on the first day of the event before pulling the trigger on day two: hourly traffic peaked around 6 p.m. PST on Day One, while the highest percentage of ordered revenue was achieved around 7 p.m. PST on Day Two.
For additional analysis of Prime Big Deal Days 2023, please visit the CommerceIQ blog.
About CommerceIQ
CommerceIQ is the leading retail ecommerce management (REM) platform for consumer brands to plan, monitor and execute their businesses and profitably grow market share across 650+ global online retailers. CommerceIQ's unified REM platform brings together every aspect of a brand's retail ecommerce business: sales and operations, retail media management, content management, and digital shelf optimization, to create a single source of truth. CommerceIQ's machine learning and automation enable brands to connect organizational silos, power team efficiencies, and drive measurable sales impact. More than 2,200 brands globally, including Nestle, Colgate, and Whirlpool, trust CommerceIQ to manage and grow their retail ecommerce businesses across global retailers including Amazon, Walmart, and Instacart. For more information, visit https://www.commerceiq.ai.
BOCA Communications for CommerceIQ
[email protected] 
A photo accompanying this announcement is available at:
https://www.globenewswire.com/NewsRoom/AttachmentNg/bed6f5c9-2b62-4b89-8de9-1b759b43c0f7

Disclaimer: The above press release comes to you under an arrangement with GlobeNewswire. AfternoonHeadlines.com takes no editorial responsibility for the same.