Cleanfarms Collecting Unwanted, Obsolete Agricultural Pesticides and Old Farm Animal Medications in Four Canadian Provinces this Fall
Unwanted pesticides and old livestock/equine medications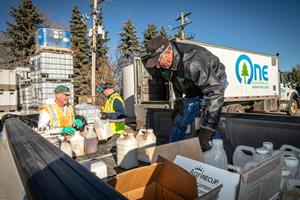 Collection locations this fall in:
Quebec
British Columbia: Vancouver Island and Fraser Valley
Saskatchewan: Southern (south of Davidson)
Prince Edward Island
(Collection locations listed at cleanfarms.ca/materials/unwanted-pesticides-animal-meds/)
Why this collection program matters:
Collection programs safely manage and dispose of unused, unwanted agricultural pesticides and old livestock/equine medications
Helps keep materials out of landfill and the environment
No cost to farmers
Next opportunity to dispose of these unwanted materials in these regions will be in three years, fall of 2026
ETOBICOKE, Ontario, Sept. 05, 2023 (GLOBE NEWSWIRE) — Each fall, Cleanfarms teams spread out across the country, bringing a valued opportunity to local farmers to safely and conveniently dispose of unwanted and obsolete agricultural pesticides and old livestock, equine and poultry medications.
Cleanfarms is the national stewardship organization that develops and operates programs to help farmers/producers manage on-farm agricultural waste materials. This year, it will be returning to four regions of Canada to hold events to collect these materials.
This year's program features 72 collection events – some of which are one day blitz style collections and others that are multi-day events. They will take place in:
Quebec: September 18 to October 6 with a mix of blitz and multi-day events
British Columbia: Vancouver Island, October 2 to 4 and Fraser Valley, October 10 to 13
Saskatchewan (Southern): October 23 to 27
Prince Edward Island: October 30 to November 10 (all multi-day events)
This is an important opportunity to collect items that are no longer needed and bring them for safe disposal. Farmers are encouraged to bring:
old or unwanted agricultural pesticides (identified with a Pest Control Product number on the label; includes used miticide strips)
commercial pesticides for golf courses and industrial and commercial pest control products (identified with a Pest Control Product number on the label)
livestock/equine medications that are used on-farm for livestock, poultry or horses (identified with a DIN number, serial number, notification number or Pest Control Product number on the label).
The program does NOT accept:
fertilizer, diluted rinsate solution, large quantities of unopened product, and treated seed (except in Quebec)
full and unopened jugs of adjuvant or surfactant
aerosol containers, premises disinfectants and sanitizers
needles or sharps, medicated feed, waste and medications from veterinary clinics, ear tags
domestic pesticides and any other household hazardous waste.
The program offers an essential solution to a big issue that farmers are faced with year after year: keeping leftover chemicals and crop inputs out of the environment after they are no longer needed on the farm.
"Knowing that there is a safe way of managing hazardous on-farm waste materials, farmers appreciate this program and wait for it to return to their region every three years. Not only that, but we're always glad to meet up with new farmers every time we're in each region," says Cleanfarms' Executive Director Barry Friesen. "We've been told that this program provides peace of mind for farmers, understanding that the materials they bring will be disposed of according to the highest health and safety standards."
Cleanfarms has been managing the program to collect old, unwanted pesticides since 2010, and expanded it in partnership with The Canadian Animal Health Institute (CAHI) to include obsolete farm animal medications in 2014.
"CAHI and our member companies are delighted to once again support upcoming Cleanfarms collections this fall. Recognizing the connection between animal health, human health, and our environment, we take immense pride in our longstanding partnership with Cleanfarms, which showcases our members' unwavering dedication to environmental stewardship and sustainable initiatives," stated Dr. Catherine Filejski, President, and CEO of CAHI.
The crop protection industry members of Cleanfarms, in partnership with CAHI, cover the full cost of operating the program and disposing of the materials responsibly so that farmers pay nothing when they drop off accepted items. All materials are managed safely through high temperature incineration.
The previous round of collections in these regions was in 2020 and yielded a total of 298,127 kgs of unwanted pesticides and 3,389 kgs of obsolete animal medications.
Collection events are scheduled at local agricultural retailers' locations for ease of access. Farmers can find their most convenient events at the Cleanfarms' website under 'What to recycle & Where', then clicking on 'Unwanted pesticides & old livestock/equine medications'.
About Cleanfarms
2023 collections of unwanted agricultural pesticides and old, obsolete farm animal health medications take place in Quebec, British Columbia, South Saskatchewan and PEI. Farmers are encouraged to bring these materials to special collection events for safe disposal, at no charge. For information on collection locations, please see: https://cleanfarms.ca/materials/unwanted-pesticides-animal-meds/
Cleanfarms also collects empty plastic agricultural pesticide and fertilizer containers, grain bags and twine for recycling. Cleanfarms also collects seed bags and fertilizer bags (Quebec and PEI only) for responsible disposal. Cleanfarms staff members are located in Alberta, Saskatchewan, Manitoba, Ontario and Quebec Questions about which products are accepted in this collection program can be directed to 877-622-4460 or [email protected].
Contact:
Barbara McConnell | 416-452-2373 | [email protected]
A photo accompanying this announcement is available at https://www.globenewswire.com/NewsRoom/AttachmentNg/c4702c73-58f6-490f-8318-7fbac40ecfd3

Disclaimer: The above press release comes to you under an arrangement with GlobeNewswire. AfternoonHeadlines.com takes no editorial responsibility for the same.