Circuit of The Americas Hosts NASA at Formula 1 USGP
ArtemisCrewTransportationVehicle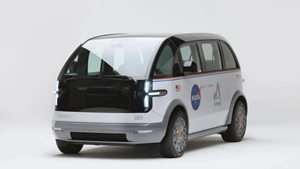 AUSTIN, Texas, Oct. 18, 2023 (GLOBE NEWSWIRE) — Circuit of The Americas (COTA) is hosting the National Aeronautics and Space Administration (NASA) during the 2023 Formula 1 Lenovo United States Grand Prix. NASA's exhibit on Fan Field in COTA's Grand Plaza (also known as the Fan Zone during the USGP) will be the public debut of the new Artemis crew transportation vehicle alongside unique, interactive, and informative exhibits. 
Texas has a long-standing love and tradition for space-related endeavors. The Johnson Space Center in Houston, Texas was established in 1961, just three years after the National Aeronautics and Space Act of 1958 was signed into law. Since then, Houston has remained the central operational hub for all things space exploration, including the Apollo project which covered the original Moon-landing missions. 
COTA is thrilled to host NASA during the next phase of its human space exploration mission, the Artemis program. Also included in their exhibit is a 1:25 scale model of the Space Launch System, or "SLS," super heavy-lift rocket, Artemis II astronaut cutouts, and NASA Worm and Meatball photo-ops. Subject matter experts from astronauts and NASA leadership will also be in attendance to answer fans' most pressing questions. 
"As two organizations with a presence felt around the world, but with a base right here in Texas, The Circuit is very excited to have NASA on campus at this year's USGP. We're lucky to host the public debut of the new Artemis crew transportation vehicle and the staff at NASA have gone above and beyond to provide the very best exhibit. The ingenuity, integrity, and tenacity of the space agency as well as their dedication to education is exactly what we want fans to experience at COTA," said Josh Seitman, Senior Director, Commercial Partnerships, Circuit of The Americas. 
### 
ABOUT COTA: Circuit of The Americas is the premier destination for world-class motorsports and entertainment in the United States. Set on 1,200 acres in the rolling hills just outside downtown Austin, Circuit of The Americas has hosted the biggest names in racing, action sports and music since 2012. At its heart is a 3.41-mile racetrack that was designed to challenge the world's most exacting competitors while providing a thrilling spectacle for audiences. 
Stay up to date on events, news and stories at the track by following Circuit of The Americas on social media: Facebook, TikTok, Instagram, Twitter
Attachment
CONTACT: Natalie Carpenter Circuit of The Americas 5126556321 [email protected] 

Disclaimer: The above press release comes to you under an arrangement with GlobeNewswire. AfternoonHeadlines.com takes no editorial responsibility for the same.