CHRIS CHATMON NAMED 1954 PROJECT LUMINARY
Award Comes With $1 million Grant to Kingmakers of Oakland
Chris Chatmon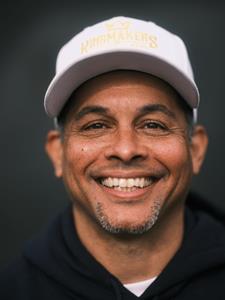 1954 Project Luminary Award Winner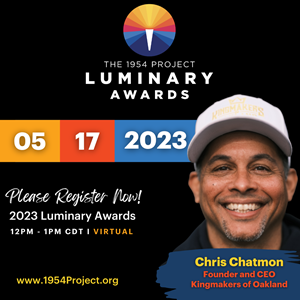 Oakland, CA, April 28, 2023 (GLOBE NEWSWIRE) — OAKLAND (April 28, 2023) – Kingmakers of Oakland announces that CEO Chris Chatmon is  named The Cleveland Avenue Foundation for Education [CAFE Group] 2023 Luminary for his contribution to Innovation in Teaching and Learning. The award comes with a $1 million grant.  Chatmon was one of five 2023 Luminaries selected.
Kingmakers of Oakland builds capacity for school districts in addition to providing direct services to students, families and their communities that centers Black boys while leveraging a Targeted Universalism framework in the Bay Area, Washington and Georgia.  Previously, Education Week Magazine named Chatmon as a "Leader to Learn From" and Campaign for Black Male Achievement selected him as a "Social Innovation Accelerator" because of his commitment to improving life outcomes for all youth and especially African American males. 
"All Black males are brilliant, beautiful, and possess innate greatness," he explained. "So we truly value having these additional resources to expand, remain relevant, and improve how we serve Black boys and all children as the entire ecosystem improves with our targeted approach," said Chatmon upon being notified of his selection.
"For this year's Luminary grants, we received over 400 applications from Black leaders in education," said Liz Thompson, The CAFE Group President. "We were particularly impressed by Chris' unapologetic commitment to Black boys, rooted in his personal experience."
Chris Chatmon joins other Luminaries this year including Alexandra Bernadotte, Beyond 12 (Oakland, CA); Reuben Ogbonna, the Marcy Lab School (Brooklyn, NY); Carmita Semaan, The Surge Institute (Chicago, IL); and Brittany Young, B-360 (Baltimore, MD).
The cohort will be honored May 17, 2023 during the third annual 1954 Project Luminary Awards, a live-streamed virtual event that will also feature Pulitzer Prize-winning journalist Nikole Hannah-Jones of the 1619 Project, Spelman College president, Dr. Helene Gayle, and New York Times best-selling author and social entrepreneur, Trabian Shorters.  Registration for the ceremony is now open.
Kingmakers of Oakland aims to further expand its footprint in California, the pacific northwest and the Southern United states to increase synergies for existing partners.  School districts in these areas can complete the following intake form now to pursue a partnership and other resources for the upcoming school year.  As part of one of its key drivers, Black Male Teacher Recruitment and Retention, Kingmakers of Oakland welcomes current and prospective educators to contact the organization about becoming a facilitator and teacher.
###
Kingmakers of Oakland (KOO) is an award winning nonprofit that supports school districts around the country to improve the educational and life outcomes of Black Boys.  Chatmon founded Kingmakers of Oakland following the success of the African American Male Achievement (AAMA) program he led for Oakland Unified School District which was recognized by the White House as one of the 25 leading programs to  improve educational outcomes for Black boys. Learn more at kingmakersofoakland.org.
The 1954 Project is an initiative of The Cleveland Avenue Foundation for Education Group (The CAFE Group). The CAFE Group is a 501c3 that provides financial and programmatic support to Leaders of Color whose proximity to current and historic challenges in education allows them to influence philanthropic decisions and create meaningful and relevant solutions. By leveraging their lived experiences and the genius within our communities, The CAFE Group has created a glidepath from College Intern to Established Leader designed to catalyze lasting systemic change. Learn more at thecafe.org.
Attachments
Chris Chatmon
1954 Project Luminary Award Winner
CONTACT: Carrie Crespo Kingmakers of Oakland [email protected] 

Disclaimer: The above press release comes to you under an arrangement with GlobeNewswire. AfternoonHeadlines.com takes no editorial responsibility for the same.