Children Burnout Too: Private Tutoring Company Alarmed at Volume of Homework Given to Children
Homework-Burnout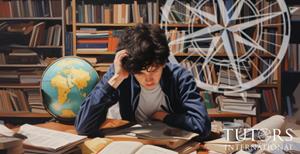 Adam Caller, the CEO of Tutors International, has called for a major overhaul of homework to address the growing issue of burnout in children. Despite significant dialogue around adult burnout and workplace stress, Caller notes a lack of similar discussion in relation to children's education. He advocates for a shift in our approach to homework, focusing on its judicious and purposeful use. 
OXFORD, UK — 07 July 2023, Adam Caller, the CEO of Tutors International, draws attention to a growing issue in the field of education. In his latest blog post, "Children Burnout Too: It's Time to Minimise Homework", he presents a compelling argument for reducing homework to mitigate burnout in children, an issue currently overlooked in the education sector.
Adam Caller, a stalwart advocate for children's well-being and a seasoned educator, comments, "Our children are being stretched to their limits by excessive homework, hindering their overall development and well-being." The current homework load not only hinders socialisation opportunities but can also be an ineffective teaching method, as suggested by numerous studies.
Despite the World Health Organisation's recognition of burnout in adults, sparking meaningful dialogues about chronic stress and mental health, Caller notes a distinct lack of similar discourse in relation to children's education. He stresses, "We urgently need to extend this conversation to our children's education. Ignoring signs of burnout in children and expecting them to flourish is a formula for disaster."
Caller observes that homework has drifted from its original purpose, often turning into 'busy work' that is neither cognitively engaging nor inspiring. He asserts in his blog, "True education is not about information retention. It's about instilling a lifelong love of learning."
He argues for reforming our homework approach, emphasising its judicious and purposeful use. He outlines three contexts where homework can be beneficial: when repetition is required, as a measure of teaching effectiveness, and where it enhances a child's cognitive understanding.
"By focusing on these three aspects, we can revitalise the purpose of homework," Caller suggests. "The goal should not be to do more but better."
Tutors International endorses Caller's insights and urges educators and parents to evaluate homework's role in children's lives critically. The transition must be from quantity to quality, from rote tasks to inspiring knowledge quests. Only then can we truly tap into every child's potential.
About Tutors International
Tutors International provides an unparalleled private tutoring service that matches the right private home tutor with the right child for the student to fully reach their personal potential and academic excellence.
Delivering an international private tuition service for children of all ages at different points in their educational journeys, Tutors International is founded on a commitment to finding the perfect tutor to realise each student's specific goals and aspirations. Tutors are available for full-time residential positions, after-school assistance, and home-schooling.
Founded in 1999 by Adam Caller, Tutors International is a private company based in Oxford, a city renowned for academic excellence. Our select clientele receives a personally tailored service, with discretion and confidentiality guaranteed. 
Contact Details
Web: www.tutors-international.com
Email: [email protected]
Phone: +44 (0) 1865 435 135
Tutors International
Prama House
267 Banbury Road
Oxford OX2 7HT
England
Attachment

Disclaimer: The above press release comes to you under an arrangement with GlobeNewswire. AfternoonHeadlines.com takes no editorial responsibility for the same.