CenExel FCR Wins Tampa Bay Times Best of the Best in Clinical Research Award
Prestigious People's Choice Recognition Highlights Innovation, Dedication
CenExel FCR – Best of the Best Award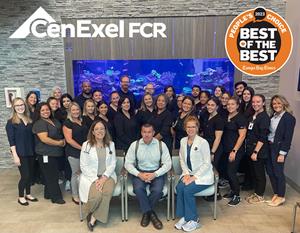 Tampa, Florida, July 26, 2023 (GLOBE NEWSWIRE) — Tampa, Florida – CenExel FCR has been named the 2023 Tampa Bay Times People's Choice, Best of the Best in Clinical Research. This remarkable achievement showcases CenExel FCR's unwavering dedication to advancing medical knowledge and improving patient care, driving innovative treatments and pioneering groundbreaking discoveries.
CenExel FCR has established itself as a trusted name in the industry, and this award serves as a testament to the impact they have made in the lives of countless individuals. Their dedication to excellence and their passion for improving human health have earned them the trust and support of the Tampa Bay community and beyond.
The team at CenExel FCR is immensely grateful for the overwhelming support and votes they received from the public. They are honored to have been recognized for their contributions to clinical research and patient care. This award is a reflection of their steadfast pledge to continue pushing boundaries, embracing challenges, and driving meaningful breakthroughs in the field.
As they celebrate this remarkable achievement, CenExel FCR CEO Seth Forman, MD, stated, "This award is evidence of our commitment, expertise, and the trust we have earned from both the medical community and the general public. We remain focused on our mission of advancing medical science and improving patient outcomes."
About CenExel 
CenExel (www.CenExel.com) provides unparalleled medical and scientific support in the design and execution of Phase 1 – 4 clinical trials. Our network now includes 18 of the most proficient clinical research sites in the country, with special emphases on Neurology, Pain, Psychiatry, Vaccines/Immunology, Dermatology, Ethnic Bridging, Sleep studies, and Clinical Pharmacology. Our therapeutic area focus, attention to detail, and auxiliary services assure quality, reliable results and help CenExel consistently achieve and exceed patient recruitment goals. CenExel Centers of Excellence have conducted thousands of studies, the variety and complexity of which have resulted in a vast depth of experience and insight for our Principal Investigators and research professionals in our dedicated, state-of-the-art facilities. We deliver the engagement, expertise, and results to ensure that our clients achieve their clinical research goals, reducing costs and development times for innovative therapies to advance patient care.
Attachment
CenExel FCR – Best of the Best Award
CONTACT: David Blackmer CenExel Clinical Research 866-236-3935 [email protected] 

Disclaimer: The above press release comes to you under an arrangement with GlobeNewswire. AfternoonHeadlines.com takes no editorial responsibility for the same.