Carbon Nanotubes Market revenue to cross USD 4.5 Billion by 2035, says Research Nester
Prominent carbon nanotube market players include LG Chem, Mechnano, Hyperion Catalysis International, Inc., Cabot Corporation, Cheap Tubes, Inc., Chasm Advanced Materials Inc., Toray Industries Inc., Showa Denko K.K., Tokyo Chemical Industry Co., Ltd., and Thomas Swan Co., Ltd.
New York, July 24, 2023 (GLOBE NEWSWIRE) — The global carbon nanotubes market size is projected to expand at ~20% CAGR between 2023 and 2035. The market is expected to garner a revenue of USD 4.5 billion by the end of 2035, up from a revenue of ~USD 800 million in the year 2022.The growth of the market is primarily attributed to the growing size of the aerospace industry. Carbon nanotubes possess exceptional strength-to-weight ratios, making them attractive for aerospace applications where weight reduction is critical. The use of CNTs reduces the application of giant autoclaves and which further saves the time of production of these structures and reduces the overall weight.
Request Free Sample Copy of this Report @ https://www.researchnester.com/sample-request-4956
Carbon Nanotubes Market: Key Takeaways
Market in Asia Pacific to Propel the highest growth
The plastic & Composites segment to garner the highest growth
Market in North America to grow at the highest rate.
Rising Demand for Automobiles to Boost the Growth of the Carbon Nanotubes Market
With the rising prices of fuel, the need for improving the fuel efficiency of vehicles has become increasingly important, therefore the growing demand for vehicles is expected to drive the market growth. Newer automobiles with higher mileage per unit of petrol have taken the place of older vehicles in the world's 1.4 billion fleet of light vehicles. Carbon nanotubes have been designated in the automotive gasoline component system to improve its performance. Carbon nanotubes possess high thermal conductivity, which makes them useful for enhancing the thermal management of vehicles. By integrating CNTs into heat-exchanging systems, such as radiators or heat sinks, it is possible to improve heat dissipation and reduce the energy required for cooling. This can help optimize the performance of engines and other powertrain components, leading to improved fuel efficiency.  On the other hand, the high popularity of lithium-ion batteries has further boosted the market growth. In 2021, the demand for automotive lithium-ion (Li-ion) batteries was around 330 GW and it further increased by nearly 65% to 550 GWh in 2022 across the globe. Owing to their special mechanical and electrical properties, carbon nanotubes serve as great anodes for lithium-ion batteries. The chiral and open molecular structure of carbon nanotubes advanced the electrical conductivity of these batteries.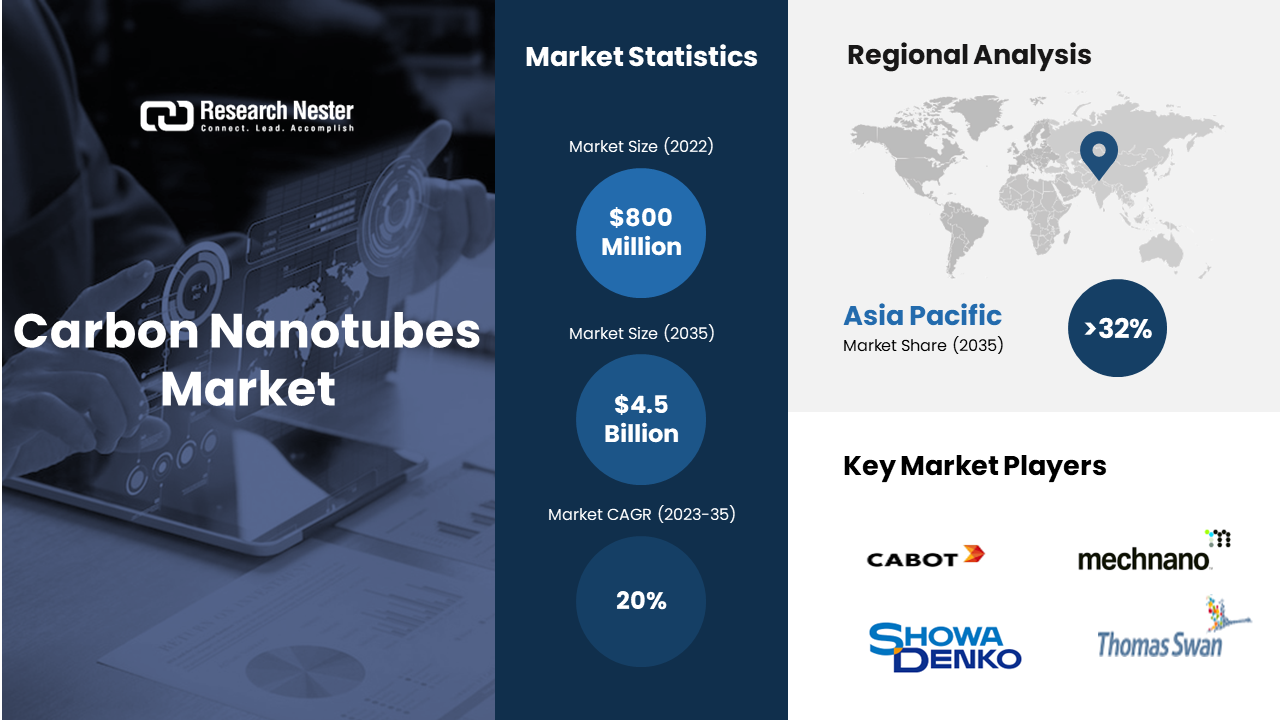 Carbon Nanotubes Market: Regional Overview
The global market is segmented into five major regions including North America, Europe, Asia Pacific, Latin America, and the Middle East and Africa region.
The Government Initiatives Related to Fuel-Efficient Vehicles to Expand Market Growth in Asia Pacific Region
The carbon nanotubes market in the Asia Pacific region is estimated to have the largest revenue by the end of 2035. The government in the region has taken active action for reducing the levels of carbon in the atmosphere, which is primarily driving the market growth in the region. The Ministry of Industry and Information Technology (MIIT) in India has introduced new fuel efficiency standards focusing on the disrupted fuel supply and demand in the country followed by rising concern for the pollutants in the atmosphere and the need to minimize it. On the other hand, the surging acceptance of electric vehicles is further projected to augment the region's market growth. In the third quarter of 2022, passenger EV sales in Southeast Asia climbed by 35% year on year. Southeast Asian countries have set ambitious EV goals and have launched multiple incentives to encourage customers to adopt and lure EV manufacturers to establish facilities in the region.
Request Free Sample Copy of this Report @ https://www.researchnester.com/sample-request-4956
Growing Recycling of Plastic into CNTs  to Ascend the Market Growth in North America Region
The North America carbon nanotubes market is predicted to hold a stupendous share by the end of 2035. The region is developing various technology that innovates the used plastic, resulting in the improvement of the waste management process that helps to produce carbon nanotubes. The US Department of Energy (DOE) authorized a USD 25 million commitment to basic research to help build the foundation for innovative equipment that finds uses for plastic trash.
Carbon Nanotubes Segmentation by Type
Single Walled
Multi Walled
On the basis of type, the multi-walled segment is to dominate the market share. The growth of the segment is attributed to the growing application of multi-walled CNTs in various areas, such as solar industries, power, conductivity, batteries, nanodevice displays, and others. The rising number of solar plants has increased the usage of multi-walled CNTs. In 2021, countries around the world built between 133 and 175 gigatonnes (GW) of new solar power, with an additional 200 GW installed in 2022. Multi-walled carbon nanotubes have a wide absorption spectrum, including the visible and near-infrared regions. This characteristic allows them to absorb a broad range of sunlight, enabling efficient light harvesting in solar cells. In addition, these multi-walled CNTs are highly transparent, allowing them to be integrated into transparent or semi-transparent display technologies. This is particularly beneficial for applications where see-through or flexible displays are desired, such as wearable electronics, or augmented reality devices. Furthermore, the high tensile strength of multi-walled CNTs owing to the presence of graphene in them. 
Purchase Copy of this Report @ https://www.researchnester.com/purchage/purchase_product.php?token=4956
Carbon Nanotubes Segmentation by Technology
Arc Discharge
Laser Ablation
Catalytic CVD
High-Pressure Carbon Monoxide
CoMoCAT
Floating Catalyst
Others
Carbon Nanotubes Segmentation by End Users
Electronics & Semiconductors
Plastic & Composites
Energy & Storage
Medical
Based on end users, the plastic & composites segment in carbon nanotubes market is expected to gain the highest market revenue over the forecasted period. The plastic integrated with carbon nanotubes has found application in conductive coatings electric devices sensors, and others. Therefore, the rising use of smart devices, such as smartphones, smart homes, laptops, and others will drive the need for plastic-infused CNTs. So far in 2023, around 7 billion people are using smartphones in the world, which accounts for approximately 86% of the population.  When CNTs are used as sensing elements, changes in the electrical properties of the nanotubes can be detected in response to specific stimuli, such as gases, chemicals, or physical forces.  This allows for the development of highly sensitive sensors capable of detecting and quantifying various parameters. Moreover, with the use of CNTs-infused plastic are been increasingly used in electronic cooling, heat sinks, and thermal interface material since it enhances thermal conductivity by nearly 104%. 
A few of the well-known market leaders in the carbon nanotubes market that are profiled by Research Nester are Lg Chem, Mechnano, Hyperion Catalysis International, Inc., Cabot Corporation, Cheap Tubes, Inc., Chasm Advanced Materials Inc., Toray Industries Inc., Showa Denko K.K., Tokyo Chemical Industry Co., Ltd., and Thomas Swan Co., Ltd.
Recent Developments in the Market
April 2023, Mechano, announced the partnership with D'Func to get the trademark of process legitimacy that differentia their CNTs dispersion, it is done by removing the tangled carbon nanotubes. This has enabled augment the mechanical and electrical conduction of the brand's advanced material.
March 2021, Cabot Corporation, has announced the release of a new carbon nanotube (CNT) series called ENERMAXTM 6. Owing to its high-aspect ratio, it is among the multi-walled CNT product that has high conductivity. The ENERMAXTM 6 carbon nanotube series may significantly boost battery performance at lower loadings by improving energy storage systems, allowing for greater battery energy density.
About Research Nester
Research Nester is a one-stop service provider with a client base in more than 50 countries, leading in strategic market research and consulting with an unbiased and unparalleled approach towards helping global industrial players, conglomerates and executives for their future investment while avoiding forthcoming uncertainties. With an out-of-the-box mindset to produce statistical and analytical market research reports, we provide strategic consulting so that our clients can make wise business decisions with clarity while strategizing and planning for their forthcoming needs and succeed in achieving their future endeavors. We believe every business can expand to its new horizon, provided a right guidance at a right time is available through strategic minds.
CONTACT: AJ Daniel Corporate Sales, USA Research Nester Email: [email protected] USA Phone: +1 646 586 9123 Europe Phone: +44 203 608 5919

Disclaimer: The above press release comes to you under an arrangement with GlobeNewswire. AfternoonHeadlines.com takes no editorial responsibility for the same.