Carbon Fiber Resin Market revenue to surpass USD 7 Billion by 2035, says Research Nester
Prominent carbon fiber resin market players include Kukdo Chemical Co. Ltd., AOC Holdings, LLC, Huntsman International LLC, Hexion Inc, Aliancys AG, Polynt S.P.A, The 3M Company, Ashaland Inc, BASF SE, and Olin Corporation.
New York, Sept. 05, 2023 (GLOBE NEWSWIRE) — The global carbon fiber resin market size is projected to grow at a CAGR of over ~7% from 2023 to 2035. The market is expected to garner a revenue of USD 7 billion by the end of 2035, up from a revenue of ~USD 1 billion in the year 2022.The growing demand for lightweight composites is increasing the market growth. Lightweight materials have a high potential for boosting vehicle efficiency since they require slighter energy to encourage a lighter item than a heavy one. For instance, a 10% lowering of vehicle weight nearly results in a 6%-8% rise in fuel economy. When compared to traditional substances such as steel or aluminum, one of the primary advantages of carbon fiber is its low weight while keeping excellent strength and characteristics.
Request Free Sample Copy of this Report @ https://www.researchnester.com/sample-request-5098
In addition to these, aspects that are thought to fuel the growth of the carbon fiber resin market are the growing technological advancements of carbon fiber resin. Higher-quality carbon fiber resins with greater qualities have emerged from advances in resin formulas and manufacturing techniques, making them more appealing to a variety of sectors. Carbon fiber resins have become more cost-effective and easier to work with as a result of these advancements, fueling the market expansion.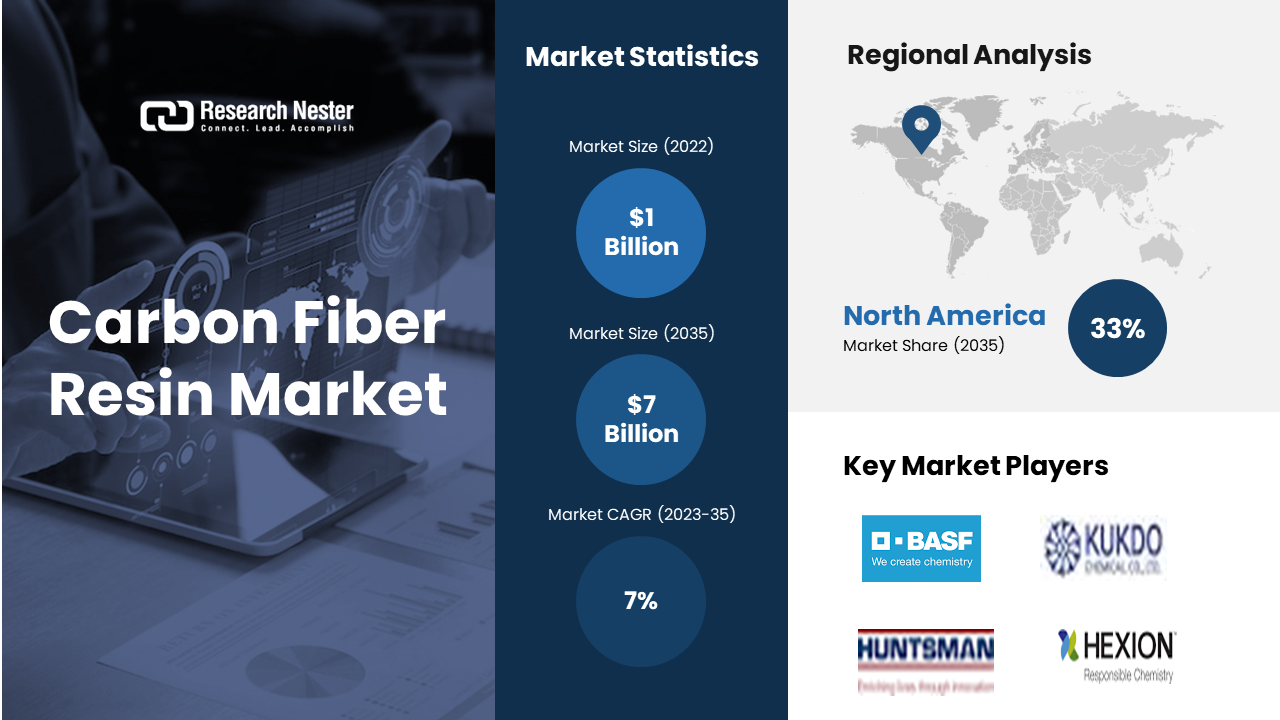 Carbon Fiber Resin Market: Key Takeaways
Market in North America to propel the highest growth
The thermoset resin segment to garner the highest growth
Market in Europe to grow at the highest rate
Increasing Need for Curbing Greenhouse Gas Emissions across the Globe to Boost Market Growth
According to the United Nations, the Paris Agreement aims to limit global warming to 1.5 degrees Celsius by reducing carbon emissions by 45% by 2030 and achieving net zero emissions by 2050.  When utilized in specific applications, including lightweight vehicles, wind turbine blades, fuel-efficient aircraft, transport electrification, and energy-efficient buildings, carbon fiber can help reduce emissions. renewable electricity capacity is going to rise by more than 80% from the level of 2020 by 2026 and it will be more than 5,022 gigatons.  Wind and solar will account for two-thirds of this increase. Carbon fiber composites are used to make solar energy structures such as support frames and tracking systems.
Moreover, the lightweight nature of carbon fiber makes solar panel setup and upkeep simple. Till December 2022, there are about 205 operational fuel cell electric power generators located at 147 different places in the United States with a whole nameplate electric generation range of 350 megawatts (MW).
Carbon Fiber Resin Market: Regional Overview
The market is segmented into five major regions including North America, Europe, Asia Pacific, Latin America, and the Middle East and Africa region.
Expanding Aviation Advancements to Drive the Market Growth in North America Region
The carbon fiber resin market in the North America region is estimated to garner the largest revenue by the end of 2035. The aerospace and aviation sectors demand lightweight materials with exceptional strength, making carbon fiber composites an ideal choice. According to the Federal Aviation Administration (FAA), the global commercial aviation fleet is projected to double by 2038. Carbon fiber resins are vital components in manufacturing aircraft components, leading to increased demand.
The renewable energy sector is witnessing significant growth, particularly in wind energy. Carbon fiber composite materials, including resin systems, are essential in manufacturing lightweight and durable wind turbine components. The automotive industry's pursuit of fuel efficiency and reduced emissions has led to a surge in the use of lightweight materials like carbon fiber composites. Resins play a crucial role in bonding carbon fibers and enhancing structural integrity. Carbon fiber composites find applications in sports equipment such as tennis rackets, golf clubs, and bicycles due to their high strength-to-weight ratio. The demand for high-performance sports gear continues to drive the market.
Make an Inquiry Before Buying this Report @ https://www.researchnester.com/inquiries-before-buying-5098
Growing Sustainability Imperative to Propel the Growth in the European Region
The Europe carbon fiber resin market is estimated to garner the highest CAGR by the end of 2035. Europe's steadfast commitment to sustainability is driving the adoption of carbon fiber composites as eco-friendly alternatives to conventional materials. The European Green Deal aims to make Europe the world's first climate-neutral continent by 2050, creating a conducive environment for the growth of sustainable materials. The European Union's Horizon 2020 program allocated USD 80 billion to fund research and innovation projects that contribute to sustainability goals.
The push for electric and hybrid vehicles in Europe is compelling the automotive industry to seek lightweight materials that enhance energy efficiency. Carbon fiber resins play a pivotal role in creating lightweight vehicle structures that contribute to extended driving ranges and reduced emissions. Europe's aerospace industry continues to thrive, with carbon fiber composites gaining prominence in aircraft manufacturing. The European Union's Clean Sky program is fostering collaborations to develop advanced materials that enhance aircraft efficiency and reduce emissions.
Carbon Fiber Resin, Segmentation by Resin Type
Thermoset Resin
Thermoplastic Resin
Amongst these segments, the thermoset resin segment in carbon fiber resin market is anticipated to hold the largest share over the forecast period. The growth of the segment is primarily attributed to high strength and extreme retardancy to temperature when compared to thermoplastic resin, which further increases its application in different sectors. The common thermoset resin, phenolic, and melamine resin are used for manufacturing brake pads and linings in automobiles. The growing production of automobiles is also expected to drive the segment's growth. In 2022, around 85 million motor vehicles were produced worldwide, a 5.7% increase over 2021. These resins provide excellent friction properties and thermal stability, ensuring reliable braking performance even under high-temperature conditions.
Carbon Fiber Resin, Segmentation by Application
Wind Energy
Automotive
Aerospace & Defense
Marine
Electrical & Electronics
Civil Engineering
Sporting Goods
Amongst these segments, the aerospace and defense segment in carbon fiber resin market is anticipated to hold a significant share over the forecast period. Growing expenditure on the defense sector is expected to drive the segment's growth. In 2021, total worldwide military spending rose by 0.7% in real terms to USD 2113 billion. The five countries that dominated the global defense expenditures in 2021 were the United States, China, India, the United Kingdom, and Russia, accounting for 62% of total spending.
Furthermore, owing to better economic status, people are increasingly choosing airplanes for traveling, resulting in the expansion of the aerospace industry. As of March 2023, the number of commercial fleet aviation across the world is around 27,400. Carbon fiber resins' combination of high strength, low weight, and good mechanical qualities benefits the aerospace and defense industries considerably. In the design and manufacturing of important components of missiles, protective systems, spacecraft, fighter aircraft, unmanned aerial vehicles, helicopters, and others., these materials contribute to improved performance, fuel efficiency, durability, and overall cost savings.
Request for Customization of this Report @ https://www.researchnester.com/customized-reports-5098
Carbon Fiber Resin, Segmentation by Form Type
A few of the well-known industry leaders in the carbon fiber resin market that are profiled by Research Nester are Kukdo Chemical Co. Ltd., AOC Holdings, LLC, Huntsman International LLC, Hexion Inc, Aliancys AG, Polynt S.P.A, The 3M Company, Ashaland Inc, BASF SE, and Olin Corporation, and other key market players.
Recent Development in the Market
Huntsman International LLC, is soon going to introduce the new innovative epoxy material, carbon nanotube, and polyurethane. These will be designed to aid in the integration of batteries into electric vehicles, as well as to increase their protection and performance.
Kukdo Chemical Co. Ltd., a leading producer of epoxy material has announced receiving an ISO 37301 certification. It is an internationally accepted certification that focuses on the sustainable practices of the company and adherence to sustainability.
About Research Nester
Research Nester is a one-stop service provider with a client base in more than 50 countries, leading in strategic market research and consulting with an unbiased and unparalleled approach to helping global industrial players, conglomerates, and executives for their future investments while avoiding forthcoming uncertainties. With an out-of-the-box mindset to produce statistical and analytical market research reports, we provide strategic consulting so that our clients can make wise business decisions with clarity while strategizing and planning for their forthcoming needs and succeed in achieving their future endeavors. We believe every business can expand to its new horizon, provided the right guidance at the right time is available through strategic minds.
CONTACT: AJ Daniel Corporate Sales, USA Research Nester Email: [email protected] USA Phone: +1 646 586 9123 Europe Phone: +44 203 608 5919

Disclaimer: The above press release comes to you under an arrangement with GlobeNewswire. AfternoonHeadlines.com takes no editorial responsibility for the same.