Canon Announces the LabelStream LS2000 Inkjet Press for U.S. Market Label Converting
The new Canon LabelStream LS2000 digital label press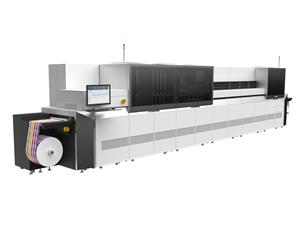 Canon LabelStream LS2000 features newly developed Canon printheads and water-based polymer inks
Melville, NY, Oct. 12, 2023 (GLOBE NEWSWIRE) — Canon U.S.A., Inc., a leader in digital imaging solutions, is pleased to announce an upcoming1 product, the LabelStream LS2000 inkjet press, which is being designed to serve the surging demand for digital, high-quality label converting. This inkjet press implements many newly developed Canon technologies highlighted by high-density aqueous ink, printhead, advanced fixing system and a variety of automation features to support efficient production. The entry into the U.S. label printing market is a natural evolution to support current multi-discipline print providers and expand into new markets. Our entry is built on the success of delivering high quality roll-to-roll and sheet-fed inkjet solutions via a network of strong customer support.
The highlights of the LabelStream LS2000 inkjet digital press include:
High Density Pigmented Aqueous Based Ink
The new water-based ink contains a highly saturated pigment and is designed to produce a wide color gamut. The ability to apply a thin layer of ink helps enhance quality and complements the distinct textures of specialty media. Precisely engineered conditioning liquid and ink delivery promotes adhesion on industry standard substrates. The aqueous-based ink is designed for printing a wide range of industrial, consumer, and food labeling applications.
Newly Developed Canon Printhead
Imaging through our high-definition printhead, integrated inkjet nozzle and circulation system, a precise ink flow path is established for even distribution and dependable print quality. The amazing, automated maintenance system cleanses the printhead while helping to optimize performance and maximize press uptime with little operator intervention.
Designed to Support a Wide Range of Label Applications
The LabelStream LS2000 will support an imaging width of 90-340 mm and is designed for reliable operation at speeds of up to 40 m per minute. Equipped with four-color printing and a high opacity white ink integrated with low-temperature fixing, the press will be suitable for a broad range of label applications. Features like automated adjustment for color, registration, and imaging are designed to help streamline production. Additionally, media wind-back, job recall with media referencing, an intuitive user interface for on-press operation, analytics, and service contribute to the efficiency of the process.
"We are excited to be expanding our offerings into the label converting market and bring our inkjet innovation to support the digitization in this segment" said Shinichi "Sam" Yoshida, executive vice president and general manager, Canon U.S.A., Inc. "The LabelStream LS2000 is designed to excel in delivering high-quality, efficient, and versatile label converting."
The LabelStream LS2000 inkjet press will be exhibited at Canon Expo in Tokyo, Japan, on October 19, 2023. At the PRINTING United Expo in Atlanta on October 18-20, 2023, there will be an inkjet innovation presentation that includes the LabelStream LS2000 in the Canon Booth #B4033.
The LabelStream LS2000 color continuous feed inkjet digital press is currently expected to be available to the U.S. market early 2025.1
For more information, please visit usa.canon.com.
About Canon U.S.A. Inc.
Canon U.S.A., Inc., is a leading provider of consumer, business-to-business, and industrial digital imaging solutions to the United States and to Latin America and the Caribbean markets. With approximately $30.3 billion in global revenue, its parent company, Canon Inc. as of 2022 has ranked in the top-five overall in U.S. patents granted for 37 consecutive years†. Canon U.S.A. is dedicated to its Kyosei philosophy of social and environmental responsibility. To learn more about Canon, visit us at www.usa.canon.com and follow us on Twitter @CanonUSA.
###
† Based on weekly patent counts issued by United States Patent and Trademark Office.
1 This product is currently under development and not available for sale or use in the America's. Specifications and features may change and no assurances can be given that this solution, in the current or any other form, will be made available for sale or use in the America's. This device has not been authorized as required by the rules of the Federal Communications Commission.  This device is not, and may not be offered for sale or lease, or sold or leased, until authorization is obtained.
Attachments
CONTACT: Nicole Esan Canon U.S.A., Inc. 631-327-1108 [email protected] 

Disclaimer: The above press release comes to you under an arrangement with GlobeNewswire. AfternoonHeadlines.com takes no editorial responsibility for the same.