Cancer Diagnostics Market Size Will Reach USD 332.4 Billion by 2032 – Market.us
According to Market.us, the Cancer Diagnostics market size is projected to surpass around USD 332.4 billion by 2032, and it is poised to reach a registered CAGR of 7.0% from 2023 to 2032.
Pune, Feb. 21, 2023 (GLOBE NEWSWIRE) — The global Cancer Diagnostics market size was USD 171.6 Billion in 2022. The process of cancer diagnostics involves the discovery of biomarkers, proteins, and other indicators that can lead to the detection or progression of cancerous tumors. Diagnostic testing can be used to confirm the existence of illness, track disease progression, schedule and analyze treatment outcomes, and also confirm or rule it out. There are many possible methods to diagnose cancer, including imaging, tumor biopsy and laboratory tests (including tumor markers tests), surgery, genetic testing, and endoscopic examination.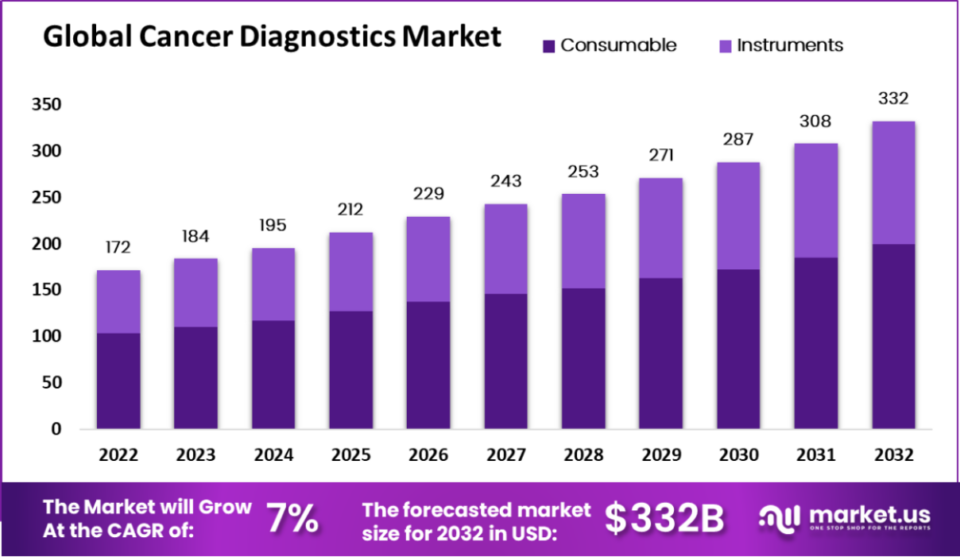 Key Takeaway:
By product, in 2022, the cancer diagnostics market was dominated by the consumables segment due to its increased usage.
By application, the breast cancer segment dominated the largest market share in application type analysis and accounted for the largest revenue share in the cancer diagnostics market in 2022.
By end-user, the hospitals and clinics segment dominated the largest market share in end-user type analysis.
In 2022, North America dominated the market with the highest revenue share of 45%.
APAC is anticipated to have the highest CAGR among all the regions.
APAC is expected to grow at a greater pace owing to affordable prices, increasing medical tourism, as well as hospitals and clinics, among others factors.
Request a Sample PDF of the cancer diagnostics market Report at https://market.us/report/cancer-diagnostics-market/request-sample/
Factors affecting the growth of the Cancer Diagnostics industry?
There are several factors that can have an impact on the growth of the cancer diagnostics industry. Some of these factors include:
Increase in Medical Tourism: There has been an increase in medical tourism, especially in emerging economies such as China and India, due to their affordable price, experienced medical staff, developing healthcare infrastructure, etc. This factor is anticipated to boost the financial growth for this market in the coming years.
Increasing number of cancer patients: The continuous increase in the number of cancer patients across the world is anticipated to augment this market's revenue projections. It is estimated that by 2040, there will be approximately 30 million new cases of cancer every year, this number was approx. 19 million new cases in 2020.
Innovation and Government support: Cancer Diagnostics market growth is expected to be driven by recent innovations in cancer diagnostics and support from various government and private entities.
New Developments: Launches of new flow-cytometry reagents to aid in drug discovery and diagnosis, public-private partnerships for improving diagnostic imaging center infrastructure, and support of the FDA towards biomarker development, among others, are few new developments that are anticipated to further augment this market's profit margins.
Aging population: As the population ages, there is an increase in the number of people who are more susceptible for cancer, this factor can be anticipated for bolstering the demand for diagnostics of cancer in the near future.
Browse the full "Global Cancer Diagnostics Market By Product (Consumable and Instruments), By Application (Breast Cancer, Colorectal Cancer, Other Applications), By End-User (Hospitals and Clinics, Diagnostic Laboratories), By Region and Companies – Industry Segment Outlook, Market Assessment, Competition Scenario, Trends and Forecast 2023-2032" report at https://market.us/report/cancer-diagnostics-market/
Market Growth
The rising incidence of cancer across the world is one of the major drivers for industry growth over the forecast period. Further, industry expansion is expected to be driven by innovative diagnostic tests. The market will also see steady growth due to government efforts and rising awareness among the individuals over the forecast period.
The governments of several nations are performing large number of screenings to detect early signs of cancer. The increase in investments by private sector in diagnostic centers, especially in developing countries is also a contributing factor towards the growth of this market. The rise in the demand for diagnostic imaging devices in the global market is driven by several emerging economies such as India, Indonesia, and Bangladesh.
Regional Analysis
The North American market for diagnostics of cancer is expected to be the most lucrative, both in terms revenue and market share, during the period 2022-2032. In 2022, the region saw a boom in diagnostics due to the presence of many biotechnology and medical devices companies. The regional market for cancer diagnostics reached a revenue share above 45%.
North America will likely continue to lead the projection period due to its increased R&D spending and widespread adoption of technologies (both new and old). Due to the high concentration of major players in the region, strategic partnerships, faster FDA approvals and substantial investment in R&D, this market is expected grow. These advancements will drive demand during the forecast period.
The Asia-Pacific is expected to grow at a CAGR of 6.5% over the forecast period. This region will be a major emerging market for cancer diagnostics in coming years, due to its affordable and experienced technicians, large patient base, and regulatory environment that allows for faster product approvals. The growing medical tourism industry in countries like India, China, and Malaysia will also increase the demand for treatment screening and diagnosis of cancer.
Inquire before Purchasing This Report at https://market.us/report/cancer-diagnostics-market/#inquiry
Scope of the Report
| | |
| --- | --- |
| Report Attributes | Details |
| Market Size in 2032 | USD 332.4 Billion |
| CAGR | 7.0% from 2023 to 2032 |
| North America Revenue Share | 45.0% |
| Base Year | 2022 |
| Forecast Year | 2023 to 2032 |
Market Drivers
Today, cancer is the leading cause of death worldwide. According to the World Health Organization (WHO), with around 10 million deaths in 2020 worldwide. It is the second leading cause. About one-sixth worldwide deaths are caused by cancer. Additionally, 19.3 million cases of cancer were reported in 2020. This number is expected to rise to 30.2 million by 2040.
Various cancers can be caused by factors like excessive alcohol consumption, tobacco use, unhealthy lifestyle, lack of exercise, and other conditions. The mortality rate can be decreased if cancer is detected early. Cancer Diagnostics aids in identifying biomarkers and proteins that help in the detection of the disease. The most common cancer diagnostic tests are imaging, endoscopy, genetic testing, biopsy, and laboratory tests. Market growth is further supported by the increasing number of tests being performed.
Market Restraints
The market for cancer diagnostics will face additional challenges over the forecast period because of the increased adoption of refurbished diagnostic imaging system, strict regulatory guidelines, low benefit to cost ratio biomarkers and higher capital investments. C.T. Scan is not recommended due to high radiation exposure and can cause helium shortage.
Market Opportunities
Governments of various developed economies are recommending cancer screening tests in order to detect the cancer at an early stage and reduce the mortality rate. The US Government recommends colorectal cancer screening for individuals between the age of 50 years and 75 years, similar guidelines have been issued by Government of Canada for screening of biennial colorectal cancer. This is done for early detection and diagnosis of cancer for the individuals in the given age group.
The growth of mass cytometry, personalized medicine, improved healthcare infrastructure in emerging countries, as well as the rise in miniaturized, technologically advanced devices and other developments will create new opportunities for the market for cancer diagnostics in the coming future.
Buy this Premium Research Report at https://market.us/purchase-report/?report_id=59341
Report Segmentation of the Cancer Diagnostics Market
Product Insight
Consumables accounted for the largest market share in 2021 at over 60%. It is expected that this will continue to rise through the forecast period. The development of advanced diagnostic kits and reagents and increased consumable usage are driving market growth. Sysmex Corporation introduced the ipsogen JAK2 DX reagent in January 2020. The JAK2V617F mutation is quantitatively measured by a blood cancer screening kit. In January 2020, the item was added to health insurance as a diagnostic item. This reagent will also be covered by health insurance. This will likely open up new testing options for patients.
Application Insight
The forecast period will see a rise in the incidence and prevalence of various types of cancer including breast and lung. The malignant growth diagnostics market will also benefit from technological advances that further develop imaging of tumorous cells, better equipment to determine disease type, and improved results effectiveness. As more initiatives are taken up by various governments and private players to detect and prevent cancer during its early stage, the market is anticipated to grow. The market will also be driven by the expansion of diagnostics labs in developed countries in the future. The forecast period will see a significant increase in safety guidelines. The decreasing costs of diagnostic imaging equipment and the development of new methods to diagnose cancer mutations may further augment the market's growth.
End User Insight
The hospitals and clinics segment holds the top spot in the global market for 2021 and contributed more than 50% of the revenue. This segment has seen rapid growth due to increased number of patients visiting the hospitals and clinics, the increasing awareness regarding early diagnosis of cancer as well as, a surge in in-house procedures for diagnosis in the hospitals are the factors contributing to the increased demand for this market.
Recent Development of the Cancer Diagnostics Market
In November 2021- Siemens Healthineers introduced Magnetom Free. Star is a whole-body MRI scanner that can be offered cheaply and aims to increase global access to magnetic resonance imaging.
In October 2021- Agilent Technologies Inc. announced that its PD-L1 IHC 22C3 pharmDx assay had been labeled for use in the Triple-Negative Breast Cancer (TNBC) program of the European Union.
Have Queries? To request a sample or speak to an expert, click here: https://market.us/report/cancer-diagnostics-market/request-sample/
Market Segmentation
Based on Product
Consumable
Instruments
Based on the Application
Breast Cancer
Colorectal Cancer
Cervical Cancer
Lung Cancer
Prostate Cancer
Skin Cancer
Blood cancer
Kidney Cancer
Liver Cancer
Pancreatic Cancer
Ovarian Cancer
Other Applications
Based on End User
Hospital and Clinics
Diagnostic Laboratories
Diagnostic Imaging Centres
Research Institutes
By Geography
North America
Western Europe

Germany
France
The UK
Spain
Italy
Portugal
Ireland
Austria
Switzerland
Benelux
Nordic
Rest of Western Europe

Eastern Europe

Russia
Poland
The Czech Republic
Greece
Rest of Eastern Europe

APAC

China
Japan
South Korea
India
Australia & New Zealand
Indonesia
Malaysia
Philippines
Singapore
Thailand
Vietnam
Rest of APAC

Latin America

Brazil
Colombia
Chile
Argentina
Costa Rica
Rest of Latin America

Middle East & Africa

Algeria
Egypt
Israel
Kuwait
Nigeria
Saudi Arabia
South Africa
Turkey
United Arab Emirates
Rest of MEA
Competitive Landscape
Major players are continuously working towards development of new generation technologies that will in faster detection of cancer with reduced cost. For example, GE Healthcare made a partnership with Genesiscare in 2020, for improving patient recorded outcomes for cancer and hearth disease.
Some of the major players include:
Abbott Laboratories
Becton, Dickinson, and Company
Bio-Rad Laboratories, Inc.
Roche Holdings AG
Danaher Corporation
Siemens Healthcare GmbH
Thermo Fisher Scientific Inc.
Koninklijke Philips N.V.
Qiagen N.V.
Other Key Players
Related Healthcare Reports in Market.us Library: 
Cancer Cachexia Market: is anticipated to be valued at US$ 2,554 Million in 2022, forecast to grow at a CAGR of 4.8% to be valued at US$ 4,034 Million from 2022 to 2032.
Cancer Immunotherapy Market: is forecasted to be valued at US$ 674 billion by 2032, up from US$ 191 billion in 2022, advancing at a CAGR of 13.8% during the forecast period.
Liver Cancer Drugs Market: generated a total revenue of US$ 980 Million in 2022. The industry is predicted to register a healthy CAGR of 9.3% over the forecast period to attain a revenue of US$ 2,332 Million by 2032.
Ovarian Cancer Drugs Market: is estimated to reach US$ 9,823 Mn by 2032 in comparison to US$ 2,678 Mn registered in 2022, at CAGR of 14.3%.
About Us:
Market.US (Powered by Prudour Pvt Lmt) specializes in in-depth market research and analysis and has been proving its mettle as a consulting and customized market research company, apart from being a much sought-after syndicated market research report-providing firm. Market.US provides customization to suit any specific or unique requirement and tailor-makes reports as per request. We go beyond boundaries to take analytics, analysis, study, and outlook to newer heights and broader horizons.
We offer tactical and strategic support, which enables our esteemed clients to make well-informed business decisions and chart out future plans and attain success every single time. Besides analysis and scenarios, we provide insights into global, regional, and country-level information and data to ensure nothing remains hidden in any target market. Our team of tried and tested individuals continues to break barriers in the field of market research as we forge forward with a new and ever-expanding focus on emerging markets.
CONTACT: Global Business Development Teams – Market.us Market.us (Powered By Prudour Pvt. Ltd.) Email: [email protected] Address: 420 Lexington Avenue, Suite 300 New York City, NY 10170, United States Tel: +1 718 618 4351 Website: https://market.us

Disclaimer: The above press release comes to you under an arrangement with GlobeNewswire. AfternoonHeadlines.com takes no editorial responsibility for the same.