Canada-Ukraine Foundation delivers 100 MOVES® SLC™ life-support systems to Ukraine
"Thornhill Medical" integrated life-support systems, MOVES® SLC™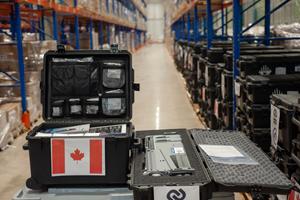 Sean Boyd and Ihor Kuzin, Kyiv, Ukraine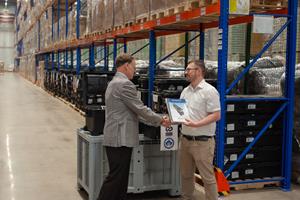 TORONTO, Aug. 03, 2023 (GLOBE NEWSWIRE) — The Canada-Ukraine Foundation (CUF) announces a humanitarian delivery of 100 "Thornhill Medical" integrated life-support systems, MOVES® SLC™, to the Ministry of Health of Ukraine to be used in land and air transport of critically injured patients as well as other critical care environments.
The life-support systems were donated to the Canada-Ukraine Foundation by the Government of Canada. Thornhill Medical contributing casualty care training and other medical equipment. CUF is adding on ventilator cartridges, which are in low supply in Ukraine and are essential for the MOVES® SLC™ to function properly.
The Canada-Ukraine Foundation's delivery of the 100 MOVES® SLC™ is the largest deployment of this life-saving technology since the start of the full-scale invasion of Ukraine. MOVES® SLC™, which is a micro-integrated life support system designed for the provision of medical care in conflict and disaster-stricken zones, is already in use across Ukraine. Nicknamed "the medical Javelin" by Ukraine's government and front-line healthcare providers, the technology is being used to support patients in hospitals, in forward surgical situations, on ambulances and evacuation medical trains. Now, there will be even more units to save lives.
Quotes:
"We are honoured to receive this very generous donation from the Government of Canada and direct it to Ukraine's Ministry of Health. Delivery of this one-of-a-kind medical technology from Thornhill Medical will respond to the urgent requests from Ukraine's healthcare and government officials and, more importantly, these 100 life-support systems will save lives of many critically injured Ukrainians."
-Victor Hetmanczuk, Chair of the Board, Canada-Ukraine Foundation
"Thornhill Medical is pleased to support the Canada-Ukraine Foundation's efforts to help Ukraine's front-line medical providers, as they face ever-growing number of civilian casualties with life-threatening injuries. It is imperative that NGOs, international governments and organizations continue to come together to provide Ukraine with humanitarian aid."
-Lesley Gouldie, President and CEO, Thornhill Medical
About the Canada-Ukraine Foundation: The Canada-Ukraine Foundation is a national charitable foundation established in 1995 at the 18th Ukrainian Canadian Congress to coordinate, develop, organize and deliver assistance projects by Canadians directed to Ukraine and other organizations in Canada. For more information: www.cufoundation.ca
About Thornhill Medical: Thornhill Medical's ground-breaking products are designed to be used globally by emergency health care providers, humanitarian, and military medical teams. Thornhill's oxygen-focused research and commercial technologies are transforming patient care in humanitarian and military environments, while inspiring and enabling other new technologies to unlock vital life-saving solutions. Thornhill Medical's innovations are in 19+ countries including in Ukraine. With a team committed to courage, collaboration and saving lives, Thornhill Medical leads the way in the nimble and precision-focused field of medical technologies. For more information: www.thornhillmedical.com
For more information, please contact:
Marianna Kaminska
Canada-Ukraine Foundation
[email protected]
Tel: +1 (416) 966-9700
Kathleen Powderley
Thornhill Medical
[email protected]
Tel: +1 (416) 803-5597
Photos accompanying this announcement are available at
https://www.globenewswire.com/NewsRoom/AttachmentNg/a3c9b8a2-5229-4a2c-8585-1b733d526574
https://www.globenewswire.com/NewsRoom/AttachmentNg/038bc272-6a15-4c7a-8282-129c42f6b39f

Disclaimer: The above press release comes to you under an arrangement with GlobeNewswire. AfternoonHeadlines.com takes no editorial responsibility for the same.