Calcium Sulfonate Market revenue to exceed USD 366 Billion by 2035, says Research Nester
Leading calcium sulfonate market players include Lubrizol Corporation, Chemtura Corporation, Daubert Chemical Company, Exxon Mobil, Amtecol, KYODO YUSHI CO., LTD., IBIDEN BUSSAN CO., LTD., JUNSEI CHEMICAL CO., LTD., Fuchs Petrolub AG, and Swepco Lubricants.
New York, Oct. 04, 2023 (GLOBE NEWSWIRE) — The global calcium sulfonate market size is slated to expand at ~5% CAGR between 2023 and 2035. The market is poised to garner a revenue of USD 366 billion by the end of 2035, up from a revenue of ~USD 246 billion in the year 2022.The reason behind the growth is impelled by the growing demand for lubricant oils in the engine. To keep moving parts lubricated and to act as a barrier against water and debris, calcium sulfonates are employed in engine oil as semisolid lubricants. For instance, in the year 2020, the global demand for lubricants reached over 35 million metric tons. The growing industrial activities across the world are believed to fuel the calcium sulfonate market growth.
Request Free Sample Copy of this Report @ https://www.researchnester.com/sample-request-1132
These fluids are essential for the application of industries, owing to their reduced friction between motor elements. In the case of industrial components, they are also used to prevent corrosion, oxidation, and thermal stability. Moreover, on the surface of a metal, rust inhibitors are surfactants that reduce acids. Excluding the United States, worldwide industrial production increased by over 0.1% in the year 2023.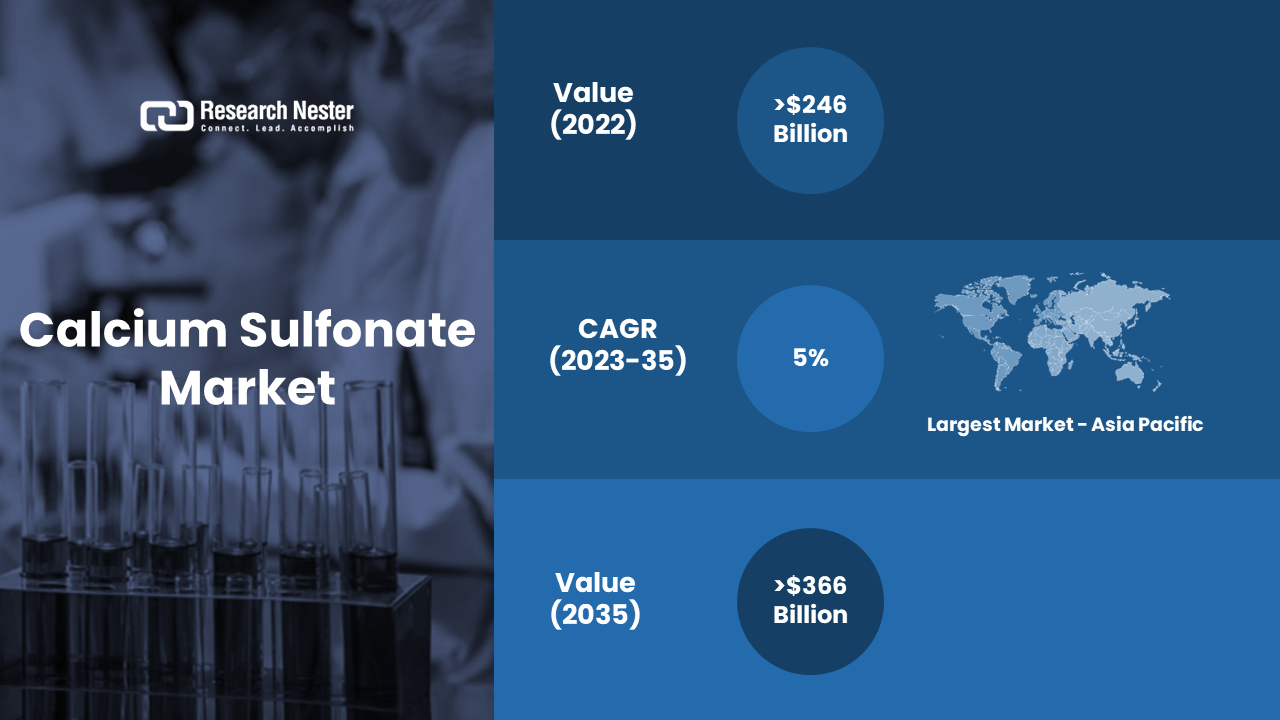 Increasing Demand in Food Processing Sector across the Globe to Boost Market Growth
NSF/H1 heavy-duty food-grade calcium sulfonate is a complex lubricating grease, specifically created for the lubrication of the most demanding applications in the food industry, to comply with the strictest criteria of the industry, which is an over based calcium sulfonate-based grease that also contains anti-oxidants, and additives for severe pressure. Calcium Sulfonate HD2 is a water-insoluble formula for marine applications and was created for the marine lubricants, and offshore applications that operate in the harshest environments. The global maritime transportation industry controls more than 80% of global trade and transports more than USD 3 trillion worth of products annually. In an industrial landscape where efficiency and longevity are paramount, the demand for high-performance lubricants and greases is soaring. Calcium sulfonate, with its exceptional water resistance and temperature stability, is tailor-made for such applications. As machinery and equipment become more advanced and demanding, the need for superior lubrication solutions intensifies. With environmental concerns taking center stage, industries are under increasing pressure to adopt sustainable practices. Calcium sulfonate-based lubricants gain an edge in this context due to their eco-friendliness compared to certain alternative additives, such as zinc-based compounds.
Calcium Sulfonate Market: Regional Overview
The market is segmented into five major regions including North America, Europe, Asia Pacific, Latin America, and the Middle East and Africa region.
Infrastructure Development and Construction Boom to Drive the Market Growth in Asia Pacific Region
The calcium sulfonate market in Asia Pacific region is estimated to garner the largest revenue by the end of 2035. The Asia-Pacific region has emerged as a pivotal hub for the market, showcasing robust growth in recent years. Infrastructure development, including the construction of bridges, roads, and high-rise buildings, demands robust machinery and equipment. Calcium sulfonate-based lubricants play a pivotal role in ensuring the longevity and reliability of these assets. The construction boom in the Asia-Pacific region translates to a consistent demand for calcium sulfonate products. Infrastructure investments in Asia-Pacific are expected to reach nearly USD 5.36 trillion by the year 2026. As environmental concerns take center stage, industries in the Asia-Pacific region are increasingly focused on adopting sustainable practices. Calcium sulfonate-based lubricants, known for their reduced environmental impact compared to some alternatives, align with these sustainability goals. This heightened environmental awareness drives the adoption of calcium sulfonate products across various industries.
Make an Inquiry Before Buying this Report @ https://www.researchnester.com/inquiries-before-buying-1132
Booming Industrial and Manufacturing Sectors to Propel the Growth in the North America Region
The North America calcium sulfonate market is estimated to garner the highest CAGR by the end of 2035. The resurgence of manufacturing in North America necessitates reliable and efficient lubrication solutions. Calcium sulfonate, renowned for its ability to withstand harsh industrial conditions, has become an integral component in machinery maintenance and operations. As industrial activities expand, so does the demand for calcium sulfonate-based products. North America's manufacturing sector is experiencing a resurgence, with an annual growth rate of 3.9%. The robust North American automotive industry is a critical driver of calcium sulfonate market growth. Calcium sulfonate-based lubricants and greases are highly sought-after for their superior performance characteristics, including corrosion protection and extreme pressure resistance. As vehicle production continues to thrive, the demand for calcium sulfonate products used in automotive applications remains consistently high. Regulatory bodies in North America are tightening the reins on industrial lubricants, placing greater emphasis on safety and environmental impact. Calcium sulfonate-based lubricants and greases are recognized for their compliance with these stringent regulations, making them the preferred choice for industries aiming to maintain regulatory adherence.
Calcium Sulfonate, Segmentation by Grade
Food Grade
Industrial Grade
Amongst these segments, the industrial grade segment is anticipated to hold the largest share over the forecast period. Off road heavy duty industrial machinery is subjected to the highest level of pressures for lubrication. Special greases such as calcium sulfonate with high load carrying capacity and excellent water resistance, are required by manufacturers of large duty equipment in order to be able to carry huge loads. Therefore, calcium sulfonate comprises of various suitable properties used for heavy industrial machinery which is bolstering the market growth of calcium sulfonate in the industrial grade. Infrastructure development projects, including roads, bridges, and energy facilities, rely on heavy machinery that demands robust lubrication. Industrial grade calcium sulfonate lubricants are well-suited for these applications due to their resilience and ability to perform under challenging circumstances. The escalating focus on infrastructure development worldwide augments the demand for industrial grade calcium sulfonate. Infrastructure investments are projected to reach USD 4.2 trillion annually by the year 2024.
Calcium Sulfonate, Segmentation by Application
Industrial
Marine
Food Processing
Steel Automotive
Commercial Vehicle
Passenger Vehicle
Mining
Amongst these segments, the automotive segment in calcium sulfonate market is anticipated to hold a significant share over the forecast period. As governments worldwide tighten emission regulations, automakers seek innovative solutions to improve fuel efficiency and reduce emissions. Calcium sulfonate-based lubricants contribute to these efforts by minimizing friction in engines and drivetrains, enhancing overall vehicle efficiency. The pursuit of compliance with emission standards fuels the adoption of calcium sulfonate products in the automotive segment. Emission standards are becoming progressively stringent, with targets set to reduce carbon emissions by 20% by 2030. Properties such as excellent mechanical stability, resistance to water washout, and high-temperature performance are extensively used in the automotive industry. In addition, calcium sulfonate is widely used as additives for motor oils, metalworking fluids, automatic transmission fluids, industrial or automotive gear oil, and so on. The main automotive uses are chassis, ball joints, annulus joints, or wheel bearings. The types of applications that are used in the area of industry shall be continuous casters, conveyors, ball mills, and crushers off shore and underwater. These factors are anticipated to grow the market at a higher rate.
Request for Customization of this Report @ https://www.researchnester.com/customized-reports-1132
Few of the well-known industry leaders in the calcium sulfonate market that are profiled by Research Nester are Lubrizol Corporation, Chemtura Corporation, Daubert Chemical Company, Exxon Mobil, Amtecol, KYODO YUSHI CO., LTD., IBIDEN BUSSAN CO., LTD., JUNSEI CHEMICAL CO., LTD., Fuchs Petrolub AG, and Swepco Lubricants, and other key market players.
Recent Development in the Calcium Sulfonate Market
Fuchs Lubricants Co., recently launched RENOLIT CSX AWE 0, a calcium sulfonate complex grease for truck trailer axle hubs.
Lubrizol Corporation has set up a new laboratory in India, to encourage the test and development of calcium sulfonate greases with significant potential in the industrial oil market.
About Research Nester
Research Nester is a one-stop service provider with a client base in more than 50 countries, leading in strategic market research and consulting with an unbiased and unparalleled approach towards helping global industrial players, conglomerates and executives for their future investment while avoiding forthcoming uncertainties. With an out-of-the-box mindset to produce statistical and analytical market research reports, we provide strategic consulting so that our clients can make wise business decisions with clarity while strategizing and planning for their forthcoming needs and succeed in achieving their future endeavors. We believe every business can expand to its new horizon, provided a right guidance at a right time is available through strategic minds.
CONTACT: AJ Daniel Corporate Sales, USA Research Nester Email: [email protected] USA Phone: +1 646 586 9123 Europe Phone: +44 203 608 5919

Disclaimer: The above press release comes to you under an arrangement with GlobeNewswire. AfternoonHeadlines.com takes no editorial responsibility for the same.