CACASHOP Acquires Canadian Fintrac MSB License, Ensuring Conducive Growth Through Regulatory Compliance.
OTTAWA, CANADA , Aug. 07, 2023 (GLOBE NEWSWIRE) — On August 7th, the renowned e-commerce corporation, Cacashop Capital Holding Inc., was granted an MSB license by the Financial Transactions and Reports Analysis Centre of Canada (FINTRAC). Emphasizing regulatory compliance as an essential facet of corporate growth, CACASHOP adheres stringently to relevant Canadian laws and policies. The successful acquisition of the Canadian Fintrac license signifies another crucial milestone in the standardized operation and global expansion of the CACASHOP e-commerce platform. As early as May, CACASHOP had already procured the U.S. Fincen MSB license.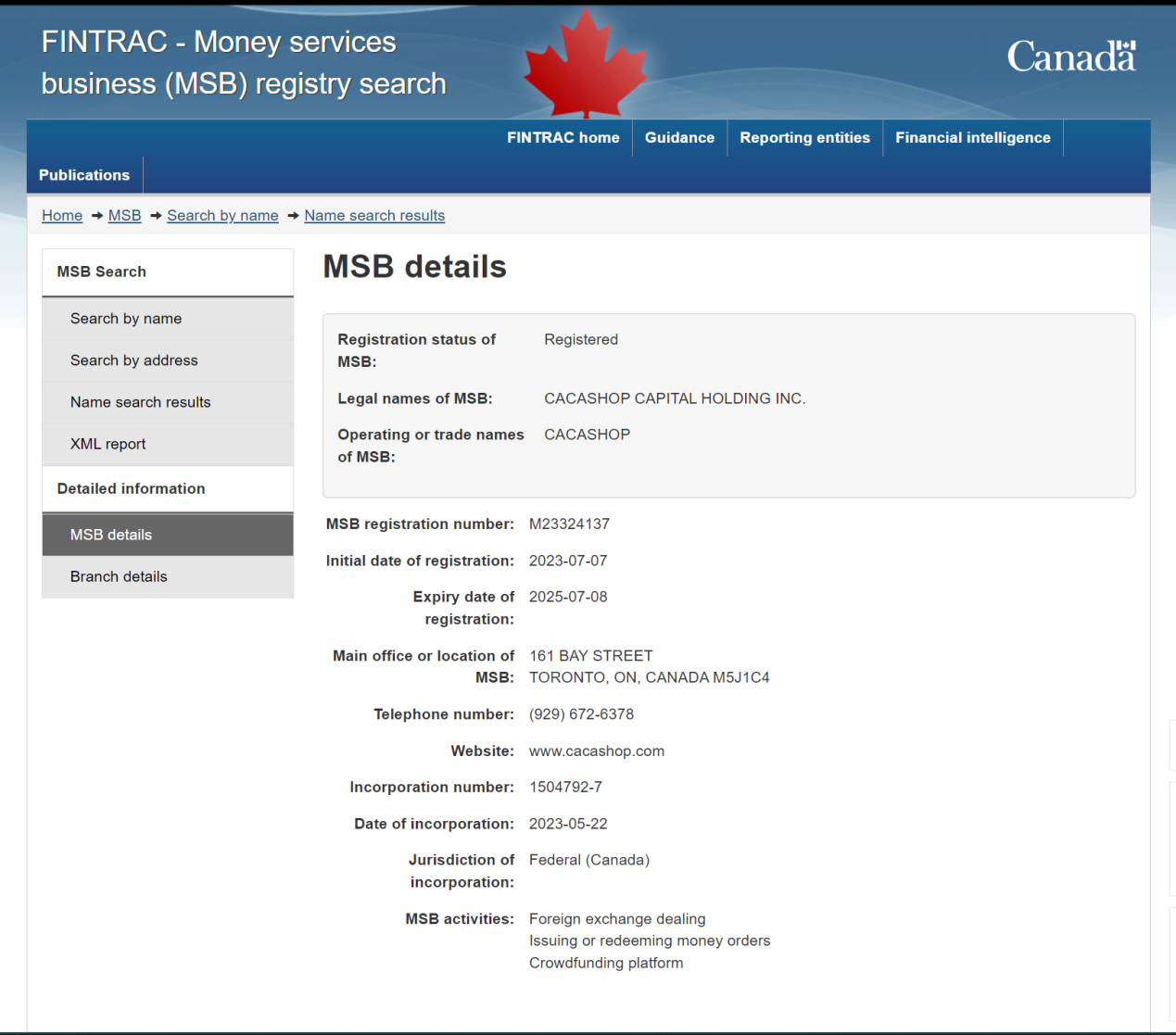 Click here to verify CACASHOP's Canadian Fintrac MSB license.
FINTRAC, established by the Canadian government, is a financial intelligence unit operating as an independent entity. Reporting to the Minister of Finance and accountable to Parliament, its mission is to facilitate the detection and prevention of money laundering, establish a registration system for money service businesses and foreign exchange traders, all in an effort to safeguard citizens' financial security against criminal activities. The granting of the Canadian Fintrac MSB license symbolizes regulatory approval of CACASHOP's adherence to compliance.

The acquisition of the Canadian Fintrac license allows CACASHOP to cater to global, compliant e-commerce needs, effectively preventing criminal risk, and safeguarding citizens' assets. On the other hand, it bolsters CACASHOP's image and credibility, instilling investor confidence, accelerating platform business development, and offering a more diversified service portfolio for investors.
CACASHOP has repeatedly issued statements expressing the company's proactive approach towards embracing legal regulations. It has also frequently reminded all platform users to be vigilant against money laundering, scams, and illicit trading activities, urging consumers to adhere strictly to laws and regulations. From its inception, CACASHOP has made legality and compliance its guiding principles, prohibiting any illegal activities. It also implements robust measures to protect user data and ensure a secure online shopping environment, sparing no effort from secure payment gateways to encrypted transactions in safeguarding user information and ensuring a worry-free shopping experience.
Committed to constructing a legal, fair, and stable global online shopping platform, CACASHOP adheres strictly to national laws. In the future, CACASHOP will continue to uphold its principles of compliance and transparency, leveraging its existing cross-border e-commerce business and innovative logistics to further penetrate efficient global markets, crafting a borderless e-commerce ecosystem for users worldwide.
CONTACT: Johnson Smith CACASHOP Johnson at cacashop.com

Disclaimer: The above press release comes to you under an arrangement with GlobeNewswire. AfternoonHeadlines.com takes no editorial responsibility for the same.