BuzzBallz Reintroduces Eggnog and Announces Cookie Nookie Cocktails for 2023 Holiday Season
Limited Time BuzzBallz Eggnog and Cookie Nookie Cocktails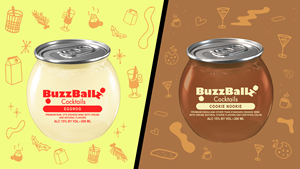 Carrollton, TX, Oct. 20, 2023 (GLOBE NEWSWIRE) — The holidays are approaching, and BuzzBallz is ringing them in with two exclusive seasonal flavors of their ready-to-drink cocktails, Eggnog and Cookie Nookie.
This is the third year BuzzBallz is releasing Eggnog for a limited time, with Cookie Nookie releasing for the first time as their newest seasonal flavor. Both will have spirits-based BuzzBallz Cocktails and wine-based BuzzBallz Chillers options.
Tia Wines, BuzzBallz Director of Marketing, said the holiday season is perfect for trying and sharing new, exciting flavors with loved ones, and that BuzzBallz are no exception.
"We love being able to explore the flavors and aromas we all crave when the first leaves start to fall. This year we wanted to bring back our holiday eggnog and release another delicious, but familiar flavor with an adult twist!" Wines said.
BuzzBallz Eggnog has a creamy and sweet taste with the hints of vanilla, nutmeg, and cinnamon one expects from a great eggnog. Most eggnog beverages come in a large bottle, making the 200mL and 187mL BuzzBallz options perfect for someone who wants to casually enjoy a quality eggnog in one sitting without the hassle of mixing multiple ingredients.
BuzzBallz Cookie Nookie is a caramelly and creamy cocktail with natural cookie flavors and a smooth, luscious finish. It is another great choice for a dessert cocktail at holiday gatherings or cozy holiday nights in, especially with Christmas cookies being one of the top holiday desserts according to consumers.
Brigid Calloway, BuzzBallz Director of R&D, said she was inspired to create the Cookie Nookie flavor after learning about the niche European spice cookie called speculoos.
"This spice cookie is ground up and made into a product that is known as 'cookie butter'. Liquid cookie butter sounded amazing to me, add a cream liquor and Cookie Nookie was born," Calloway said.
These two seasonal flavors are beneficial to both retailers and consumers, allowing retailers to align new flavors with seasonal point-of-sale, while simultaneously offering brand fans exclusive "sneak peeks" into the innovative minds that make up the BuzzBallz brand.
With over a dozen flavors in the BuzzBallz portfolio, these two additions continue to add to their innovative flavor options that make them stand out on retail shelves. Both cocktails are made with real cream, with a vodka base for the spirits-based Cocktails and orange wine base for the wine-based Chillers.
Both flavors will be available across a variety of retail channels for the holiday season.
For more information, visit www.buzzballz.com. 
##
About BuzzBallz, LLC/Southern Champion:
Since its founding in 2009, BuzzBallz, LLC/Southern Champion has been a leader of innovation and originality in the ready-to-drink cocktail industry. Owning the only woman-owned distillery, winery, and brewery in the United States, CEO and Founder Merrilee Kick has taken her master's degree thesis project from an idea by her pool to a worldwide brand with distribution nationwide and in 25 countries. The company's two staple brands, BuzzBallz and Uptown Cocktails, have won dozens of awards for their design, flavor, and popularity, with BuzzBallz rising to the #1 selling RTD in convenience stores and going viral on social media with hundreds of millions of views on posts mentioning the one of a kind cocktail.
The company's mission is to create fun and innovative premixed cocktails for the world with a vision to reinvent happy hour. With premium natural ingredients and all gluten-free and Kosher-certified flavors, the Texas-based business is dedicated to high quality in their products for consumers and community alike. Through partnerships like their TerraCycle® program, BuzzBallz, LLC/Southern Champion values environmental responsibility with an emphasis on sustainability and economic improvement. The family-owned company cultivates a familial relationship with their teams to make a positive and lasting impact one sip at a time. Learn more at: www.southern-champion.com, www.uptowncocktails.com, and www.buzzballz.com.
Attachment
CONTACT: Brady Bouldin BuzzBallz, LLC/Southern Champion (972) 242-3777 [email protected] 

Disclaimer: The above press release comes to you under an arrangement with GlobeNewswire. AfternoonHeadlines.com takes no editorial responsibility for the same.