Brain & Behavior Research Foundation Honors Innovative Psychiatric Researchers
Klerman & Freedman Prizes Awarded to Scientists Advancing Prevention, Diagnosis and Treatment of Mental Health Disorders
Brain & Behavior Research Foundation 2023 Klerman & Freedman Awards Presentation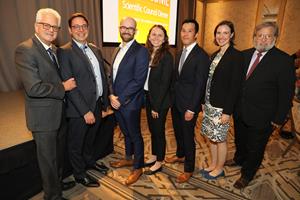 New York, July 31, 2023 (GLOBE NEWSWIRE) — The Brain & Behavior Research Foundation (BBRF) today announced the winners of its 2023 Klerman and Freedman Prizes, recognizing exceptional clinical and basic research in mental illness. The prizes are awarded annually to honor the work of outstanding scientists who have been supported by the Foundation's Young Investigator Grants Program.
"The groundbreaking work of our Klerman and Freedman prize winners is changing the landscape in psychiatry by identifying the biological roots of mental illness, developing new diagnostic tools, more effective and targeted treatments, and establishing a path toward prevention," said Jeffrey Borenstein, M.D., President and CEO of the Brain & Behavior Research Foundation. "We applaud these researchers for their innovative thinking and extraordinary accomplishments across the field of neuropsychiatry, and we thank our generous donors for supporting scientists in brain and behavior research."
The prizewinners are selected by the BBRF Scientific Council comprised of 184 pre-eminent mental health researchers. 
Since its founding in 1987, the Foundation has awarded more than $440 million to more 5,300 scientists around the world. The Klerman and Freedman Prizes are named for Gerald Klerman, M.D., and Daniel Freedman, M.D., whose legacies as researchers, teachers, physicians, and administrators have indelibly influenced neuropsychiatry.
Five scientists received recognition for their outstanding work in brain and behavior research:
2023 Klerman Prize for Exceptional Clinical Research
Danella M. Hafeman, M.D., Ph.D., University of Pittsburgh School of Medicine
Dr. Hafeman's research focuses on youth diagnosed with or who are at risk for bipolar disorder. She is interested in understanding clinical and neural mechanisms of risk and resilience in these youth, with the goal of preventing progression of mood disorders in this vulnerable population. Much of her recent work has focused on predictors of bipolar disorder in youth at familial risk, working with BBRF Prizewinner Dr. Boris Birmaher. Dr. Hafeman hopes to use these data to construct a risk calculator for the development of bipolar disorder in at-risk youth.
2023 Freedman Prize for Exceptional Basic Research
Ritchie Chen, Ph.D., University of California, San Francisco
Visceral sensations, such as heart palpitations, hunger pangs, and pain, profoundly shape our mental state and behavior. Dr. Chen is inventing technologies for modulating affective and social behaviors, opening new possibilities for treating mental health disorders. He has developed a cutting-edge technology that can non-invasively control cells throughout the mammalian body, and which could revolutionize our understanding and treatment of neurological and psychiatric conditions.
2023 Klerman Prize Honorable Mention
Linden Parkes, Ph.D., Rutgers University & University of Pennsylvania
Dr. Parkes is a computational neuroscientist who seeks to uncover pathways that track the emergence of psychopathology. He approaches this goal from a neurobiological perspective by studying how complex neural systems shape behavior and cognition, and how dysfunction in these systems predicts psychopathology. His goal is to develop a set of robust, reliable, and predictive biomarkers that can be used in clinical trials to assess treatment stratification and response.
2023 Freedman Prize Honorable Mention
Madeline Andrews, Ph.D., Arizona State University
Dr. Andrews is a developmental neuroscientist who uses human cell cultures to explore the gene programs and cell signals that are essential for how brain cells grow, change shape, and become organized. Her research goal is to identify the molecular underpinnings of neurological disorders that impact human mental health. Toward this goal, she is working to evaluate the neurodevelopmental mechanisms establishing cerebral cortex cell fate and organization, which are imperative for neurological function, and how these programs are disrupted in autism.
2023 Freedman Prize Honorable Mention
Neir Eshel, M.D., Ph.D., Stanford University
Dr. Eshel's research focuses on the two neuromodulators that form the basis for most existing psychiatric treatments: dopamine and serotonin. By uncovering the functional diversity within these systems, he hopes his findings will lead to novel, more targeted treatments for symptoms such as irritability and aggression. The work could, for example, suggest ways to combine drugs that interact with specific dopamine and serotonin receptors.
  
About the Brain & Behavior Research Foundation
The Brain & Behavior Research Foundation awards research grants to develop improved treatments, cures, and methods of prevention for mental illness. These illnesses include addiction, ADHD, anxiety, autism, bipolar disorder, borderline personality disorder, depression, eating disorders, OCD, PTSD, and schizophrenia, as well as research on suicide prevention. Since 1987, the Foundation has awarded more than $440 million to fund more than 5,300 leading scientists around the world. 100% of every dollar donated for research is invested in research. BBRF operating expenses are covered by separate foundation grants. BBRF is the producer of the Emmy® nominated public television series Healthy Minds with Dr. Jeffrey Borenstein, which aims to remove the stigma of mental illness and demonstrate that with help, there is hope.
Attachment
Brain & Behavior Research Foundation 2023 Klerman & Freedman Awards Presentation
CONTACT: Myrna Manners Brain & Behavior Research Foundation (718) 986-7255 [email protected] 

Disclaimer: The above press release comes to you under an arrangement with GlobeNewswire. AfternoonHeadlines.com takes no editorial responsibility for the same.